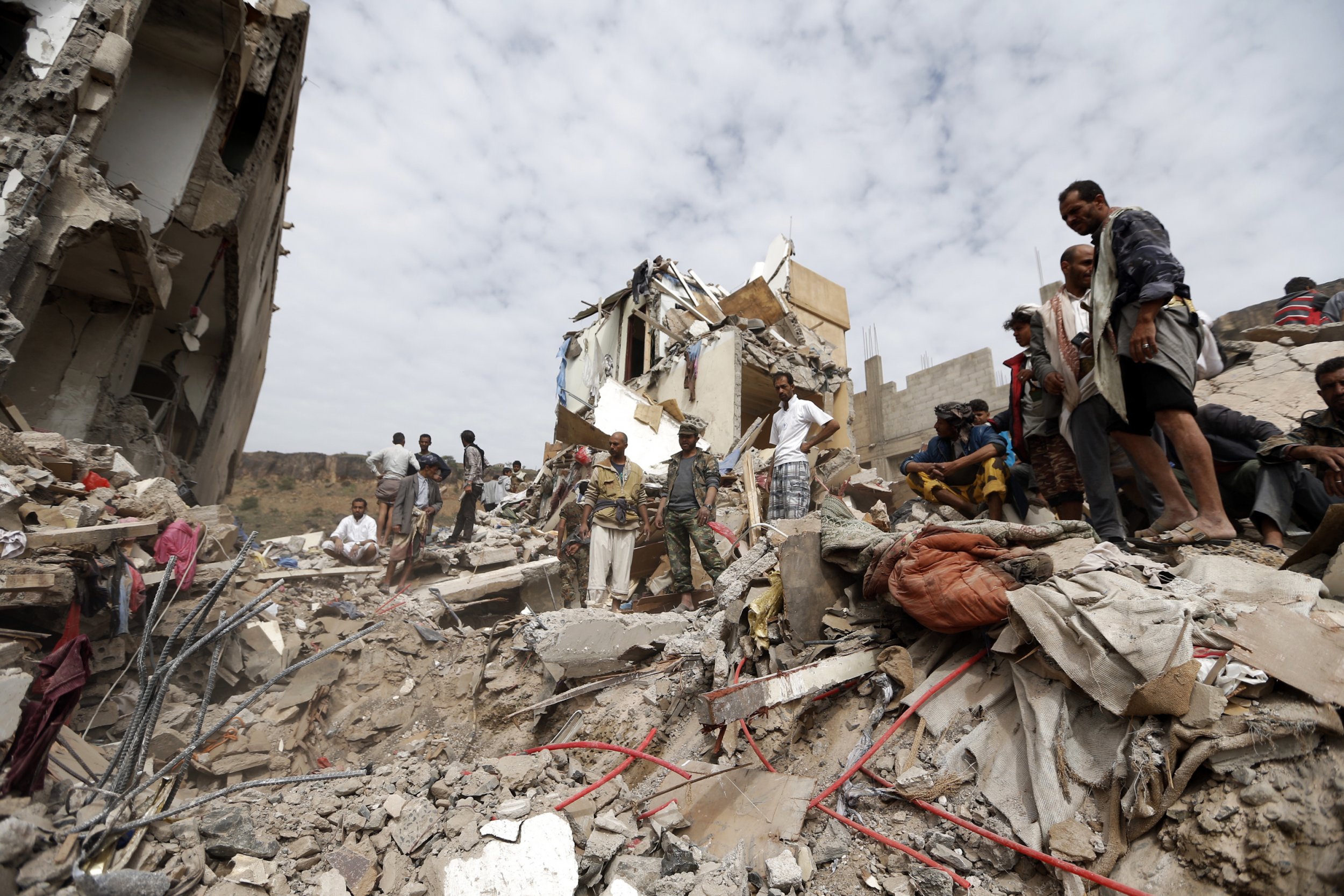 UPDATE | A bomb made and supplied by the United States was used in a Saudi Arabia-led coalition airstrike that killed 16 civilians, including seven children, in Yemen's capital, Sanaa, on August 25, Amnesty International revealed on Thursday.
The bombing of residential buildings, which horrified much of the Arab world even before the link to the U.S., was due to a "technical mistake," said the Saudi government, which is fighting Iran-backed rebels in a larger Saudi-Iran battle for control of the Gulf region.
The human rights group is calling on the U.S. government to immediately cease selling arms to Saudi Arabia.
"By sending arms to Saudi Arabia, knowing that they may be used to kill civilians, the U.S. government may be complicit in violations of international law, including war crimes," Raed Jarrar, Amnesty International's advocacy director for the Middle East and North Africa, tells Newsweek.
This is not the first time U.S.-made bombs have been used in a Saudi-led airstrike that killed civilians, but it might be the most publicized example.
The sole survivor of the airstrike was 5-year-old Buthaina Muhammad Mansour, who lost all five siblings in the attack.
"[Buthaina's] case became [a] very iconic instance of civilians being impacted by the Saudi-led coalition and the fact we were able to verify the U.S. was involved in this case will have a huge impact in the Arab world," says Jarrar. "This attack will be an iconic example of U.S. involvement in conflicts in the Middle East."
Since the August 25 strike, Buthaina has become a symbol of the suffering in Yemen. An image of the young girl attempting to open her bruised eyes after the strike went viral and sparked a solidarity movement on social media.
Amnesty International's arms expert discovered the weapon had markings that matched U.S.-made components used in laser-guided air-dropped bombs. Specifically, the expert was able to identify the data plate from a U.S.-made MAU-169L/B computer control group, a part used in a number of types of laser-guided missiles.
In 2015, the U.S. sold $1.29 billion worth of arms to Saudi Arabia, including 2,800 guided bombs equipped with the MAU-169L/B computer control group, according to the Pentagon's Defense Security Cooperation Agency, which coordinates foreign arms sales.
The U.S. was the world's top arms exporter from 2012 to 2016 and Saudi Arabia was its top customer, according to the Stockholm International Peace Research Institute.
It's hard to know whether the U.S.-made bomb dropped on August 25 was sold under former President Barack Obama or President Donald Trump due to how many arms have been sold to Saudi Arabia in recent years.
"We know for a fact it's a U.S. bomb, but we can't verify which batch or what year it was," says Jarrar.
The U.S.-backed Saudi coalition has been combating the Iran-backed Houthi rebels in Yemen since 2015, around the time that Obama inked the Iran nuclear deal, which Trump has decried as a bad deal for America.
The Saudis also think it was a bad deal because it supposedly empowered Iran. As a result, the Obama administration offered more support for the Saudi proxy fight against Iran in Yemen.
But as the news of civilian casualties and human rights abuses started to trickle out of the Yemen conflict, Obama started to back away from Saudi Arabia.
"What you saw under Obama was a slow increase of concern toward the end of his presidency," says Kristine Beckerle, who researches Yemen and the United Arab Emirates for Human Rights Watch.
Under Trump, however, "Rhetoric on U.S. side turned bombastic in terms of support for Saudi Arabia," Beckerle says, citing the $110 billion arms package the president agreed to this past spring.
Amnesty International and Human Rights Watch agree that the Trump administration doesn't seem concerned about human rights violations or civilian casualties in Yemen.
"Trump is basically telling the Saudi-led coalition to continue what it's doing," Beckerle says.
"We will be sure to help our Saudi friends to get a good deal from our great American defense companies, the greatest anywhere in the world," Trump said as he celebrated the arms deal during a speech he delivered in front of Arab and Muslim leaders in Riyadh in May. "King Salman, I thank you for the creation of this great moment in history and for your massive investments in America and its industries and its jobs."
More than 10,000 civilians have been killed and 3 million displaced since the Yemen conflict began. Meanwhile, the nation is dealing with a food shortage and a massive cholera outbreak. What's happening at the southern end of the Arabian Peninsula has been referred to as the "world's worst humanitarian crisis."
The White House might not be concerned, but there's been a major shift in Congress in terms of the attention granted to Yemen and America's involvement in the conflict.
In June, 47 Senators voted to block part of the weapons deal with Saudi Arabia. The deal ultimately passed, but human rights groups still say this was a significant moment.
"When Amnesty and other organizations pushed for the Senate and the House to take actions against sales a couple of years ago, there was really no response or appetite. Now we're moving in the right direction," said Jarrar.
The Saudi-led coalition has imposed a blockade on Yemen and has been widely criticized, including by top officials at the U.N., for refusing to allow aid to enter the country.
Moving forward, Amnesty International and Human Rights Watch would both like to see increased transparency from the U.S. government in terms of its involvement in Yemen, which also includes providing intelligence and refueling Saudi-led coalition jets.
Amnesty is also calling for an independent inquiry into the August 25 airstrike, which Saudi Arabia has not agreed to.
Update: An earlier version of this story had reference to a bill by Senator Todd Young, an Indiana Republican, that would bar arms sales to Saudi Arabia until it permits the delivery and installation of World Food Program cranes in the city of Hodeidah. We have removed that reference upon request from the Senator, who did not want the public to think his bill was connected to any charge against President Trump.