Case of U.S. Marine Colonel Cleared of Abusing 6-Year-Old Girl 'Deeply Troubling,' Says House Armed Services Committee
The case of a U.S. Marine who was convicted of sexually abusing a six-year-old girl before having his conviction overturned is "deeply troubling," a Democratic spokesperson for the House Armed Services Committee (HASC) has told Newsweek.
Marine Colonel Daniel Wilson, 58, was sentenced to five and a half years in prison in September 2017, after a jury of four generals and three colonels at a court-martial in Camp Lejeune, North Carolina, found him guilty of one count of sexual abuse, six counts of conduct unbecoming an officer and gentleman and one count of unauthorized absence.
However, at a hearing of the U.S. Navy-Marine Corps Court of Criminal Appeals this July, Wilson had his conviction overturned after the court ruled that the evidence was "legally and factually insufficient."
Wilson was released last week and is now awaiting a decision on his retirement from the Secretary of the Navy, but the family of the alleged victim have since called on Congress to investigate the military's Uniform Code of Military Justice (UCMJ)—the manual that defines how offenses are tried in military court.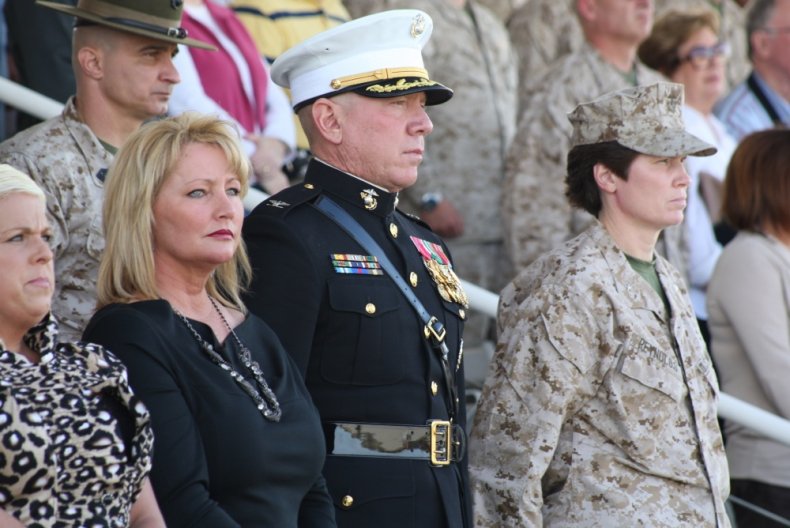 The family argues the code is not fit for purpose as it allows a panel of judges at the appellate hearing to overturn the previous conviction although they are more junior in rank to the original panel of judges in the case.
Additionally, whereas in a civilian court there has to be a judicial misstep for a case to be successfully appealed, in military courts, the appeals court can simply disagree with the jury's original decision based on available evidence, meaning, no judicial misstep needs to occur.
Following a request from Newsweek to comment on the case, a Democratic spokesperson for the HASC said: "The committee is not aware of a formal request from the family to investigate the matter. That said, the facts of this case are both compelling and deeply troubling.
"Unfortunately, Congress does not have the authority to intervene in individual, active cases subject to the Uniform Code of Military Justice process. We are however, engaged in conversations with U.S. Marine Corps senior leaders to better understand how they decided final disposition of the case.
"One cannot overstate how serious the committee views its role in administering oversight for military sexual misconduct matters and will continue to look at legislative options to address any potential loopholes in matters as egregious as this one."
The alleged victim's family confirmed to Newsweek they are continuing to hold talks with representatives on Capitol Hill about the UCMJ—particularly with regards to article 66(c)—and said they welcomed the HASC's intentions of holding discussions about the code.
The alleged victim's mother, Adrian Perry, said: "While this latest decision by the Navy Marine Corps Criminal Court of Appeals has truly wounded our hearts and severely failed our daughter, we are hopeful that this cruel injustice will shed a tremendous light on the need for the prompt removal of Article 66(c) from a justice system that has demonstrated persistent abuse and misuse of this rare and archaic legal authority.
"Our family's mission is to protect any other victim from enduring the pain our family has endured by this dangerous legal loophole that is failing victims of heinous crimes, while putting members of our society in great danger because serious predators are being set free and never have to register as a sex offender.
"What has happened in our case is shameful and negligent and the cost of this legal failure is crippling to a person's soul."