Frantic Search Underway for U.S. Marine Helicopter Missing in Nepal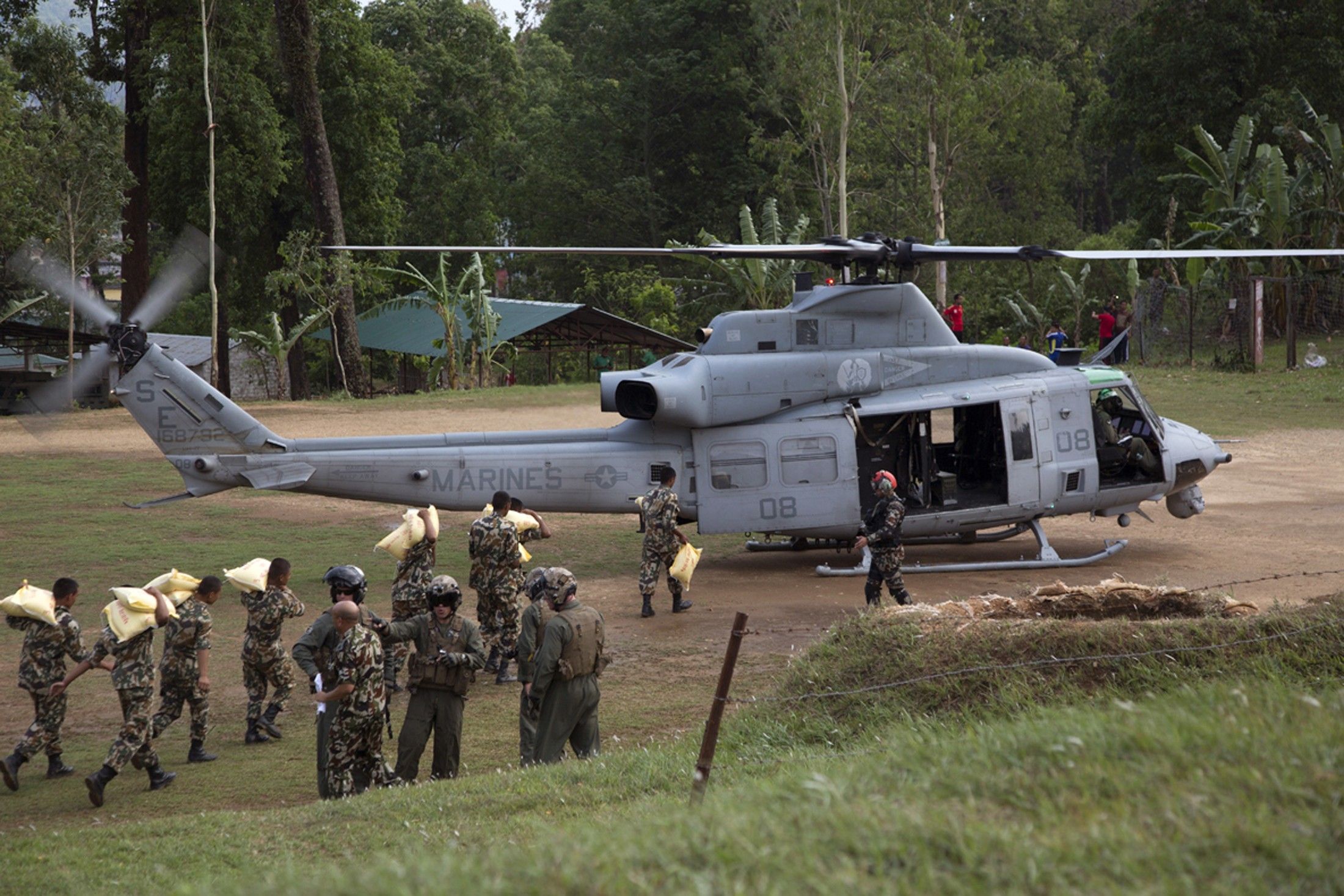 Updated | CHARIKOT, Nepal (Reuters) - Hundreds of Nepali troops were searching for a missing U.S. Marines helicopter with eight people on board on Wednesday, a day after the second powerful earthquake in less than three weeks killed scores and sent panicked residents into the street.
The Himalayan nation is still reeling from a devastating quake measuring 7.8 last month that killed more than 8,000 people and injured close to 20,000.
The U.S. helicopter was delivering aid in Dolakha, one of the hardest-hit areas from the April 25 quake, on Tuesday when it went missing with six Marines and two Nepali troops on board.
The Marine Corps UH-1Y Huey helicopter lost radio contact after its crew was heard talking about fuel problems.
A Nepali military official said it appeared the helicopter might have come down in one of the rivers that snake through valleys in the district of Dolakha east of the capital, Kathmandu. Six other helicopters joined hundreds of ground troops in the search for the missing aircraft.
"The info we have is that it is down in one of the rivers, but none of the choppers has seen it yet," Major Rajan Dahal, second-in-command of the Barda Bahadur Battalion, told Reuters in the district capital, Charikot.
"There are 400-plus of our ground troops looking for it also. By this evening, we might get it," he said.
Nepal Home Ministry official Laxmi Prasad Dhal said no trace of the missing helicopter had been found but she feared the search was diverting resources from relief and rescue work.
"The work of sending relief and rescuing the injured people to hospitals has been delayed due to this," she told Reuters.
Tuesday's 7.3 quake killed 67 people and destroyed swaths of housing in the area. Charikot, about 75 km (45 miles) east of Kathmandu, was one of the hardest-hit areas.
Most of the fatalities reported from Tuesday's quake were in towns and villages like Charikot, which were only just beginning to pick up the pieces from last month's quake.
"LOOKS LIKE A GRAVEYARD"
Tuesday's quake and subsequent aftershocks forced many panic-stricken Nepalis to spend yet another night outdoors in makeshift tents and relief camps.
Aula Bahadur Ale, the assistant administrator of the district, said there were 36 dead in Charikot and surrounding areas and 106 injured.
"It looks like a graveyard here," Ale said.
"Even those houses that have not been flattened have developed cracks. People are too afraid to go into them. We are still feeling the aftershocks that make people terrified."
A police official in Kathmandu said 1,928 people had been injured in Tuesday's quake, which also killed 17 people in neighboring India.
The April quake destroyed hundreds of thousands of buildings, including many ancient temples, and triggered an avalanche on Mount Everest that killed 18 climbers and cut short the climbing season on the world's tallest peak.
The tremors have left areas of Nepal perilously unstable, leading to fears of more landslides, especially when seasonal monsoon rains begin to fall in the coming weeks.
In Kathmandu, most open spaces such as private land and pavements were occupied by residents who set up yellow, blue and white tarpaulin sheets.
Kathmandu resident Sita Gurung said her newly built house had escaped damage but she still did not want to go back.
"How can I take risk and stay in? Every one has come out and is living in the open," Gurung said.
"I better join them and stay safe."