U.S. Marine Under Investigation, Accused of Sending Unwanted Explicit Photos to Women
The Marine Corps has launched an investigation into a serviceman accused of sending explicit photos to women and misrepresenting himself online to manipulate his targets, some of whom were younger and lower rank.
Major General Jo Clyborne took to Twitter on Jan. 1 to ask for information identifying a non-commissioned officer who was sending "inappropriate pictures" using direct messages. The tweet has been retweeted roughly 2,800 times.
Clyborne, an assistant adjutant general based in St. Paul, Minnesota, said in a follow-up tweet that she had identified the unit and the command of the officer.
"I wanted to ensure accountability and a report was made, as Twitter accounts can be anonymous," she said.
Clyborne's post got the attention of a two-star deputy commanding general at the Army's Cyber Center of Excellence, and the Marine Corps launched a probe into the accusations, reports Stars and Stripes.
The Marine Corps did not respond to a request for comment from Newsweek Tuesday evening.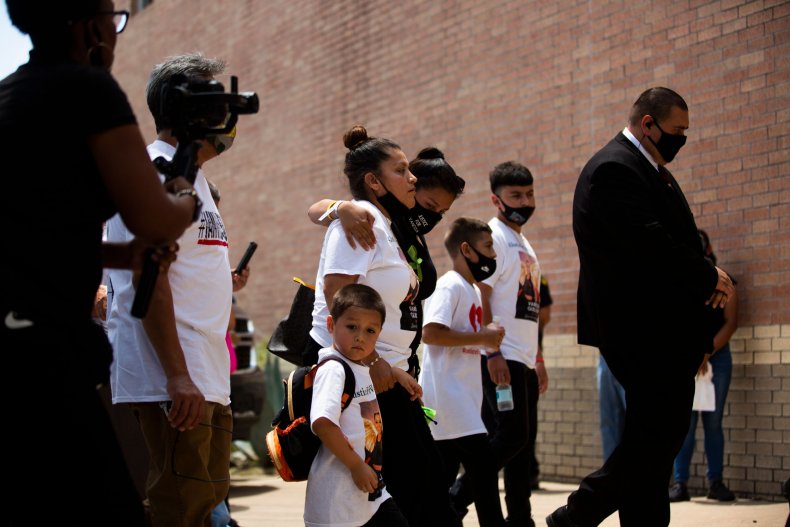 The accused Marine has not been identified but was using the now-defunct Twitter handle @usemcee that was well known in the military community.
Before the account went dark Dec. 31, it tweeted out a vague apology advising to not "send unsolicited photos and commentary to anyone ever without explicit permission," reports Task & Purpose.
"I did just that and now they are uncomfortable and I lost trust from a community that believed in me," the tweet said.
Dozens of women have accused the Marine of engaging in a pattern of lying and manipulative behavior to elicit pity, emotional gratification, nude photos and sometimes sex, reports Stars and Stripes.
The Marine told women he was the "Marine Corps version of James Bond" operating in special operations, the paper reports. He is also accused of directing sexual attention at lower-ranking Marines or much younger ROTC cadets. The Marine reportedly initiated private conversations to help women with personal difficulties to build trust. He also told them stories about being celibate or planning to adopt his dying female roommate's child.
"He's literally lying about his whole life," one woman who received an unsolicited photo told the paper.
The Marine sent women unwanted pictures of his genitals and suggested to one that they get "blackout drunk and have sex," according to Stars and Stripes. About 35 women have started a group chat to discuss their experiences about him.
Not In My Marine Corps, a group seeking to end sexual harassment in the armed forces, responded to the news on Twitter by asking how many said nothing when they knew of the Marine's alleged behavior.
"You are just as much part of the problem as he is," the group said on Twitter.
President Joe Biden in December approved over two dozen recommendations from an independent commission regarding sexual assault in the U.S. armed forces. Of the changes approved by Biden includes removing the ability of commanders to decide whether to prosecute sexual assault cases.
The U.S. military has seen an increase in sexual assault incidents, rising 13 percent in 2018 followed by 3 percent growth in 2019, according to the Associated Press.