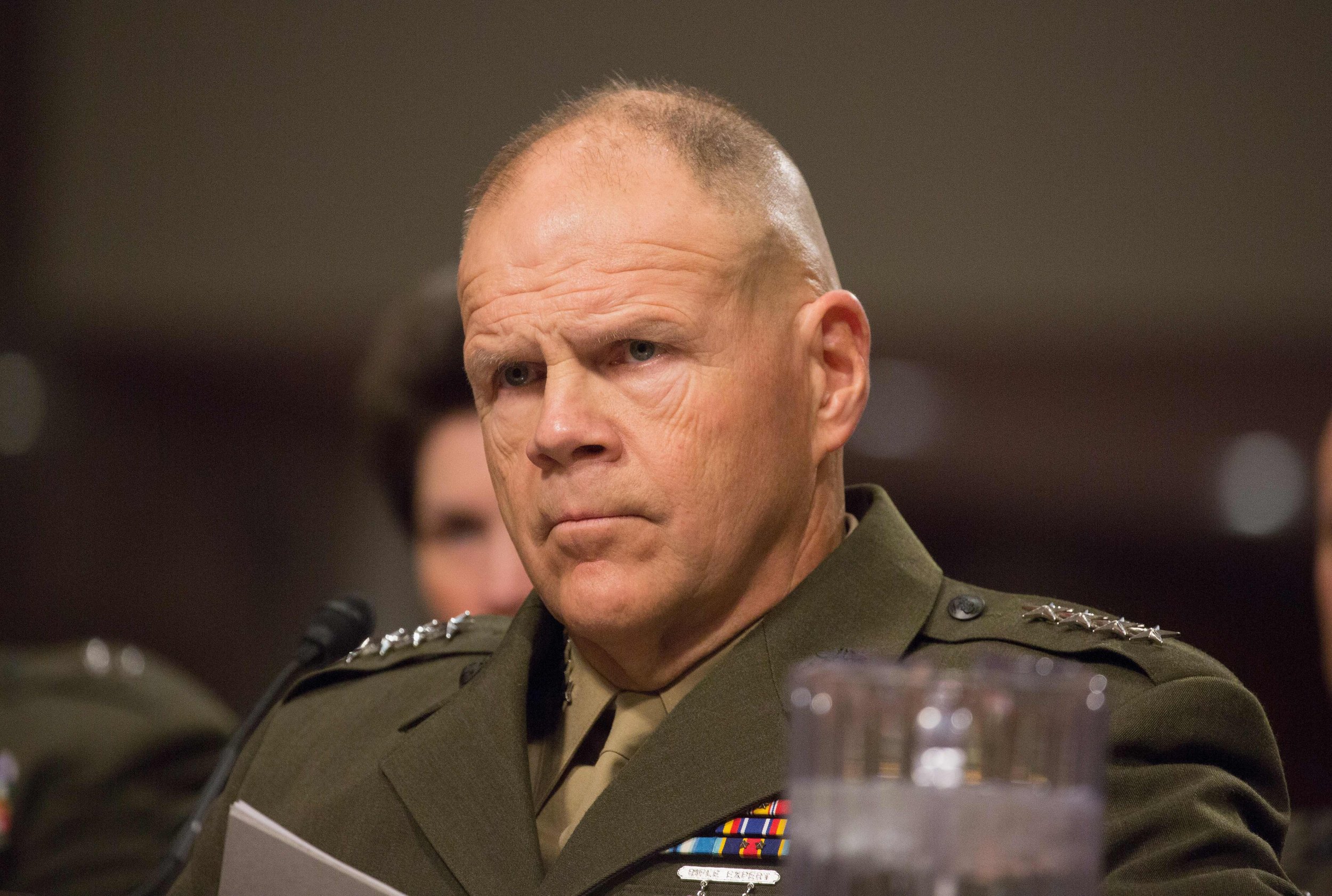 The United States Marines are looking at pulling back from the Middle East to refocus on threats coming from Russia and the Pacific region, the corps's commandant has told troops stationed in Europe.
General Robert Neller spoke to troops at the Vaernes Garrison in Norway, holding a town hall-style meeting with Marines during his multicountry Christmas tour, armed forces news site Military reported Wednesday.
"I think probably the focus, the intended focus is not on the Middle East," Neller said, answering a question from a Marine on where the service would fight in the near future. "The focus is more on the Pacific and Russia."
Read more: Russia's marines are on a live-fire drill near North Korea's border
Currently, the Marine Corps has a significant presence in the Middle East, with 450 Marines deployed as trainers and advisers to Afghanistan, and hundreds of others sent to Iraq and Syria in the fight against the Islamic State militant group (ISIS), including an artillery detachment that recently left Syria.
After the 2012 attack on the U.S. mission in Benghazi, Libya, then-President Barack Obama deployed Marines to the North African country. Neller said that Marine presence was often responsive. He suggested U.S. domestic security had forced Washington's hand on deployments, particularly in the Middle East.
"The problem is, we may not be interested in the Middle East, but they seem to be fascinated with us," he said. "And as long as there are groups there that threaten the United States, there will have to be some presence."
When asked about the corps' regional footprint, Neller asked the questioner how old he was at the time of the September 11, 2001, attacks. The Marine said he was 8. Neller asked him to cast his mind back to that time.
"If you look at the security situation in that part of the world, is it any better than it was at 9/11?" Neller said. "We've been there for 17 years next September. So we keep doing the same thing, getting the same result and we're still unhappy. Maybe we need to change something."
The general predicted that the corps would likely undergo a "slight pullback" in the Middle East and instead look to Eastern Europe and the Pacific, where Russia and North Korea respectively are flexing their muscles.
"So I believe we'll turn our attention there," Neller said. "We're going back to the Pacific."
The Marine Corps had not yet responded to Newsweek's request for additional comments.