U.S. Marshals Join State, Local Authorities in Searching for Gunman that Fatally Shot Judge Salas' Son
The United States Marshals Service is combining forces with state and local law enforcement to locate the person who fatally shot the 20-year-old son of Esther Salas, a judge recently assigned to a case linked to financier Jeffrey Epstein.
Salas' son, Daniel Anderl, and husband, Mark Anderl were shot in their North Brunswick Township, New Jersey, home on Sunday evening. Daniel was shot and killed, when he answered the door, by someone who is believed to have been dressed in a FedEx uniform, and Mark was injured during the attack.
The U.S. Marshals, a federal law enforcement agency, is working with state and local authorities, as well as, the FBI, to locate the gunman. FBI officials are asking anyone with information to contact 1-973-792-3000.
At the time, Salas was presiding over a class-action lawsuit brought against Deutsche Bank for failing to "properly monitor customers that the Bank itself deemed to be high risk, including, among others, the convicted sex offender Jeffrey Epstein." She also handled the high-profile financial fraud case against Bravo's Real Housewives of New Jersey star Teresa Giudice and her husband, Joe Giudice. In 2016, she sentenced them to prison sentences of 15 months and 41 months, respectively.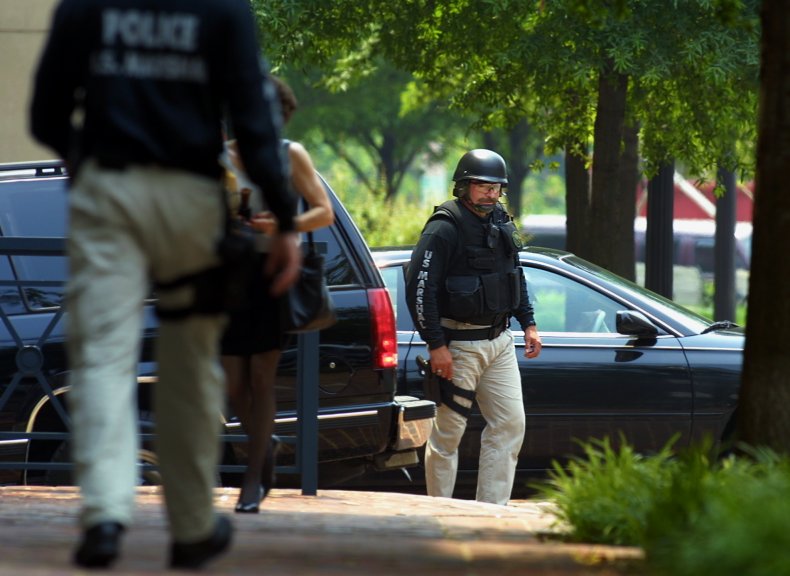 Newsweek reached out to the United States Marshals Service for comment, but did not receive a response in time for publication.
Chief District Judge Freda Wolfson told the Associated Press they "really have no idea" if the shooting was linked to Salas' work or the political climate. Governor Phil Murphy called it a "senseless act" that is a reminder of the gun violence crisis in America.
Daniel was a student at the Catholic University of America and St. Joseph High School Principal Anne Rivera told USA Today he was a "great kid and well-liked." Rivera added that Daniel "epitomized what it is to be a St. Joseph man."
A judiciary official who spoke on the condition of anonymity told the Associated Press Salas was in the basement at the time of the shooting and wasn't injured. Her husband is recovering from surgery, according to the Associated Press.
Senator Bob Menendez recommended Salas for nomination to her current position when President Barack Obama was president. He posted on Twitter that he was "proud" to do so and said his prayers were with Salas and her family. He also prayed that those responsible "for this horrendous act are swiftly apprehended and brought to justice."
This is a developing story and will be updated as more information becomes available.