U.S. Mask Mandate for Public Transit Extended Despite Falling COVID Rates
The Transportation Security Administration (TSA) announced Thursday it will extend its mask requirement on public transportation for another month.
In a statement, the TSA said it is following guidance from the Centers for Disease Control and Prevention (CDC) in extending the requirement, which was supposed to expire on March 18, to April 18.
This move comes as coronavirus cases in the country and around the world continue to decrease from their peaks at the beginning of the year. Though cases are falling, many health experts are still looking for caution in case a new variant emerges and causes dramatic spikes in infections, as Omicron did.
Since February 2021, the CDC has required all Americans to wear masks on public transportation, although in February it relaxed its requirement on buses and vans used for schools.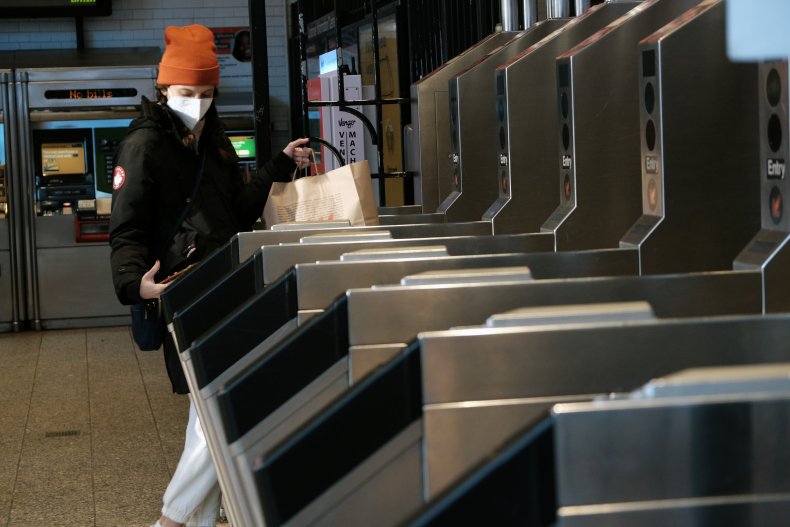 In a statement by the CDC announcing its recommendation for the mask extension, the agency said it will work with the government over the next month "to help inform a revised policy framework for when, and under what circumstances, masks should be required in the public transportation corridor."
"This revised framework will be based on the COVID-19 community levels, risk of new variants, national data, and the latest science," the statement added.
U.S. coronavirus cases have been dropping since January, with data from the Mayo Clinic showing the average positive test rate falling from more than 28 percent in early January to 3.4 percent as of Tuesday.
The CDC recently announced a change in its mask guidelines, with cases to be considered on a county-by-county basis and masks recommended in counties deemed to be at a high-risk level. However, because people are seated closer together in more enclosed spaces on public transportation, the CDC guidelines in those spaces are stricter.
The Biden administration's announcement is likely to upset a number of Republican lawmakers. In a letter to TSA Administrator David Pekoske signed by 92 Republicans that was obtained by Fox News, Representatives Guy Reschenthaler of Pennsylvania and Doug LaMalfa of California called on the agency to let the mask mandate expire later this month.
"We believe that eliminating the mask mandate will provide a safer travel experience for everyone involved," they wrote, citing recent cases of unruly passengers on flights. "It is past time that we follow the science and allow Americans to return to normalcy."
In its statement, the TSA said it will communicate any updates to the public if there are any further changes to its guidelines.
Update 03/10/22, 12:50 p.m. ET: This story was updated to add more information and background.