U.S.-Mexico Border Agents Seize $7 Million of Cocaine, Meth and Heroin in Single Bust
Border agents in Texas nabbed nearly $7 million worth of illegal drugs at a U.S.-Mexico cargo facility on Monday. Agents at a port of entry in Laredo also seized a cocaine haul estimated to be worth more than $285,000 on the same day.
Agents caught the massive narcotics load at the Pharr-Reynosa International Bridge after a U.S. Customs and Border Protection officer referred a commercial shipment of stone blocks for further inspection. Officers with drug-sniffing dogs then uncovered packages of narcotics hidden within the stone shipment.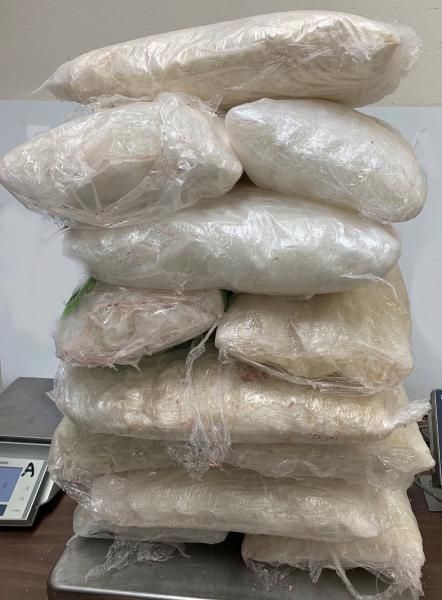 Thirty-five packages of alleged methamphetamine, weighing 320 pounds, were discovered by officers. Agents also found seven packages of alleged cocaine, weighing 39.55 pounds, and two packages believed to contain heroin that weighed 7.32 pounds.
The total haul had an estimated street value of $6,998,000, Customs and Border Protection said in a statement. The narcotics and the tractor trailer were seized, and the case is under investigation by Homeland Security Investigations agents.
"Once again, our officers' astute awareness and outstanding ability to work in tandem utilizing all available tools and resources resulted in the discovery of these hard narcotics that won't make their way into our communities," Port Director David Gonzalez of the Hidalgo/Pharr/Anzalduas Port of Entry said in a statement.
On the same day, border agents at the Laredo Port of Entry intercepted a "significant" load of what is believed to be cocaine. The seizure occurred at Gateway to the Americas Bridge, when a 1994 Ford F-150 pickup truck driven by a 20-year-old Mexican citizen was referred for a secondary inspection.
Using drug-sniffing dogs and nonintrusive inspection, officers found 15 packages containing 37 pounds of alleged cocaine. The narcotics had an estimated street value of $285,940, according to Customs and Border Protection.
The cocaine packages were seized and the driver was arrested. The case was transferred to U.S. Immigration and Customs Enforcement-Homeland Security Investigations special agents for further investigation.
The Laredo Port of Entry director noted that border agents continued to "maintain strict vigilance" as traffic increased before the holiday season. "That dedication, tempered with high-tech tools and inspections experience resulted in a significant cocaine seizure," Port Director Albert Flores said.
U.S. Border Patrol seized 6,423 pounds of cocaine, 532 pounds of heroin and more than 10,000 pounds of methamphetamine from January to August 2018. Agents have also intercepted more than 439,000 pounds of marijuana at the U.S. border.
U.S.-Mexico Border Agents Seize $7 Million of Cocaine, Meth and Heroin in Single Bust | U.S.