U.S. Military Helicopter May Have Dropped Object on Japanese Nursery School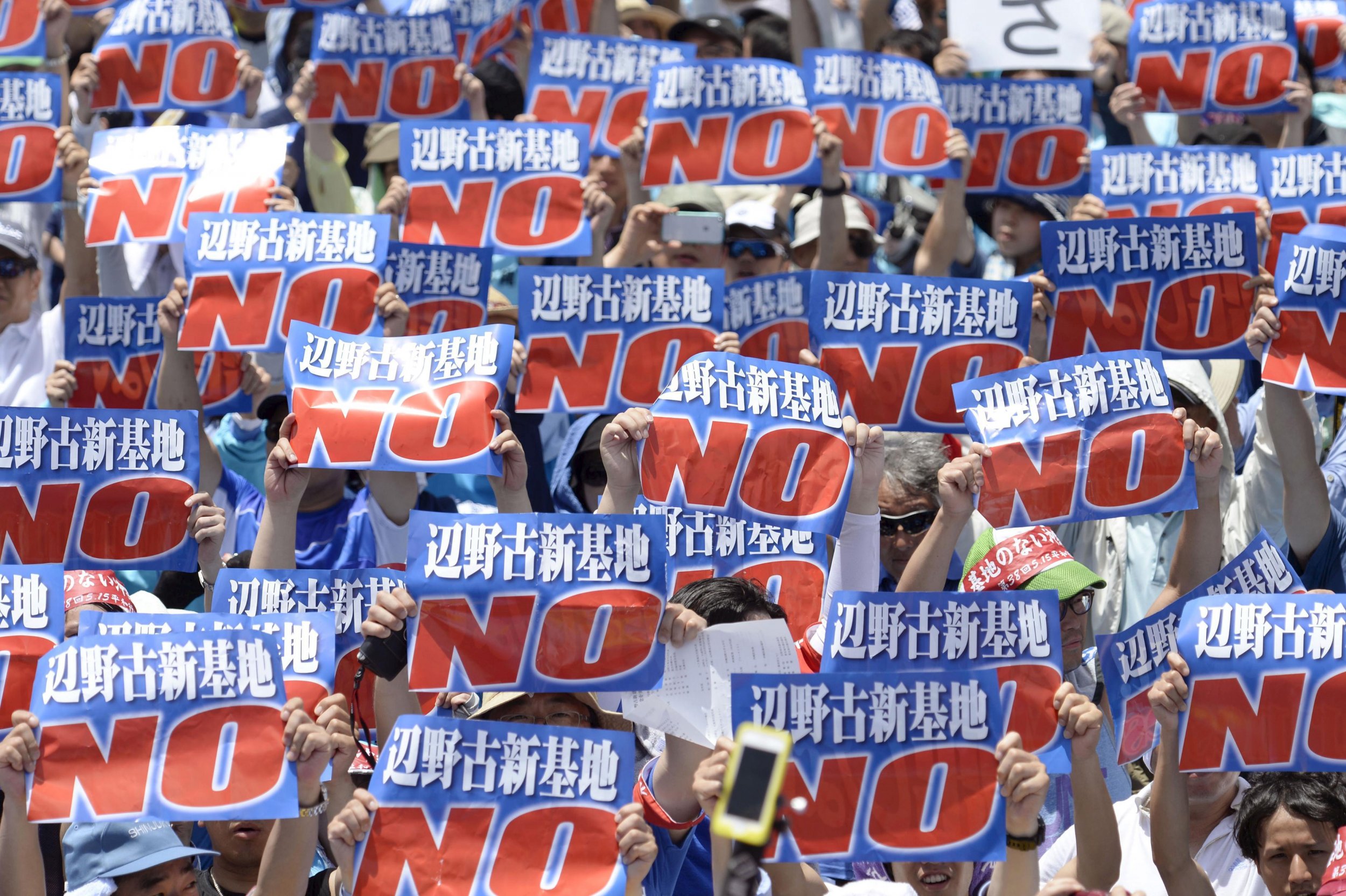 A small cylindrical object fell on the tin roof of a preschool on the Japanese island of Okinawa soon after a U.S. military helicopter flew over on Thursday morning.
Around 70 people—including children and staff members—were in the school when they heard a loud noise at 10:20 a.m. local time (8:20 p.m. EST), local media reported. Some children were playing outside, but they did not sustain any injuries.
"I'm appalled to think what would have happened if it had fallen instead just a little bit from where it did," said Take Nago, the 78-year-old chief caretaker of the Midorigaoka Nursery School, quoted by Japanese news agency Kyodo News.
According to a government source quoted by the news agency, a U.S. military CH-53 transport helicopter was flying in the area at the time the incident took place, heading in the direction of the school.
Local authorities described the clear plastic cylinder-like object as measuring 4 inches in length and 3 inches in width. Pictures of the object published by Japanese media show it had a red label reading "Remove Before Flight" and "U.S." in English.
The images suggest the object is likely to be the shipping cover of an in-flight blade inspection system, which is featured on CH/ME-53E helicopters to provide in-flight warning of blade failure, as a Navy document explains.
"We take this report very seriously and are investigating this incident, working closely with local authorities," the U.S. Marine Corps, whose air base is located 2.5 miles from the school, in Futenma, told ABC News in a statement. "We care deeply about the safety of our friends and neighbors in the communities around which we live and operate. We will provide more information as it becomes available."
Japanese Minister of Defense Itsunori Onodera said the local defense bureau also asked the U.S. Marine Corps for details about the incident.
"We think this kind of incident stirs concerns among the people in Okinawa," he said, quoted by Kyodo.
Okinawa residents have long been complaining about U.S. soldiers' misbehavior on the island, which hosts the bulk of the American military presence in Japan.
The fallen object represents the latest in a string of incidents involving U.S. servicemen and Japanese civilians in Okinawa. Last month, a U.S. marine who was driving drunk was arrested for killing a Japanese man in a crash. The military has since banned the consumption of alcohol both on and off base. A former marine was sentenced to life in prison last week for the murder and rape of an Okinawa woman in April 2016, as local media reported.
In 1995, the rape of a Japanese schoolgirl by U.S. military personnel sparked huge demonstrations. Japanese and U.S. authorities have since been planning to move the air base to a less densely populated part of the island. Some politicians, including Takeshi Onaga, governor of Okinawa Prefecture, would rather see the military base removed from the prefecture altogether.
"One wrong move and somebody could have got injured or died," Onaga said of the incident on Thursday, quoted in Kyodo News. "We think this is a serious accident."
The U.S. is planning to relocate 4,000 marines from the bases in Okinawa to the U.S. territory of Guam by 2024. The Pacific island already hosts two military bases, with a third under construction.