US Military Arctic Training Sends Message to Russians
As Ukrainian forces fight through near-freezing temperatures against Russian forces, roughly 1,000 American troops are carrying out arctic training drills at the Joint Base Elmendorf–Richardson military facility in Anchorage, Alaska.
The troops, which include members of the U.S. National Guard, Army, and Navy, have been in the northernmost state since February 28 and will stay there until March 17, when the U.S. Northern Command's (USNORTHCOM) ARCTIC EDGE training program reaches its conclusion.
While ARCTIC EDGE exercises have been offered every two years by USNORCOM since 2018, this year's training comes at a time when combat in arctic climates seem more plausible than in the past.
Last summer the U.S. military left the arid, generally warm country of Afghanistan, a sign of America's focus shifting away from the Middle East. As the nation has centered its activities around dealing with other great powers as opposed to terrorists, the environment of potential battles has also changed.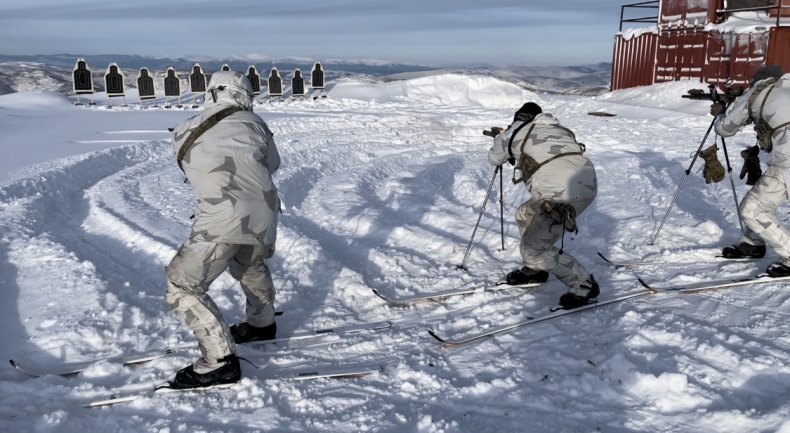 Mark Cancian, a former colonel with the U.S. Marine Corps Reserve and a senior adviser with the Center for Strategic and International Studies' (CSIS) International Security Program, told Newsweek that ARCTIC EDGE comes at a convenient time for the country, as America must consider the possibility of having to do battle in Ukraine or Russia.
"I think there's no question that it sends a message to the Russians," he told Newsweek. "The reason we're up there is because the Russians are up there. If they weren't up there, we wouldn't be up there."
The environment of war can often play a decisive role in which forces come out ahead. Cancian points to what happened to the British and French forces in Norway during World War II as an example.
At the beginning of the war, Germany had taken territory in Norway, so Britain and France elected to support the country by sending in their forces. They opted to deploy them at the city of Narvik, one of its northernmost cities.
"It was a debacle," Cancian said. "The troops weren't prepared. They were cold, they were wet, they were miserable, they were poorly supplied, and the whole thing was a total debacle."
"People point to that as an example of how you have to have the troops trained for operating in that kind of environment if they're going to be effective," he added.
Sable Brown, a U.S. Air Force captain and public affairs officer with USNORTHCOM, told Newsweek that ARCTIC EDGE provides the nation with "a layer of defense." As the U.S. continues to assess its military priorities, Brown said there are are "already some considerations" to expand the size of ARCTIC EDGE in 2024, preparing more U.S. troops for any arctic defense situation that could be presented in the future.
"Being able to deploy our forces and prepare forces to go from somewhere, such as Florida, and be able to deploy anywhere, including these austere arctic conditions, is a very important set of skills and set of planning to have for homeland defense," Brown said.
She noted that the training includes military members from across the country, but emphasized that units from southeastern states, like Florida and South Carolina, have much to gain through "overcoming challenges" associated with the arctic climate.
"Something in South Carolina like spilling water from a canteen on your glove is so mundane down there," Brown told Newsweek, "but up here that can get you severe frostbite."
Brown emphasized that this arctic training goes well beyond routine drills.
"They're doing everything they need to do, and understand how to do it, so that they can be ready for a real world situation," she said. "We're exercising that capability to be able to respond to a threat."