U.S. Military 'Aware' Russia Watching Its Moves in Black Sea As Both Train for War
The U.S. military has acknowledged Russian equipment and warplanes monitoring its movements in the Black Sea at a time when both countries were holding combat exercises in the strategic region.
One day after Russia's National Defense Control Center reported that radars of the Black Sea Fleet quick-reaction forces picked up a U.S. P-8A Poseidon and U-2S reconnaissance planes and scrambled a Sukhoi Su-27 fighter jet in response, Navy 6th Fleet spokesperson Commander Kyle Raines told Newsweek on Friday that "U.S. 6th Fleet is aware of Russian units monitoring U.S. units in the Black Sea."
"All interactions were safe and in accordance with maritime custom as expected," he added. "We operate within international standards to ensure safety and to prevent incidents, including the 1972 Agreement for the Prevention of Incidents On and Over the High Seas (INCSEA), and we expect no different from other navies."
He also cited remarks made by Navy Vice Admiral Gene Black during a media roundtable on Monday.
"The U.S. Navy and our partners and allies will operate in international waters anywhere in the world, in accordance with international law and norms," Black said. "We send our ships and aircraft and units all over Europe and Africa, supporting those partnerships and operating in those international waters, and we'll continue to do so and we'll continue to do so in the Black Sea in particular."
Moscow was also eager to demonstrate its willingness to operate in the region. Russia on Friday against sent out a Su-27 of its Southern Military District to intercept a U.S. Poseidon P-8A over the Black Sea, signaling a delicate arrangement of rival forces in a region they both operate in.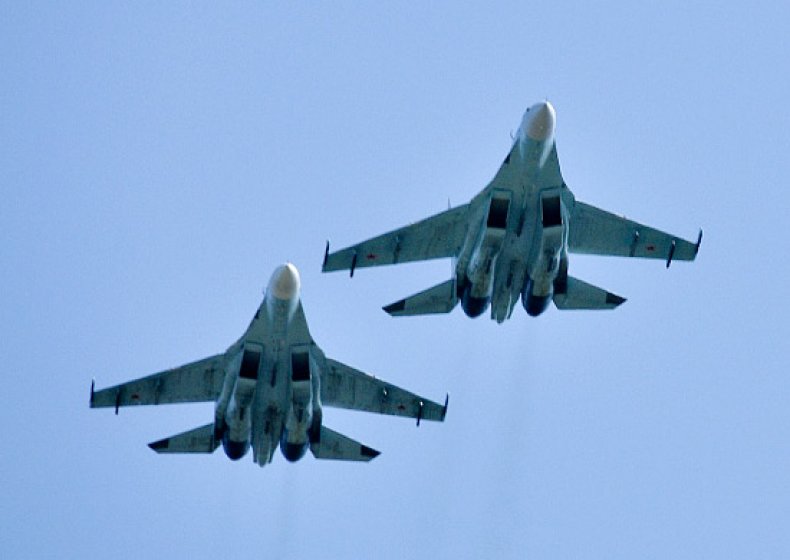 The U.S. is training in the Black Sea as part of a joint naval exercise called Sea Breeze and held jointly alongside Bulgaria, Georgia, Norway, Romania, Spain, Turkey and Ukraine, which has accused Russia seizing the Crimean Peninsula and backing an eastern separatist insurgency since a political crisis in 2014. These developments led to a breakdown in Moscow's relationship with the U.S.-led NATO Western military alliance and the buildup of international forces in Eastern Europe.
"The Black Sea is a vital waterway that is critical to maritime commerce and stability in Europe. The U.S., NATO Allies, and partner nations recognize the importance to not only maintain a stable and prosperous Black Sea region but also the importance of being able to seamlessly operate together and deter any potential threats," Raines told Newsweek.
"Exercise Sea Breeze is a planned, annual exercise conducted in the Black Sea. This year marks the 20th iteration of Sea Breeze," he added. "The continuation of this exercise program is a visible demonstration of our enduring commitment to work closely with our allies and partners to enhance maritime security in the Black Sea."
The drills involve up to 2,000 personnel, 26 ships and 8 aircraft, as well as NATO Standing Maritime Group 2. It also includes maritime interdiction operations, air defense, anti-submarine warfare, damage control and search-and-rescue operations.
Russia has also been especially active in the Black Sea after a series of snap massive military exercises were announced earlier this week. In the Black Sea, these maneuvers involved over 3,000 servicemen and more than 300 pieces of hardware, including around 20 combat ships, and involved various exercises such as beach-storming operations backed by aerial support.
On Friday, Southern Military District commander Army General Aleksandr Dvornikov attended the opening of two new training complexes in the port city of Novorossiysk.
Washington and Moscow's strained relations have led to a breakdown in arms control measures that have long restricted the arsenals of the world's top two nuclear weapons powers. The U.S. pulled out last August from the 1987 Intermediate-range Nuclear Forces Treaty, a move that threatened to allow the reintroduction of mid-range, nuclear-capable missiles to Europe.
Washington accused Moscow of developing a cruise missile that violated the pact, while Russian officials accused their U.S. counterparts of undermining Russian national security with missile defenses, including in the Black Sea state of Romania. Today, the U.S. and Russia are struggling to find common ground to renew the New Strategic Arms Reduction Treaty (START) that limits their nuclear stockpiles and allows for systems of mutual inspection and verification.