U.S. Military Still Bombing ISIS After Iraq Declares Defeat of Islamic State in Mosul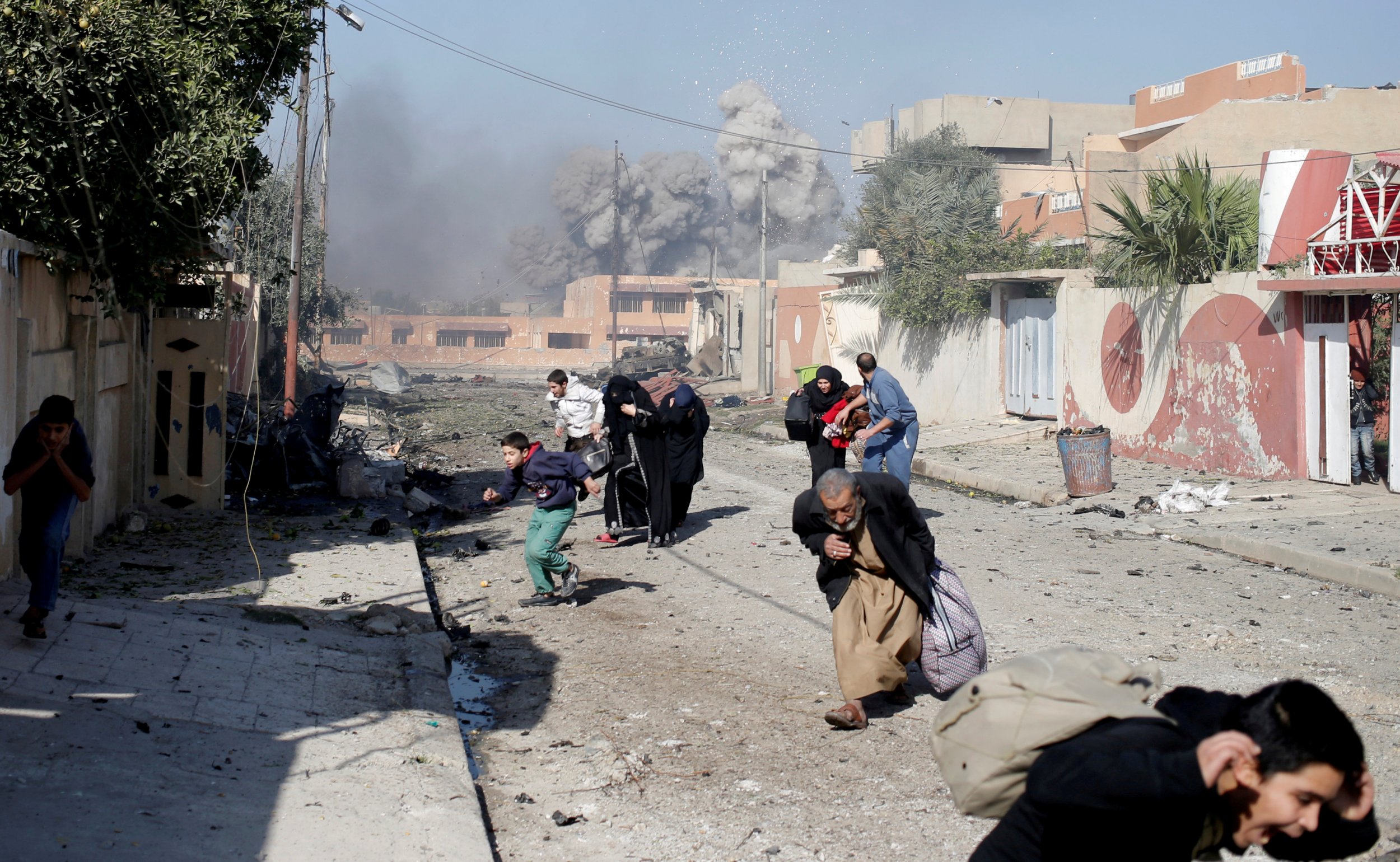 U.S. and Iraqi forces are still actively fighting remaining elements of the Islamic State militant group (ISIS) in Iraq days after the war-torn country's leadership announced it had effectively defeated the jihadis.
In its latest report, the Defense Department said Wednesday that the U.S.-led international coalition had launched five airstrikes against ISIS positions Tuesday in Mosul and Qarayya, two days after Iraqi Prime Minister Haider al-Abadi declared victory over the ultraconservative Sunni Muslim group. Iraqi ground forces and allied militias have also faced resistance in Mosul and other pockets of ISIS support south of Mosul, where the hardline militants are making a last stand to defend what remains of their so-called caliphate in a country they once claimed nearly half of.
Related: ISIS nears U.S. military base in Iraq, slaughters troops and journalists
"Near Mosul, three strikes engaged three ISIS tactical units; destroyed 18 fighting positions, seven medium machine guns and two rocket-propelled grenade systems; and damaged 12 fighting positions," the Pentagon's release read.
"Near Qayyarah, two strikes engaged two ISIS tactical units and destroyed two mortar systems and two vehicles," it added, along with an additional Mosul strike Monday that reportedly "destroyed 21 fighting positions and two medium machine guns, and damaged a fighting position."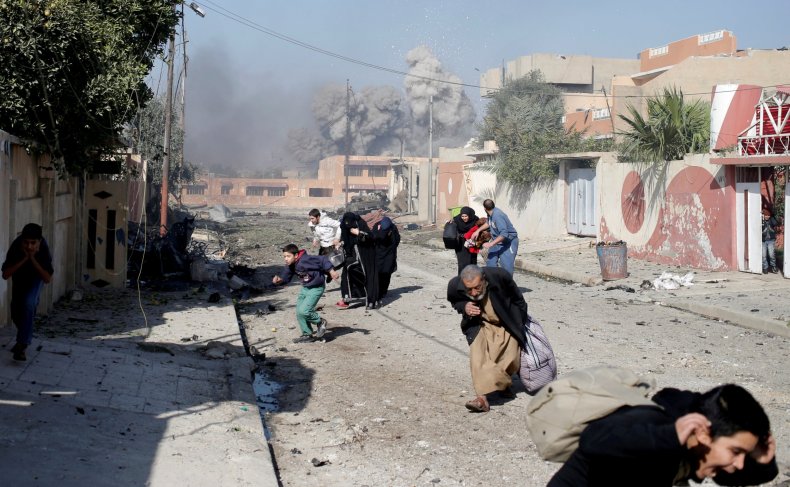 Army Lieutenant General Stephen Townsend, commander of the Combined Joint Task Force-Operation Inherent Resolve in Iraq and Syria, said that U.S. and Iraqi troops faced a residual threat even from ISIS fighters who appeared to be surrendering. Speaking to ABC News, Townsend recalled an incident that occurred Monday in which he witnessed a group of ISIS militants pretending to surrender. Although they had seemed ready to give themselves up to a commander in the Iraqi Security Forces, they then declined to do so after being told they would have to come out slowly in small groups rather than as a large crowd. Townsend said the Iraqi commander felt "something was amiss" and, after a wave of suicide attacks later that day, the senior U.S. military official said he suspected that ISIS was using the pretence as a strategy to attack the Iraqi contingent.
Clashes between Iraqi forces and ISIS have continued as well. ISIS initially took Mosul in 2014 during a series of rapid offensives in Iraq and Syria that shocked the governments of both countries and drew international attention. Mosul's Old City neighborhood became a symbol of ISIS's reign that year when its leader at the time Abu Bakr al-Baghdadi spoke from the local Grand al-Nuri mosque, appealing to supporters around the world in what was his first and only known public address.
Baghdadi has since been declared dead by Russia, Iran and a pro-opposition Syrian monitoring group and the mosque was destroyed, but U.S. helicopters and Iraqi troops were still exchanging fire with ISIS through Wednesday in what Iraqi security sources referred to as "clearing operations," according to Reuters.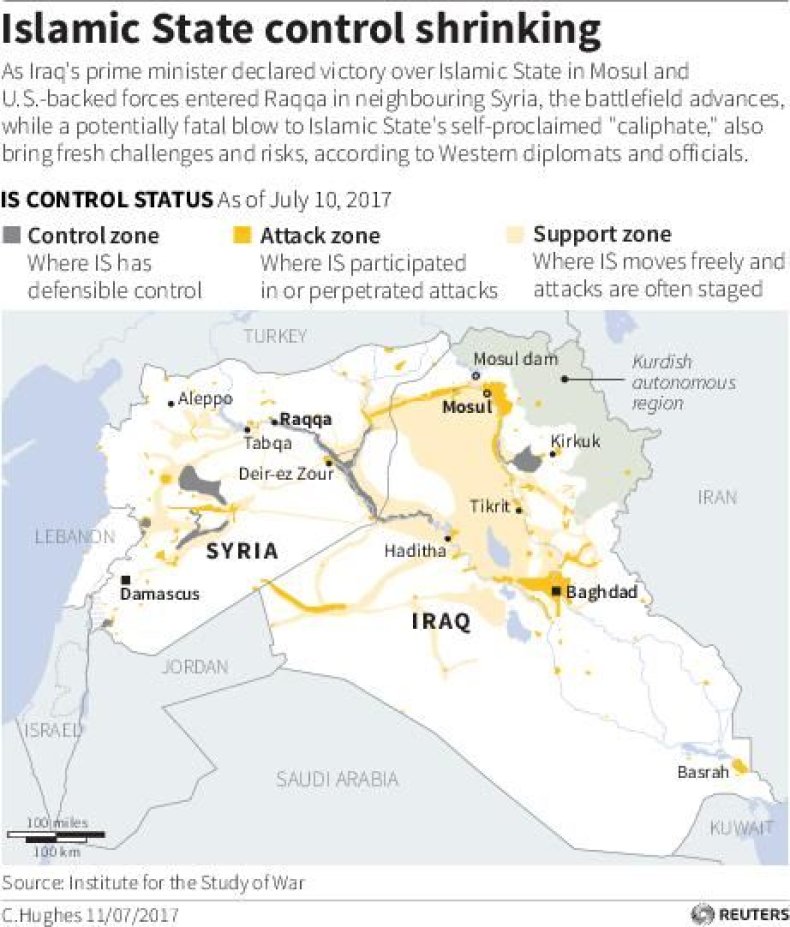 As ISIS loses its former stronghold of Mosul, by far the largest city the group has ever claimed, it has launched counterattacks elsewhere with varying degrees of success. The group has reportedly managed to stage a resurgence in the village of Imam al-Gharbi, about 44 miles of Mosul and just south of a strategic U.S.-controlled air base in Qarayya, where the Pentagon said it had launched strikes Tuesday.
That same day images from ISIS-affiliated media emerged purporting to show the jihadis executing fighters of the Popular Mobilization Forces, a majority-Shiite Muslim group of militias supported by the Iranian and Iraqi governments in the fight against ISIS. ISIS first infiltrated Imam al-Gharbi last week, slaughtering troops and journalists and have since seized up to 75 percent of the village, Reuters reported.
Abadi's announcement of victory over ISIS was met with international praise from a number of countries still actively battling the militants, including the U.S., Russia, Iran and Syria, where the remaining half of ISIS's self-proclaimed caliphate lies. In addition to Tuesday's strikes in Iraq, the Defense Department said it had launched 14 strikes in Syria that same day. The U.S. has partnered with the local Kurd-dominated Syrian Democratic Forces to dislodge ISIS from its de facto capital of Raqqa, while Russia and Iran back the Syrian government, which has also made significant gains against ISIS elsewhere in the country via its armed forces and allied militias.