The Nellis Air Force Base in Nevada hosted its first drag show in order to boost morale and promote inclusivity and diversity, according to the base.
The "Drag-u-Nellis" show was held at the Las Vegas base on June 17. The Nellis Air Force Base Pride committee planned the event, and the Nellis Top 3 sponsored the show.
According to the group's Facebook page, Nellis Top 3 is a "social and professional organization established to enhance the morale, espirit de corps, of all enlisted personnel assigned to the Wing and to facilitate cooperation between members of the top three enlisted grades."
The Nellis Air Force Base Pride committee focused on diversity and inclusion initiatives at the base, and the group is made up of volunteers across the base, Lt. Col. Bryon McGarry, a Nellis spokesperson, told Task & Purpose.
The show featured drag queens from the Las Vegas area, including appearances by Coco Montrese, Makena Knight and Alexis Mateo. The event intended to help attendees "discover the significance of Drag in the LGBT+ Community," according to the event's flyer.
The flyer was posted to social media by a podcaster who is a U.S. Air Force veteran.
"I guess the airmen at@NellisAFB have completely mastered air and ground combat so they can relax with an event that has grown men in dresses twerking; very cool!" @BravoKiloActual tweeted.
Critics of the event questioned why the largest U.S. air combat training center was hosting a drag show, with some Twitter users calling it "outrageous" and "unbelievable."
A Nellis AFB spokesman told Newsweek: "Nellis Air Force Base is committed to providing and championing an environment that is characterized by equal opportunity, diversity and inclusion. Base leaders remain supportive of events and initiatives that reinforce the Air Force's emphasis on diversity and inclusion toward recognizing the value every one of our Airmen brings to the team,"
"Approximately 180 Nellis community members attended and feedback from attendees was resoundingly positive," the spokesperson said.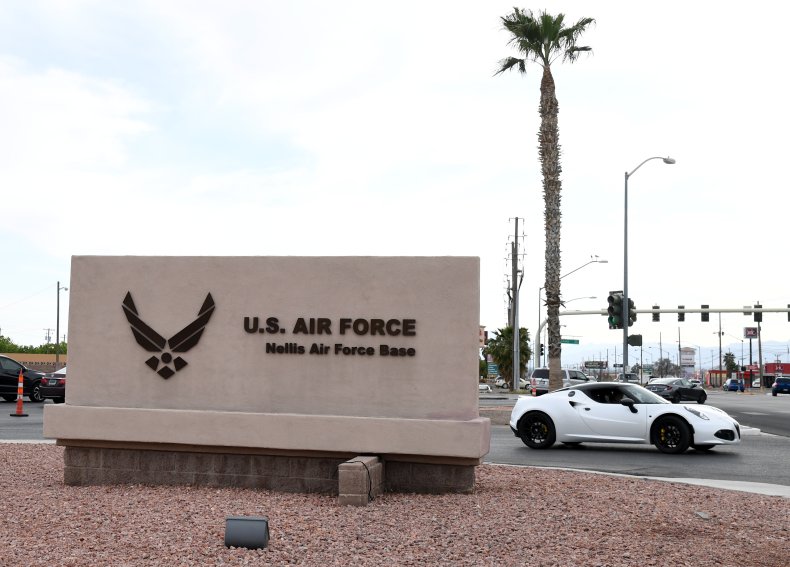 Earlier, the base provided a statement to conservative news outlet Breitbart surrounding the show: "The event was sponsored by a private organization and provided an opportunity for attendees to learn more about the history and significance of drag performance art within the LGBT+ community. Ensuring our ranks reflect and are inclusive of the American people is essential to the morale, cohesion, and readiness of the military."
The Nellis Airforce Base also houses the U.S. Air Force Warfare Center, which the base's website states is "the largest and most demanding advanced air combat training mission in the world."
Updated 1:54 PM ET, to include a comment from the Nellis Air Force Base.