U.S. Military Dispatched to Protect Middle East Embassies After Trump's Jerusalem Embassy Move
U.S. Marines were deployed to beef up security at U.S. embassies across the Middle East on Monday, in the wake of the Trump administration's inauguration of a new U.S. Embassy in Jerusalem.
Marines trained specifically to protect embassies were sent to U.S. diplomatic facilities in countries like Jordan, Lebanon and Egypt, ostensibly to protect the buildings from any retaliation following the U.S. decision to move its embassy in Israel, from Tel Aviv to Jerusalem.
President Donald Trump officially recognized Jerusalem as the capital of Israel in December and announced his intention to move the embassy. The move angered many across the Middle East, who believe that half of Jerusalem should be the future capital of a Palestinian state if a two-state solution is negotiated between Israel and the Palestinians.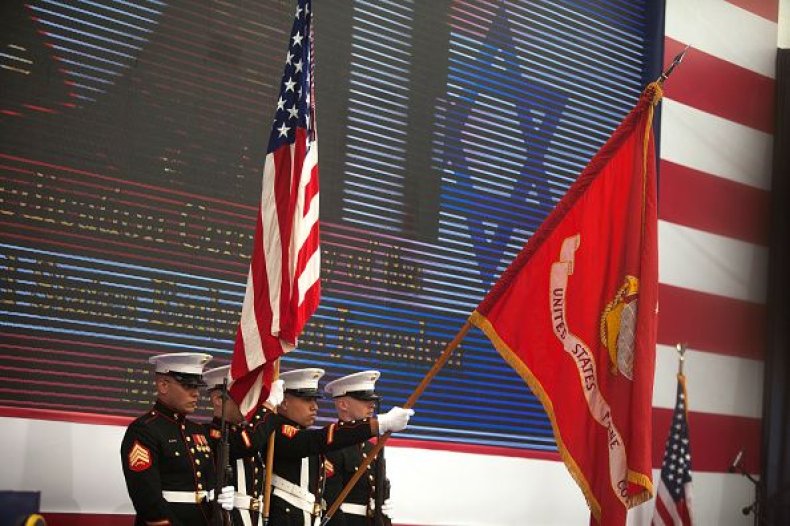 Thousands of protesters gathered along the border between the Gaza Strip and Israel in the month leading up to the new embassy's inauguration. The demonstrations were meant to mark Land Day, an annual event that calls for Palestinians to be given the right to return to their ancestral land. But the day of the embassy's inauguration saw the largest number of protesters arrive along the fence separating Gaza from Israel, and dozens of protesters were killed by Israeli snipers.
Experts and human rights defenders argued that the bloodshed, which many associate with Trump's support for Israel and Israeli Prime Minister Benjamin Netanyahu, could damage U.S. credibility in the Middle East, making U.S. embassies a target.
"The opening of the US embassy in Jerusalem and official American recognition of Jerusalem as Israel's capital should be a moment of celebration for all of us who feel deeply connected to Jerusalem and recognize its importance to the Jewish people over the millennia. However, the manner and timing of this move were designed to advance the agenda of right-wing political leaders in the U.S. and Israel, rather than the interest of Americans, Israelis and Palestinians in resolving the conflict," Jeremy Ben-Ami, president of the advocacy group J Street, said Monday.
"Israel's capital is in Jerusalem and it should be internationally recognized as such in the context of an agreed two-state solution that also establishes a Palestinian capital in East Jerusalem. In the absence of that final agreement between the parties on the city's status, blanket recognition of Jerusalem as Israel's capital is premature and divisive," Ben-Ami added.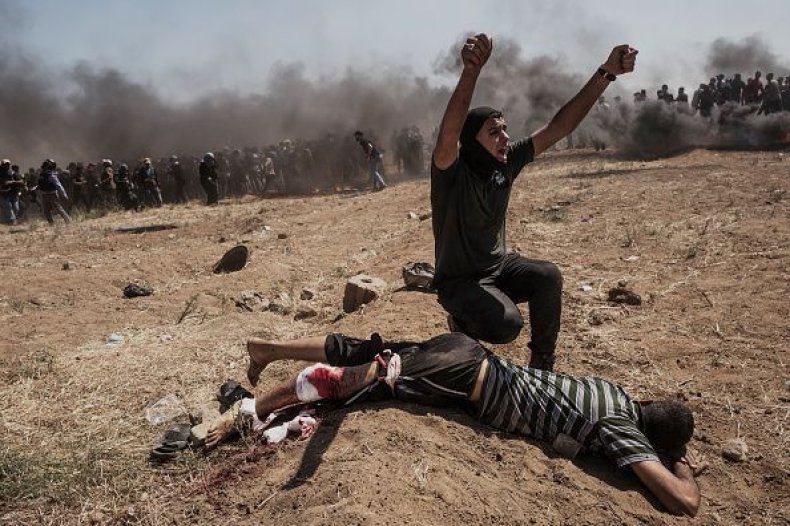 Others took even harsher tones, arguing that the U.S. is fueling human rights abuses with its decision to move its embassy to Jerusalem.
"The Trump administration may portray this action as simply hauling desks from one building to another. But in reality, this move intentionally undermines Palestinian rights and in effect condones decades of violations by Israel, including the creation of illegal settlements, which constitute war crimes," Raed Jarrar, advocacy director for the Middle East and North Africa at Amnesty International, said in a statement.
Turkey and South Africa both announced Monday that they would pull their ambassadors from Israel. in response to Monday's violence in Gaza.
But the White House argued that the opening of a new embassy should not impact its ability to broker a peace agreement between the Israelis and Palestinians.
"We remain committed to advancing a lasting and comprehensive peace between Israel and the Palestinians," newly appointed Secretary of State Mike Pompeo said Monday. "I am delighted to have visited Israel on my first trip overseas as Secretary of State. I look forward to returning soon to visit our new U.S. Embassy and Ambassador [David Melech] Friedman in Jerusalem."
Peace talks have been stalled since 2014, and Monday was the bloodiest day in the region since then.
Embassies are frequently attacked to protest a country's foreign policy, and U.S. embassies have been targeted in Afghanistan, Turkey, Libya, Egypt, Yemen and Pakistan over the past decade.