U.S. Military Sparks Confusion About Troops Removal from Iraq with 'Draft' Letter Sent By 'Mistake'
The U.S. military sparked confusion Monday after a letter appeared to suggest the Pentagon was preparing to pull troops from Iraq, but Defense Department leaders later said the message was a draft and should not have been sent to Baghdad.
U.S. Marine Corps Brigadier General William H. Seely III, head of the U.S. Task Force-Iraq, wrote the U.S.-led coalition "will be repositioning forces over the course of the coming days and weeks to prepare for onward movement" in Monday's letter addressed to Iraq's Staff Lieutenant General Abdul Amir, Deputy Director of Combined Joint Operations Baghdad.
The letter was first shared by The Washington Post and was then confirmed to Newsweek as authentic by a senior Pentagon official. U.S. Army Public Affairs Officer Rick Dickson said on Twitter the letter "is confirmed as official and accurate by Task Force Iraq Public Affairs," but has since deleted his tweet.
After its release, Defense Secretary Mark Esper told reporters Monday that the letter was "inconsistent" with the current Pentagon policy. Joint Chiefs of Staff Chair General Mark Milley offered a follow-up briefing and explained that the letter was genuine, but "is a draft, it was a mistake, it should not have been released."
The conflicting messages prompted confusion among observers and journalists amid rising tensions in the region.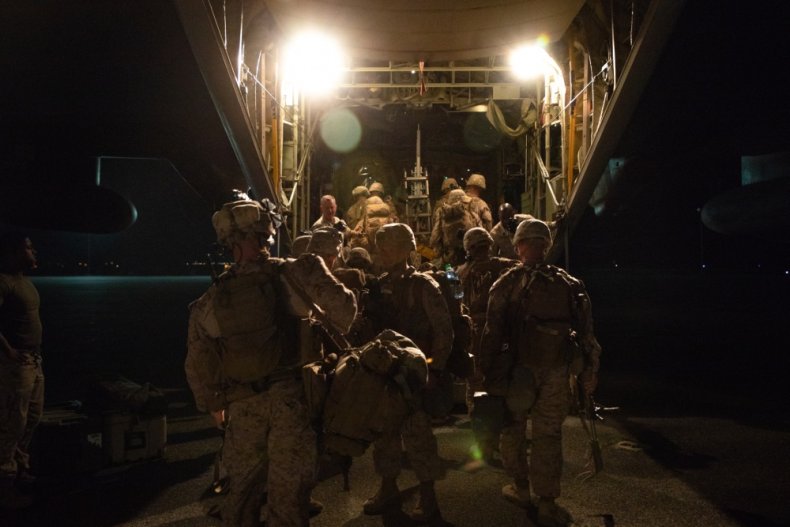 Seely, the commanding general of Task Force-Iraq, wrote in the letter that the preparations to reposition forces were "in due reference to the sovereignty of the Republic of Iraq, and as requested" by the Iraqi parliament and Iraqi Prime Minister Adel Abdul-Mahdi, both of whom moved to support the withdrawal of U.S. forces Sunday.
That vote came after the U.S. killed Iranian Revolutionary Guard Quds Force commander Major General Qassem Soleimani and Iraq's Popular Mobilization Forces deputy leader Abu Mahdi al-Muhandis in a drone strike last Thursday near Baghdad International Airport. The operation, which was not coordinated with the Iraqi government, stirred anger among lawmakers and influential figures in the Middle Eastern country.
Addressing Iraq's House of Representatives at Sunday's "extraordinary" session, Abdul-Mahdi recommended adopting "urgent measures" to remove foreign forces and "make arrangements for that."
Seely, in his letter, notified the Iraqi armed forces of "certain measures" the U.S.-led coalition would need to take in order to "ensure that the movement out of Iraq is conducted in a safe and efficient manner." Such movement, he said, would be done at night and involve "appropriate measures to minimize and mitigate the disturbance to the public."
"As we begin implementing this next phase of operations, I want to reiterate the value of our friendship and partnership," Seely wrote. "We respect your sovereign decision to order our departure."
His language contrasted with President Donald Trump's recent threats of "very big sanctions" on Iraq if it tied to expel U.S. troops, who he said he would not withdraw unless Baghdad paid for their joint airbase that "cost billions of dollars to build."
The U.S. invaded Iraq in 2003, overthrowing then-President Saddam Hussein. U.S. troops subsequently battled a Sunni Muslim insurgency and clashed with Shiite Muslim militias, some of which were backed by Iran. They withdrew in 2011. The U.S. redeployed in 2014 to battle the Islamic State militant group (ISIS) and this time found itself on the same side as many of those Shiite Muslim militias.
The Trump administration's decision in 2018 to withdraw from the 2015 nuclear deal and impose sanctions on Iran, however, sparked new tensions as the defeat of Washington and Tehran's common foe, ISIS, saw the resurgence of their rivalry in Iraq.