U.S. Military Disputes ISIS Assault Death Toll, Calls Militants Most 'Evil and Brutal' Enemy in History of War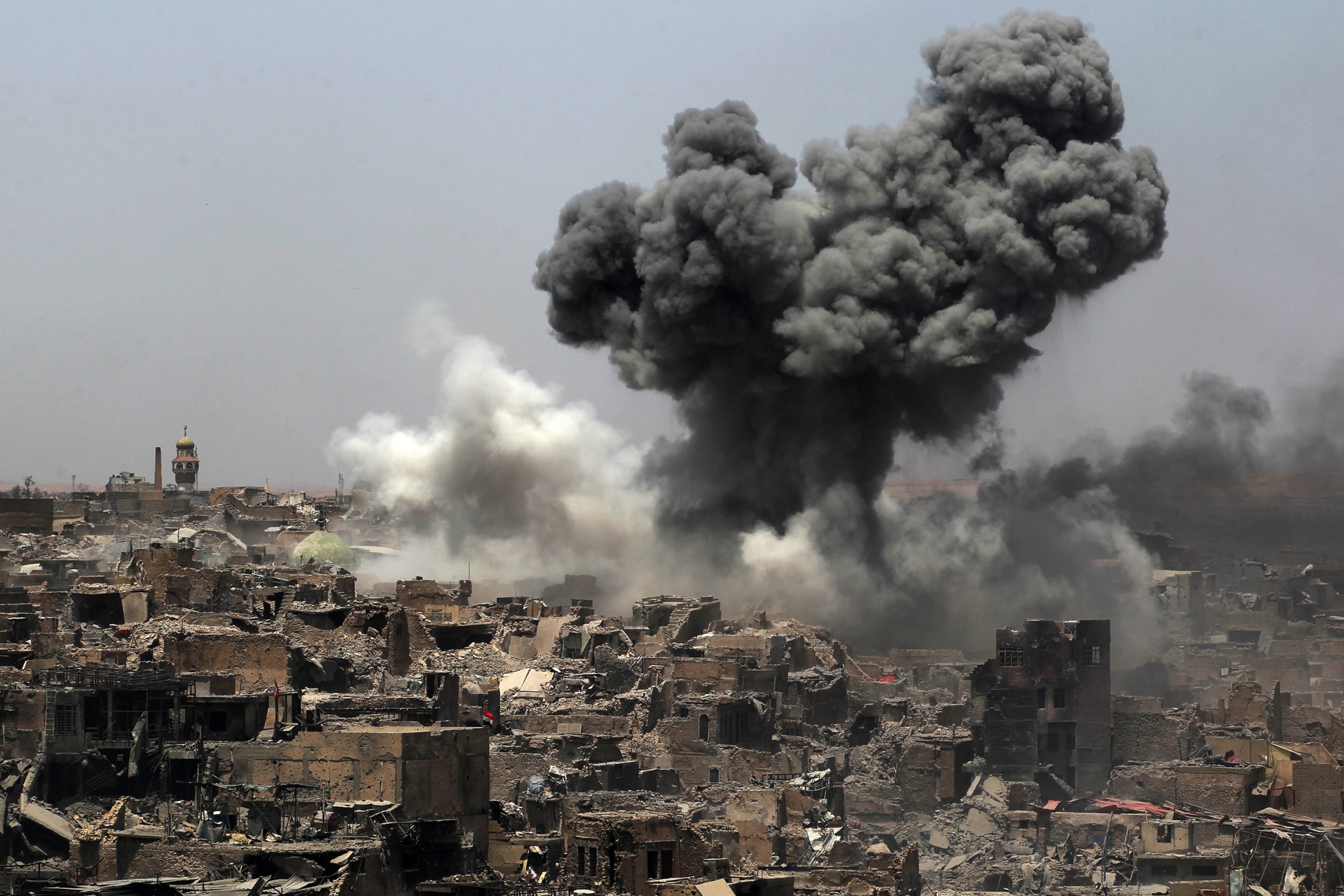 Updated | The U.S. military has responded to allegations that it has killed civilians at an increasing rate under the administration of President Donald Trump while fighting the Islamic State militant group (ISIS), saying that observers should be wary of independent estimates and that it faces historic challenges battling the jihadists in densely populated urban environments.
Responding to a report released Tuesday by U.K.-based monitoring group Airwars, the Combined Joint Task Force—Operation Inherent Resolve told Newsweek Wednesday that the cited numbers of civilian casualties incurred after U.S.-led airstrikes in Iraq and Syria were "allegations, not facts." The Kuwait-based command is tasked with leading the Pentagon's mission against ISIS and said that, using "detailed assessments" more stringent than those of watchdogs, it arrived at 624 unintentional deaths between its latest civilian casualty report on August 4 and August 2014, in contrast to Airwars' minimum estimate of 5,117 last updated Tuesday.
Related: Trump has already killed more civilians than Obama in U.S. fight against ISIS
"We hold ourselves accountable with an open and transparent process to assess allegations of civilian casualties, and we publish these findings on a regular basis for the world to see. Most of our critics do not conduct such detailed assessments and often rely on scant information, which frequently comes from single unreliable sources," the coalition told Newsweek in an emailed statement.
"The Coalition's goal is always for zero human casualties. We apply rigorous standards to our targeting process and take extraordinary efforts to protect non-combatants," it added. "In accordance with the law of armed conflict, the Coalition strikes only valid military targets, after considering the principles of military necessity, humanity, proportionality, and distinction."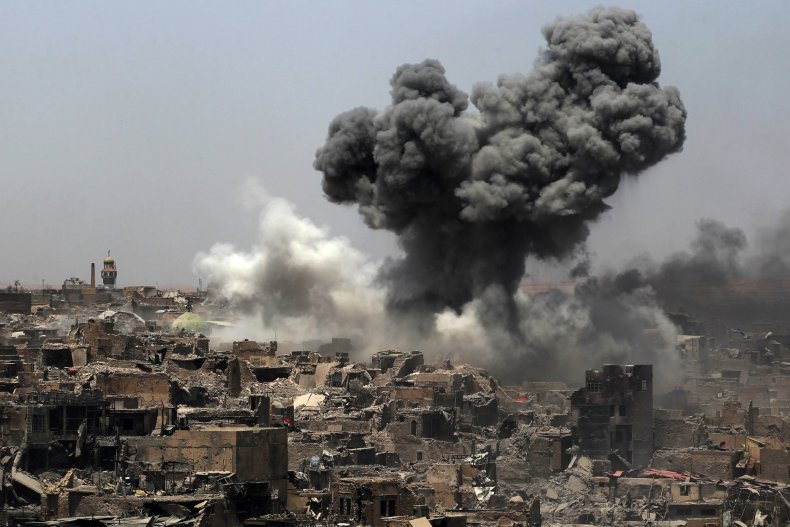 Airwars reported 25,315 strikes in total up to Tuesday. The coalition said it had conducted 22,983 strikes as of its latest public tally on August 4. The monitor defended its practices, telling Newsweek that "according to credible reports by Iraqis and Syrians themselves, thousands have died in the war to overthrow the so-called Islamic State" and that the "U.S.-led Coalition has long underestimated those figures, which does a disservice to the many civilians sadly killed."
While having disputed Airwars' high casualty count, the coalition acknowledged the unprecedented risks of attacking ISIS in its heavily populated strongholds of Mosul, Iraq and Raqqa, Syria. According to data published by Airwars, around 55 percent of civilian casualties occurred in the seven months of Trump's presidency, while the remainder occurred in the previous 29 months the coalition existed under former President Barack Obama.
The offensives to take the cities began last year under Obama, but it was Trump who inherited the most intense, urban stages of the battles. The coalition said it had always anticipated that the battle for Mosul, by far the most populous city to be seized by ISIS, would be particularly devastating, especially as militants clustered amid civilians within the walls of the city's historic eastern districts in the final weeks of clashes.
"Not since World War II has there been an urban assault on a city like Mosul. ISIS had two years to prepare for the defense of Mosul and did not surrender in large numbers. So, the only way to liberate the city was to go house by house, and street by street," the coalition told Newsweek.
"From the start of this operation the Coalition made it clear that this would be an extremely hard-fought battle and the Old City of Mosul would be an extremely difficult undertaking. Never in the history of warfare has a city been held by such an evil and brutal enemy, who not only disregarded the presence of civilians, but used them as human shields and targeted them as they tried to flee," it added.
With Iraq declaring victory last month in Mosul, ISIS's de facto capital of Raqqa in northern Syria is the coalition's next most important prize. Beginning in November, the U.S.-backed Syrian Democratic Forces, a mostly Kurdish alliance of Arabs and ethnic minorities, began moving to isolate the Syrian city from all sides and ultimately stormed the city itself in June.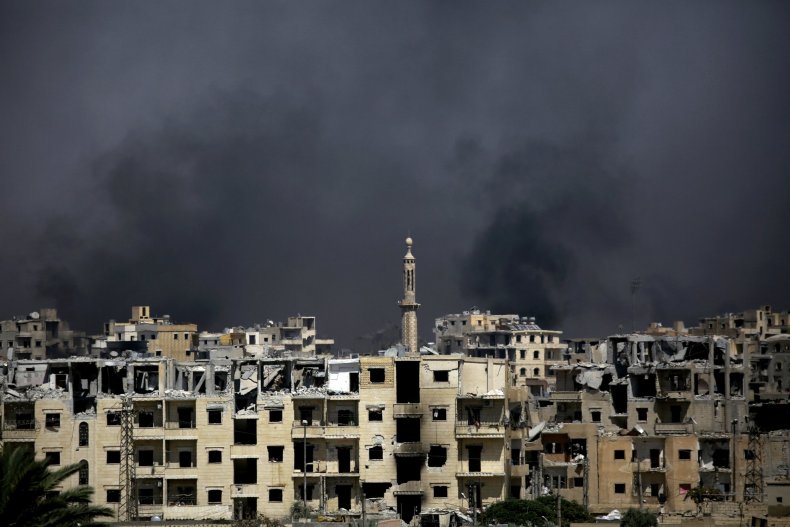 The coalition stressed that here, too, the increased pace of airstrikes was designed to support allied ground forces and ensure the least amount of civilian deaths possible. The Syrian Observatory for Human Rights, a U.K.-based group with ties to Syria's exiled opposition, and other watchdogs have condemned alleged U.S. "massacres" of civilians as the coalition and the Syrian Democratic Forces close in on what's left of ISIS's control of the city.
"Women and children are being deliberately gunned down by ISIS snipers and civilians are starving as they wait to be rescued. Their only hope is that our partnered forces will save them before they starve to death or are shot in the back by ISIS trying to flee," the coalition told Newsweek.
"Our partnered forces in Iraq and Syria are putting their lives at risk and dying every day to save civilians and defeat a truly evil enemy. The only way to save the people is to liberate them from ISIS. The longer this takes the more the people will suffer under ISIS," it added.
In addition to the U.S.-led coalition and its allies, the Syrian military is active in Raqqa province. Syria's armed forces, which are backed by Russia, Iran and various militias supportive of Syrian President Bashar al-Assad, have made significant gains against ISIS in recent months. After initially being forced to cede control of much of the country to rebels and jihadists in the wake of a 2011 uprising, Assad has managed to secure virtually every major population center. However, he and Russian President Vladimir Putin have also been accused of causing high civilian casualties, which they too deny.
This piece has been updated to reflect the fact that figures provided by Combined Joint Task Force - Operation Inherent Resolve were last updated August 4, while those by Airwars included the latest estimate as of the report's release on Tuesday. An Airwars statement was also included.