U.S. Military Presence In Asia: Troops Stationed In Japan, South Korea and Beyond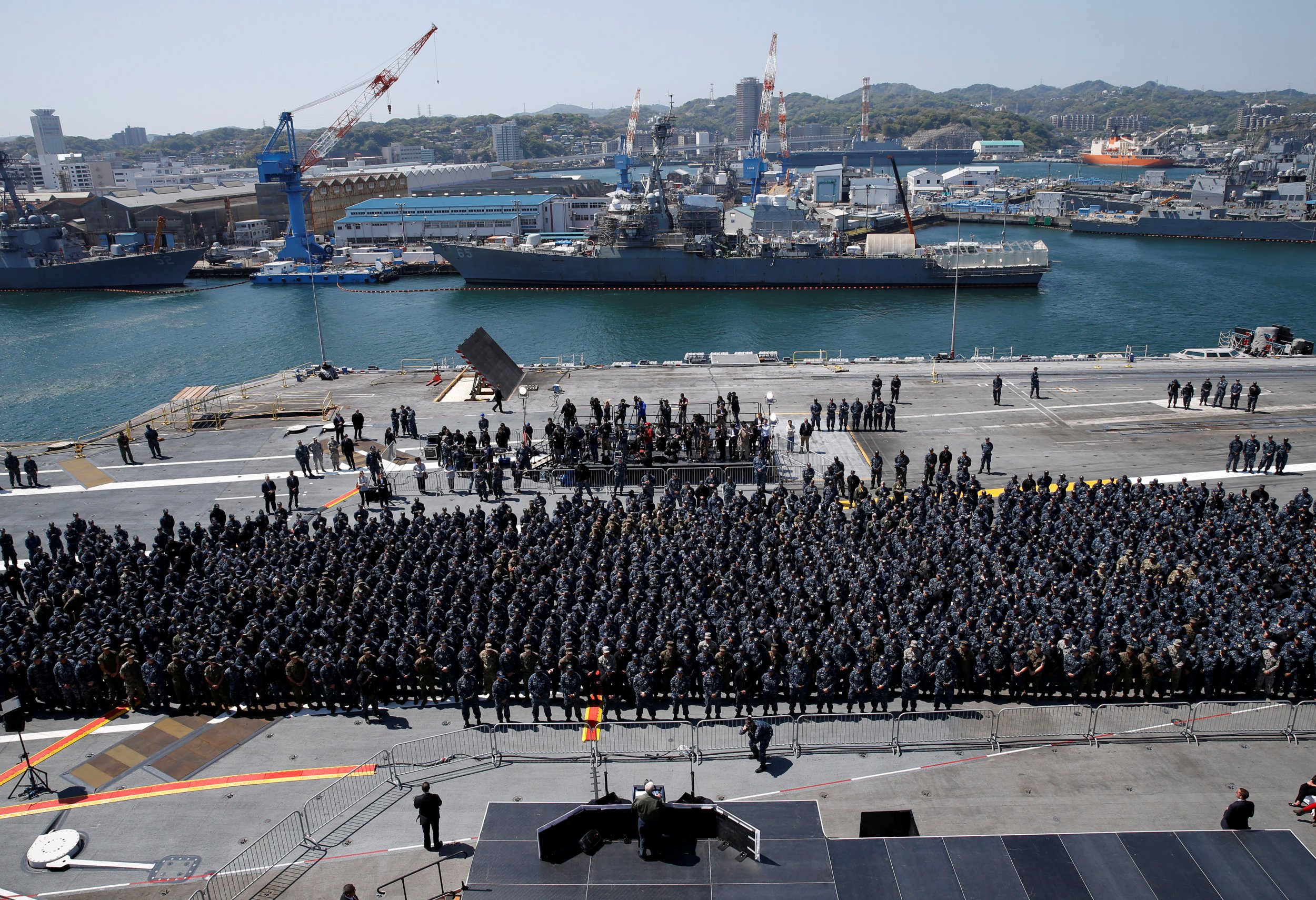 President Donald Trump could have avoided the curious questions after declaring an armada was heading to the Korean Peninsula by just not making the statement in the first place and pointing to more than a half-century of history instead.
The reason? The United States military, across all four service branches, has maintained a massive presence in Southeast Asia, and in particular Japan and South Korea, in the decades that have followed World War II.
Trump made global waves when he said in a recent interview that an armada, led by the USS Carl Vinson aircraft carrier, was on its way to deter North Korean leader Kim Jong Un and his regime's threats to not only continue testing nuclear and missile defense systems but also to obliterate the U.S. and its allies in the increasingly volatile region. The ship was actually heading in the opposite direction at the time of Trump's comments but is expected to reach the peninsula in the next few days, according to media reports.
Yet, one of the reasons Kim has routinely accused the U.S. and the South of attempting to overthrow his government has sat some 600 miles to the east of the peninsula.
By the end of last year, a little more than 39,000 troops were stationed in Japan, with the Marine Corps representing roughly a third of that force at 13,724 personnel, according to the most recent data released by the Department of Defense. That's by far the largest force stationed overseas among the entire U.S. military, with Germany next up at more than 34,000 troops, followed by South Korea at nearly 23,500 troops.
The force is spread out across a number of Japan's islands, with a heavy concentration on the island of Okinawa, and the U.S. Forces Headquarters at Yokota Air Base outside western Tokyo serves as the primary hub. Altogether, the headquarters has about 54,000 military personnel and also includes 25,000 Japanese workers.
As the graphic above shows, the U.S., since Japan has not been allowed to create a traditional military after its defeat in World War II, has set up naval and air bases to the north and south of Japan. Altogether, the Army has two bases, the Marine Corps two (though Camp S D Butler is technically broken down and spread across Okinawa into a number of bases including the controversial Futenma), three for the Navy and three for the Air Force, with the 18th Wing and 35th Fighter Wing also based there.
Along with that balanced bevy of troops, ships and aircraft, South Korea also has a heavy U.S. military presence. Four Army, one Navy and three other Air Force installations have long served as deterrents to the North in the years following the Korean War. The U.S also has installations in Singapore and Guam.