U.S. Military 'Keeping an Eye' on Iran Navy Sent to Atlantic to 'Protect Interests'
The U.S. military is closely watching the movements of two Iranian warships sent out to the Atlantic Ocean for the first time on a mission to safeguard the interests of the Islamic Republic on the high seas.
"We're monitoring this deployment of these two ships," Pentagon Press Secretary John Kirby told reporters Friday.
Amid speculation that the naval contingent consisting of Moudge-class destroyer Sahand and the intelligence-gathering vessel Makran was headed to Venezuela, Kirby declined to discuss what the objectives of the ships might be, but emphasized that they would remain within the sights of U.S. forces.
"I believe questions should be put to leaders in Tehran about what their intent is," Kirby said. "So I'm not going to speculate about what they think they're trying to achieve, but we are monitoring it and keeping an eye on it."
The following day, U.S. Navy spokesperson Captain Pamela Kunze delivered a similar message on behalf of North American Aerospace Defense Command and U.S. Northern Command.
"NORAD and USNORTHCOM are aware of the deployment of the Iranian Navy ships, IRINS Makran and IRIS Sahand," Kunze told Newsweek. "NORAD and USNORTHCOM coordinate globally across all domains to maintain awareness on the activities of all vessels, foreign and domestic, in our areas of operation. As you would expect, we are closely monitoring the situation."
The mission was announced during a press conference held Thursday by Iranian Army Deputy Coordinator Rear Admiral Habibollah Sayyari, who formerly served as the commander of the country's navy. He said that Sahand and Makran, which belong to the Iranian Navy's 77th strategic fleet, began their journey on May 10 and have since been "able to enter the Atlantic Ocean for the first time without mooring in ports of other countries."
Sayyari said the journey was undertaken during a time of unfavorable weather conditions at sea "in order to improve the naval capability and prove the long-term durability" of Iran's naval prowess. He asserted that this came amid doubts by the U.S., which Iranian officials occasionally refer to as "the global arrogance."
"When we declared our intention to enter the Atlantic Ocean, some countries, including the global arrogance, stated that the Islamic Republic of Iran Navy was not capable of doing that," Sayyari said, "but in practice they saw that we did it with strength."
The Iranian Navy's ultimate mission, he explained, "is to defend the maritime borders and protect the resources and interests of the Islamic Republic of Iran at sea, a mission which the Navy has successfully completed so far."
On Friday, as the U.S. issued its own warning, the head of Iran's other naval fleet, that of the Revolutionary Guard, said Tehran too had its eyes on its enemies.
"The cadres of the Revolutionary Guard naval force carefully monitor all the movements of the enemy," Commodore Alireza Tangsiri said Friday in during an inspection of missile units in remarks shared via semi-official social media outlets, "and are fully prepared to preserve and safeguard the interests of the Islamic Republic in the Persian Gulf and the far seas."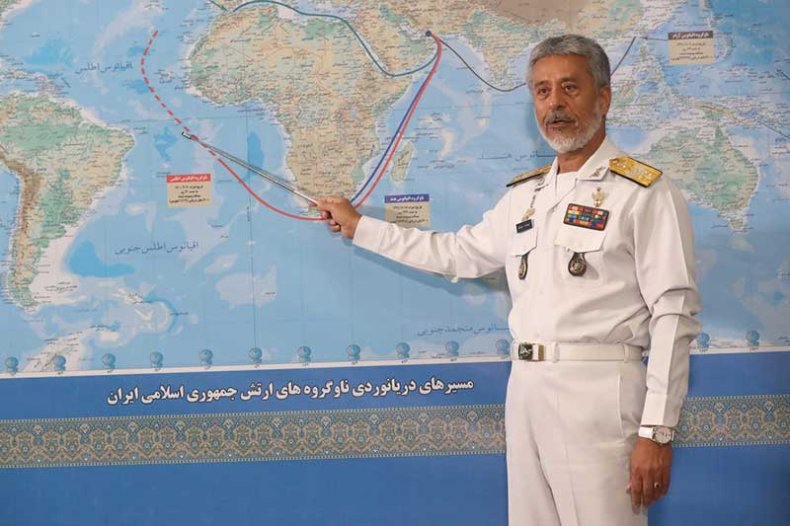 Ships carrying Iranian oil have previously crossed the Atlantic Ocean to provide petroleum products to Venezuela, a partnered nation currently undergoing economic and political unrest. Both Tehran and Caracas are subject to sanctions by Washington, which has ordered the seizure of some such ships and their cargo.
The U.S. has also alleged that Iran and its elite Revolutionary Guard have developed other strategic ties.
Defense Secretary Lloyd Austin told lawmakers during a congressional hearing Thursday that he was "concerned" by the prospect of the Iranian vessels potentially transporting arms to Latin America.
State Department spokesperson Ned Price weighed in on the issue Thursday in response to press questions. While he, like Kirby, declined to speculate on the intentions of the Iranian ships, he issued a warning that the U.S. was ready to take action.
"We're prepared to leverage our applicable authorities," Price said, "including sanctions, against any actor that enables Iran's ongoing provision of weapons to violent partners and to proxies."
International sanctions against Iran's oil sector stemming from the country's nuclear program—which Tehran has always denied was geared toward producing a weapon—were lifted by a nuclear deal reached in 2015 with the U.S. alongside China, France, Germany, Russia and the United Kingdom. Former President Donald Trump later unilaterally abandoned the agreement, doubling down on restrictions.
His successor, President Joe Biden, has sought to reenter the deal, but seeks new reassurances from Iran that it will first reverse steps it has taken away from the deal in response to non-compliance of Western parties. Negotiations toward this end remain ongoing in the Austrian capital of Vienna.
The Biden administration has not yet announced any initiative to reengage with Venezuela, where President Nicolás Maduro remains in power despite the U.S. cutting ties with him in early 2019 in favor of opposition-led National Assembly leader Juan Guaidó, who has accused his socialist rival of election fraud.
This is a developing news story. More information will be added as it becomes available.