As U.S. Military Mandates Masks and Vaccines, Army Takes In Doctor Who Questions Both
As the U.S. military moved to mandate mask-wearing and vaccination for service members at the direction of President Joe Biden, the U.S. Army has commissioned a doctor known for his outspoken questioning of both methods most health experts recommend to help curb the spread of the pandemic still sweeping the nation.
In fact, he's been made a senior officer in spite of the controversy surrounding him.
Jeff Barke, an Orange County, California physician, made waves last September with his militant views toward masks when he pulled out a gun during a virtual interview with anti-masking advocate Peggy Hall, who heads the Healthy American, a blog that advises on how to dodge vaccine requirements among other health topics.
About two-thirds through their 38-minute conversation, Barke brandished a 9mm handgun, referring to the firearm as "better than a mask" in order "to protect you and to protect others."
"I'd rather see somebody carrying a concealed [weapon] than masking up," Barke said. "I think that's better for the public than anything."
The clip, which was later removed from YouTube, sparked a backlash, with some Orange County officials, including the "deeply disturbed" board of Hoag Hospital, where Barke has said he had privileges, distancing themselves from the physician.
About two weeks before the clip, the medical institution filed a lawsuit against Barke's Newport Beach practice, PersonalCare Physicians, and partner, claiming they owed more than $500,000 in management fees.
Nonetheless, Barke was commissioned on Sunday as a major in the U.S Army Reserve.
"Dr. Jeff Barke was commissioned as a major in the U.S. Army Reserve Aug. 8, 2021 as a Family Medicine Physician and met all accessions criteria, to include current professional credentials," Lieutenant Colonel Simon B. Flake, head of public affairs at the U.S. Army Reserve Command, said in a statement sent to Newsweek.
Flake said that all soldiers have to follow the rules, both in terms of health protocols and their online personas.
"Once in the Army, all Soldiers are required to follow established regulations, policies and procedures, including the Army's Social media guidance and all force health protection measures," Flake said. "The Army Reserve continues to follow guidance from the Centers for Disease Control and Prevention to prevent the spread of the COVID-19 virus and sustain unit mission essential operations. We are committed to ensuring the health and safety of our Soldiers, civilians and Families."
A spokesperson for the U.S. Army offered an identical statement, when contacted by Newsweek.
Barke, for his part, defends his position.
"I am neither anti vaccine nor anti mask. I am pro freedom and pro choice with informed consent," he said in an email to Newsweek. "As our founder Thomas Jefferson once said: 'There is no justification for taking away individuals['] freedom in the guise of public safety.'"
"I look forward to serving our great county as an officer in the United States Army Reserve Medical Corps," he added.
But the news came as a shock to vocal veterans who worried Barke's position could allow him to spread harmful views.
"It is shocking that the U.S. Army Reserve gave a field-grade direct commission to an individual with a long line of public scandal, conspiracy theory support and questionable conduct," Fred Wellman, a retired U.S. Army lieutenant colonel, told Newsweek. "It's not enough that someone meets the basic requirements of the job when you are automatically making them a Major that will lead soldiers, treat them and their families and represent the service."
"As a veteran, the father of a veteran, and father-in-law of a current soldier," he added, "I wouldn't want this man anywhere near my family."
He also questioned the Army's justification for commissioning Barke.
"The idea that Dr. Barke meets the qualifications to be a doctor while being disavowed and sued by the hospital where he claimed privileges is ridiculous," Wellman said. "More importantly, his public behavior goes against the morals and ethical code we expect is the basic foundation of a military officer. They made him a field grade officer, for God's sake!"
Naveed Shah, another veterans advocate who served in the Army and now acts as government associate for the Common Defense political action committee, was similarly upset.
"A cursory search shows Dr. Barke's background and affiliation with extremist groups," Shah said. "The Army Reserves need to remove Dr. Barke immediately so that Soldiers can have confidence in their medical staff's expertise."
Barke has made somewhat of a name for himself in the communities of Southern California, where he's appeared frequently on local media outlets and has spoken at rallies espousing criticism of mask and vaccination mandates.
Katie Hill, a mother of two and a resident of Riverside County, said she first took notice of Dr. Jeff Barke when he gave a speech during a rally outside of a Riverside County Board of Supervisors meeting on May 5, 2020.
"That day, our county supervisors were voting on whether or not to rescind public health measures," Hill told Newsweek. "I was following the meeting and came across videos of the rally being held outside and found it really strange that a doctor from a neighboring county, dressed in scrubs and a lab coat, was making a speech that seemed more driven by political ideology than concern for public health."
She described hearing such remarks "so full of Covid disinformation" as "disturbing."
"The negative impact of a doctor pushing an anti-mask, pro-herd immunity agenda really concerned me," Hill said.
Barke's speech was reviewed by the Poynter Institute's Politifact fact-checking site, which described many of the physician's claims disparaging the efficacy of mask-wearing, lockdowns and quarantines as "inaccurate" or "misleading."
Barke also served on the medical advisory team for California Representative Michelle Steel, but she later distanced herself from him after his gun-toting media appearance last year.
Hill said she's not alone, as others have also raised the alarm on Barke. A search on social media shows a number of online sleuths sharing instances of Barke breaking with mainstream opinions regarding the nationwide fight against COVID-19, and especially the direction taken by Biden since coming to office.
Since inheriting the White House from former President Donald Trump, for whom Barke has expressed support, Biden has encouraged mask-wearing, and last month he reintroduced mandatory face covers for U.S. military personnel in COVID-19 hotspots.
Biden has also pledged to improve the vetting process for government employees as part of an effort toward routing out ties to extremist groups, and "enhancing faith in government and addressing the extreme polarization, fueled by a crisis of disinformation and misinformation often channeled social media platforms, which can tear Americans apart and lead some to violence," according to a 32-page report issued by the National Security Council in June.
In yet another move that appears to clash with Barke's opinions, Defense Secretary Lloyd Austin issued a memo earlier this month in which revealed that he has sought Biden's approval to make COVID-19 vaccines "mandatory no later than mid-September, or immediately upon the U.S. Food and Drug Administration (FDA) licensure, whichever comes first."
While Barke, who authored the August 2020 book "Covid-19: A Physician's Take on the Exaggerated Fear of the Coronavirus," has said he was not anti-vaccination, he has endorsed skepticism of the vaccine and opposition against efforts to mandate it.
"A Covid-19 vaccine may be one of many tools to combat the pandemic. But it is not the savior that many believe has arrived. Skepticism is important in science," Barke wrote in an essay published on the website of Fulbright scholar and prominent vaccine skeptic Jennifer Margulis.
"Healthcare workers refusing Covid vaccines are skeptical about safety, efficacy, and necessity. I believe their skepticism is warranted."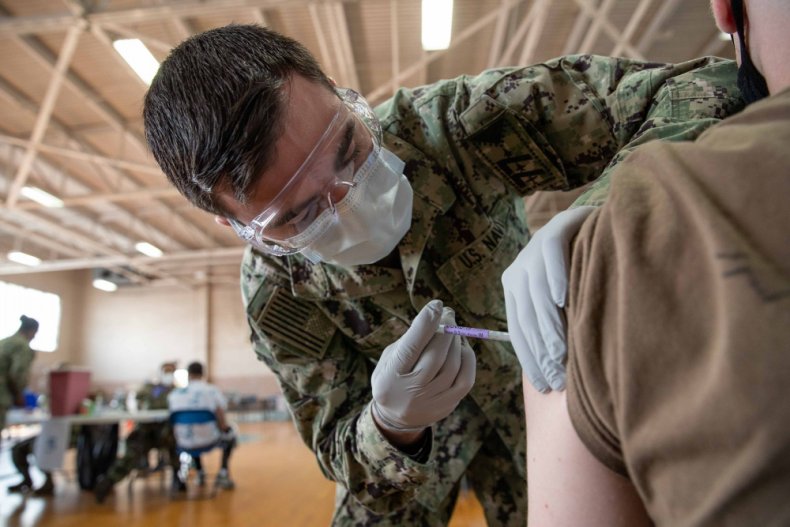 He's been especially vocal about opposing vaccines for children and has also associated with groups that advertise ways for military personnel to avoid orders to get vaccines.
America's Frontline Doctors, a right-wing medical organization for which Barke serves as school liaison, on July 12 issued what it called a "wakeup call about the so-called 'COVID vaccine' to active U.S. military service members.
The memo argued the jab "is NOT a vaccine; it is an experimental gene therapy injection," and went on to explain several ways in which U.S. military personnel could refuse vaccines, including by accusing their commanders of "harassment."
Other articles on America's Frontline Doctors website likened restrictions against unvaccinated persons to the Holocaust, and called for the arrest of "criminal pagans" including Dr. Anthony Fauci, who serves as head of the National Institute of Allergy and Infectious Diseases as well as Biden's presidential medical adviser, after having first been elevated and then rejected by Trump.
The site's founder, Simone Gold, was arrested for her participation in the January 6 storming of the Capitol alongside a mob of pro-Trump protesters seeking to disrupt the confirmation of Biden's electoral victory.
Barke appears to have continued to discuss his controversial theories regarding the pandemic on media outlets even after he was commissioned into the military.
In what appears to be his latest appearance Wednesday on San Diego's KUSI News, Barke railed against the idea of mandating masks in schools, and advocated parents revolt against any such measures, which he likened to "child abuse." Previous videos featuring Barke on the news station have been censored by YouTube, branded as misinformation regarding COVID-19.
In his closing remarks on the program, Barke again shared one of his most oft-recited quotes that he attributed to former President Thomas Jefferson, the same one he repeated in his email to Newsweek: "There is no justification for taking away individuals' freedom in the guise of public safety."
Newsweek conducted independent research, consulted experts such as Thomas Jefferson Foundation research librarian Anna Berkes and could find no evidence that Jefferson had ever uttered or written these words.