US Military Launches Massive Hurricane Harvey Operation; Dramatic Rescue Scenes Emerge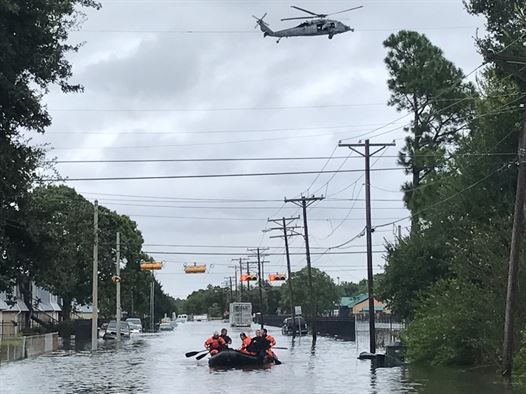 Dramatic scenes have emerged from Texas and Lousiana as the military launched a massive emergency rescue and relief effort to support communities and local authorities in the wake of Hurricane Harvey.
The Air Force said Friday that it has deployed more than 2,000 airmen, to directly support relief operations, including to personnel from Air Force active duty, reserve and the National Guard. More than 85 percent of airmen involved are reportedly from the reserves or the National Guard. In one Wednesday operation, the Air Force sent a C-17 Globemaster II from Joint Base Charleston to deliver 15,779 pounds of medical supplies and more than 20 emergency responders to Little Rock Air Force Base, Arkansas.
Related: Meet the Houston Police Chief Who Helped Stop Hurricane Harvey From Becoming a Katrina Crisis
"It's just a blessing to be able to show Americans what our military does for their country," Lieutenant Colonel Michael MacLain, the 43rd Aeromedical Evacuation Squadron flight commander, said in a statement. "They always see us somewhere else and now they get a first-hand look of what we do in their own backyard."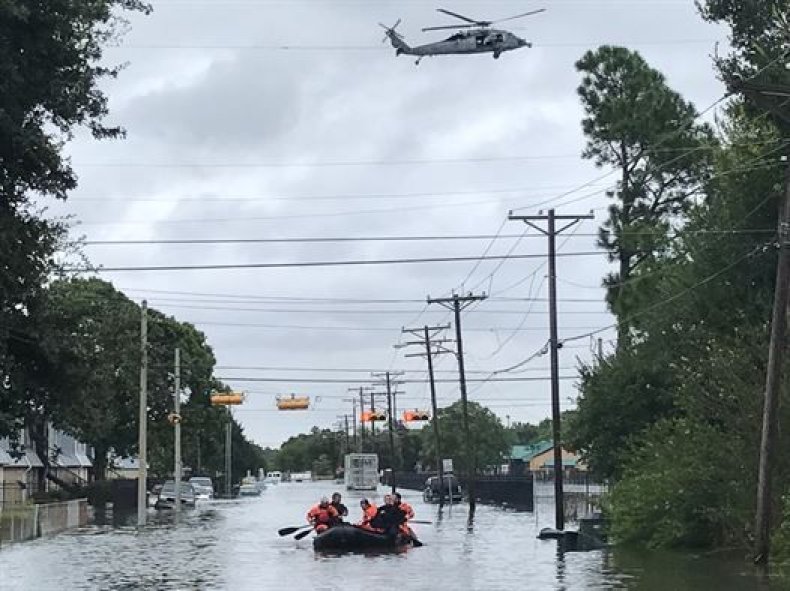 Airmen of the 123rd and 125th Special Tactics Squadrons could be seen wading through the high waters of Port Arthur, Texas to search for and collect stranded civilians and the Air Force 347th Rescue Group was caught on tape landing a helicopter onto the flooded streets of Houston as forces rushed survivors into the aircraft. The Air Force 48th Rescue Squadron joined forces with the Navy's Helicopter Sea Combat Squadron to bolster FEMA's search and rescue efforts in various storm-hit areas.
"It's like the Nile formed in neighborhoods throughout the Houston area – we're talking 4 to 6 feet of standing water stranding people who can't swim, families with children and drivers who are unaware of the depth of water on the roads," Major Aaron Zamora, the 123rd Special Tactics Squadron director of operations, said in a report.
In addition to contributing helicopters, the Navy also sent Wasp-class amphibious assault ship USS Kearsarge and Harpers Ferry-class dock landing ship USS Oak Hill to support the devastated region. Bravery also came from local law enforcement agents such as Houston Police Sargeant Steve Perez, who died Sunday in the line of duty, and Houston Police Chief Art Acevedo, whose service on the front lines of the crisis likely prevented a much higher death toll.
For those who were rescued, the Air Force also set up a Disaster Aeromedical Staging Facility at George Bush Intercontinental Airport in Houston. The 375th Aeromedical Evacuation Squadron transported the most severely injured of these patients to seven hospital locations across the states of Texas, Oklahoma, Louisiana, Tennessee, Mississippi and Alabama.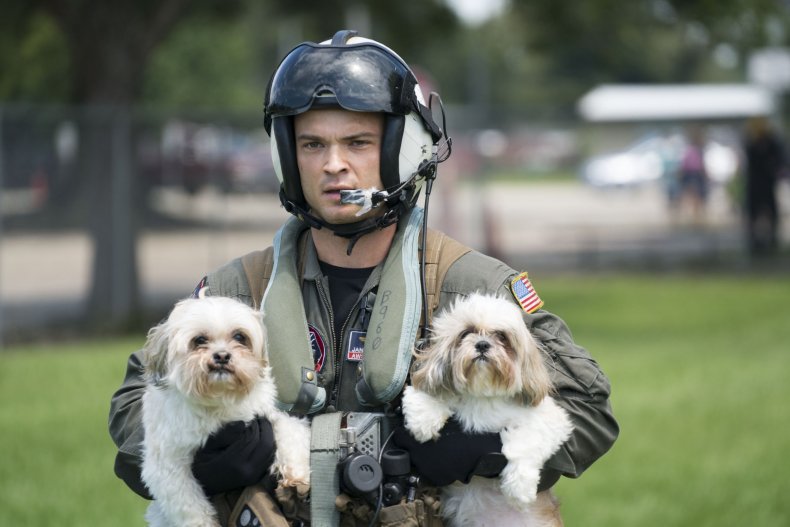 Hurricane Harvey has killed at least 45 people and could cost up to $190 billion in damages, potentially making it the most expensive natural disaster in U.S. history. The hurricane shattered local rainfall records, resulting in up to six inches per hour in some parts of Houston. It also resulted in a series of fires and explosions at the Arkema chemical plant in Crosby, Texas.
President Donald Trump has pledged a $1 million personal donation to the recovery efforts, a move that his son apparently did not believe mainstream media outlets such as CNN would cover.