US Military Members Who Survive Ukraine War May Face 'Consequences' at Home
Members of the U.S. military who travel to Ukraine to join the fight against Russian troops in a grueling war and live to tell the tale may return home only to face administrative or legal ramifications.
Days after Russian President Vladimir Putin announced the onset of what he called a "special military operation" against neighboring Ukraine nearly a month ago, Kyiv established a new foreign fighters' force, the International Legion of Territorial Defense of Ukraine. Since then, Ukrainian officials have said the volunteer militia has garnered tens of thousands of recruits from at least 52 countries, including the United States.
In fact, the U.S. has regularly been cited by Ukrainian officials as among the most (if not the most) prolific countries of origin, with more than 7,000 U.S. citizens having applied, according a figure provided to Newsweek by Ukraine's embassy in Washington, which noted that "not all of them are approved and not all of them are going to Ukraine."
And while no readily apparent legal barriers exist for U.S. civilians to sign up, the situation is far more complicated for active service members and reservists, who must notify their commanders of such travel and may face disciplinary action if they do not.
Reached for comment on what these protocols entail, the Office of the Director of National Intelligence referred Newsweek to Security Executive Agent Directive-3 (SEAD-3).
SEAD-3-covered individuals, which includes those who have access to classified information or hold a sensitive position, are required to notify their command or agency head of all unofficial foreign travel. Failure to do so may result in the "revocation of national security eligibility."
And even more serious actions may be pursued in the case of U.S. military personnel joining the ranks of a foreign country in active combat with a nuclear-armed rival.
Asked about what such recourse could be taken against U.S. reservists who go to Ukraine to fight, a Pentagon spokesperson told Newsweek that "due to the complex nature of reserve member statuses — regardless of whether they are members of the Selected Reserves, Retired Reserves, or Individual Ready Reserve — the answer isn't simple."
"For that reason, we are looking at the implications and consequences that would be associated with reserve members fighting in a foreign country on behalf of another government," the spokesperson said. "As each member is an American citizen, there are other considerations individuals must factor into a decision to fight in the Ukraine to include potential impacts to their citizenship, criminal or legal implications, etc."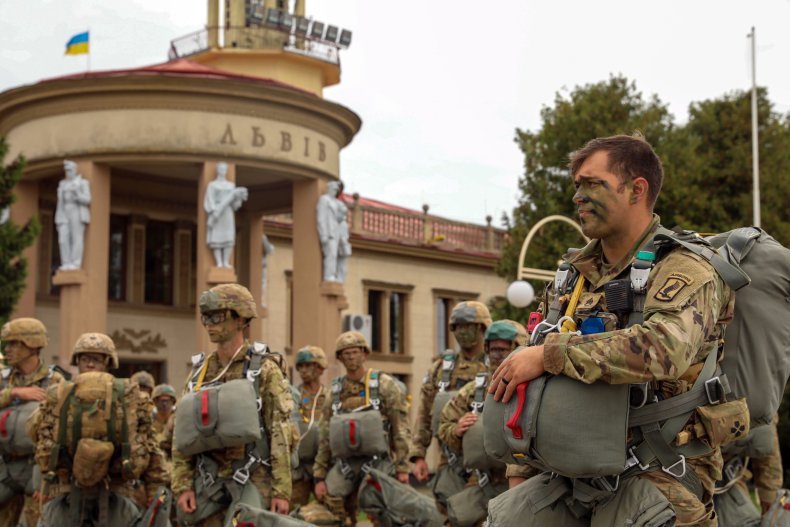 While some mechanisms for the Pentagon to monitor the whereabouts of U.S. active-duty service members exist, the situation is more complex when it comes to reservists or members of the National Guard, who answer to states rather than the federal government. The lack of a clear-cut, daily-updated process has raised questions as to whether the U.S. military would even be immediately aware if members had already gone to Ukraine.
The United Kingdom, a NATO ally of the U.S. and another ardent supporter of Ukraine, faced a similar situation earlier this month when the U.K. Defense Ministry acknowledged that four of its soldiers had gone AWOL (absent without leave) and may have traveled to Ukraine. Doing so, the ministry warned, would be punishable by court martial.
From Ukraine's point of view, however, active duty or reserve status is not a barrier for membership.
Corporal Damien Magrou, spokesperson for Ukraine's International Legion, told Newsweek that the Legion was "aware of the legal constraints, both for active servicemen and other American citizens," but that this "is not a disqualifying factor" for aspiring recruits from the U.S. and other countries.
"Their enlisting in the Legion is perfectly legal under Ukrainian law, it's perfectly legal under international humanitarian law," Magrou said. "And from there on, it is not my role as a spokesperson for the International Legion of Ukraine, which is a part of the Ukrainian Army, to go and comment on possible consequences or whatever for our American recruits under American law."
He said that Ukraine's embassy in Washington and other consulates that accept applications to volunteer provide a "disclaimer" as to how such actions could be subject to U.S. laws, so "all of our recruits are aware of or should be aware of the legal situation in their home country."
"In this context, all of our recruits come in full knowledge of the situation and they make this decision themselves," Magrou said. "It's not for us to stop them if they want to come."
Despite the overwhelming U.S. support politically, economically and militarily to Ukraine's resistance against the Russian incursion, President Joe Biden's administration is not encouraging U.S. nationals outside of the military to join the fight either.
"Regarding volunteer fighters, Ukrainians have shown their courage and they are calling on every resource and lever they have to defend themselves," a State Department spokesperson told Newsweek. "We applaud their bravery. However, our Travel Advisory remains: U.S. citizens should not travel to Ukraine, and those in Ukraine should depart immediately if it is safe to do so using commercial or other privately available options for ground transportation."
The State Department issued a Level 4 "Do Not Travel" advisory last month in the leadup to the conflict, as U.S. officials repeatedly warned that Moscow was planning an attack amid an unprecedented Russian military buildup along Ukraine's borders in spite of Kremlin denials.
With war having erupted, the U.S. has only doubled down on such warnings to those may seek to travel to Ukraine.
"We urge all to carefully consider routes and the risks of travel, because Ukraine's roads may be crowded, exposed to combat operations, or have deteriorated infrastructure due to damage to bridges, roads, and facilities," the State Department spokesperson said.
"U.S. citizens who travel to Ukraine, especially in order to participate in fighting there, face significant risks to personal safety, including the very real risk of capture or death," the spokesperson added. "The United States is not able to provide assistance to evacuate U.S. citizens from Ukraine, including those U.S. citizens who travel to Ukraine to engage in the ongoing war."
The spokesperson also referenced another ominous development for those in the U.S. who seek to join the fight.
"In addition to other risks to personal safety, U.S. citizens should be aware that Russia has stated it intends to treat foreign fighters in Ukraine as 'mercenaries,' rather than as lawful combatants," the spokesperson said. "While the United States expects Russia to respect all of its obligations under the law of war, in light of this statement, U.S. citizens who are detained by Russian authorities in Ukraine may be subject to potential attempts at criminal prosecution and may be at heightened risk of mistreatment."
The Russian Defense Ministry has repeatedly warned foreigners not to join the fight, and has claimed to have conducted high-precision cruise missile attacks against positions hosting foreign fighters, including those in the provinces of Lviv, Zhytomyr and Rivne, counting hundreds of casualties among Ukrainian troops and international recruits.
Russian Security Council Secretary Nikolay Patrushev warned Biden's national security adviser, Jake Sullivan, directly on the matter during a phone call between the two last week, in which the senior Kremlin official told his White House counterpart "to stop Washington's support for neo-Nazis and terrorists in Ukraine and facilitating the transfer of foreign mercenaries to the conflict zone, as well as to refuse to continue supplying weapons to the Kiev regime."
Such steps, Patrushev warned, "will only lead to further escalation."
On Wednesday, Russia's ambassador to the U.S., Anatoly Antonov, also issued a warning on the topic.
"Pumping the Kiev regime with weapons and sending foreign mercenaries to the Ukrainian territory is irresponsible and extremely dangerous," Antonov said in a statement. "The militarization of Ukraine poses a direct threat to the European and global security."
Asked by Newsweek on Thursday on the fate of servicemen from the U.S. military and others should they be captured by Russian forces, Russian Foreign Ministry spokesperson Maria Zakharova said that "we do not accept any form of recruitment of mercenaries" from other nations to either the Ukrainian Armed Forces or "the ranks of nationalistic battalions."
"We think that this work has been going on actively through the domestic missions of Ukraine abroad, as well as through the intelligence networks, first of all through the United States and other NATO countries, or NATO structures," Zakharova said. "We do not accept that, but we have also warned the countries and the governments regarding the fact that no questions asked us regarding the fate of those people."
The Biden administration has sought to walk a careful line in backing Ukraine's war effort, while holding back on certain offensive weapons systems such as fighter jets, and dismissing the possibility of declaring a no-fly-zone or sending U.S. troops to fight Russia, a scenario the president has said would lead to "World War III."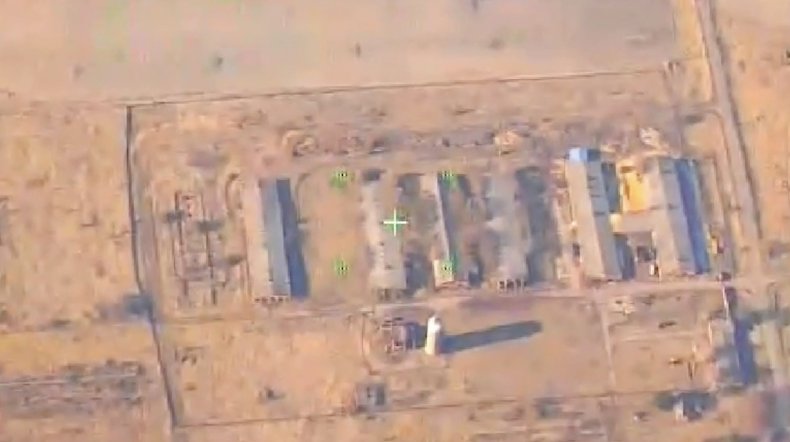 While the U.S. and Ukrainian officials as well as a number of experts have dismissed Putin's "denazification" justification for initiating hostilities against Ukraine, Newsweek has previously reported on far-right elements traveling from abroad, including the U.S., to join Ukraine's fight against pro-Moscow separatists that first rose up in the eastern Donbas region eight years ago amid political unrest that brought to power a pro-West government in Kyiv.
Forces associated within Ukraine's far-right such as the National Guard's Azov Regiment as well as nationalist political paramilitaries like Right Sector and even Russia-linked extremist groups like the neo-Nazi Wotanjugend have held a prominent place on the battlefield alongside a broad representation of Ukrainian society against the Kremlin's attack. So far, however, there is no evidence of a mass influx of far-right militants traveling to enter the fray.
Speaking on behalf of the International Legion, Magrou told Newsweek that "Ukraine is fighting on the side of different democratic freedoms, and one of these freedoms is freedom of conscience."
"Active military servicemen in Ukraine, including Legionnaires, have a duty of restraint when it comes to expressing their own views publicly and this includes both religious and political views," Magrou said. "So as long as the person is respecting their duty restraint and is not expressing any political points of view which may be controversial, then they can have whatever opinions or convictions they want, that is part of their freedom of conscience."
"If however, the recruit is taking a public stance or has in the past taken very public stances, with, let's say controversial, political, political convictions, that may reflect badly on the Legion," he added, "then that is one of the factors that we'll look at before they're accepted."
Magrou emphasized, however, that "there is no such thing as a blanket ban based off one more other political association, nor do I think it would be appropriate to operate in that way."
But he added that "when it comes to actual hate groups or extremist groups, if they do have public links to these groups, obviously that's one of the factors that we'll take into consideration" when reviewing applications.
The Biden administration, for its part, has encouraged U.S. citizens to help in other ways, including through U.S. AID's Center for International Disaster Information portal.
"The American people have demonstrated an incredible outpouring of support for Ukraine in the face of unprovoked Russian aggression," the State Department spokesperson told Newsweek. "It truly reflects the generosity and compassion of the American people."
This article has been updated to include comments provided Thursday by Russian Foreign Ministry spokesperson Maria Zakharova.