U.S. Military Now Has 16 Advanced Stealth Fighters In Japan To Counter North Korea Threat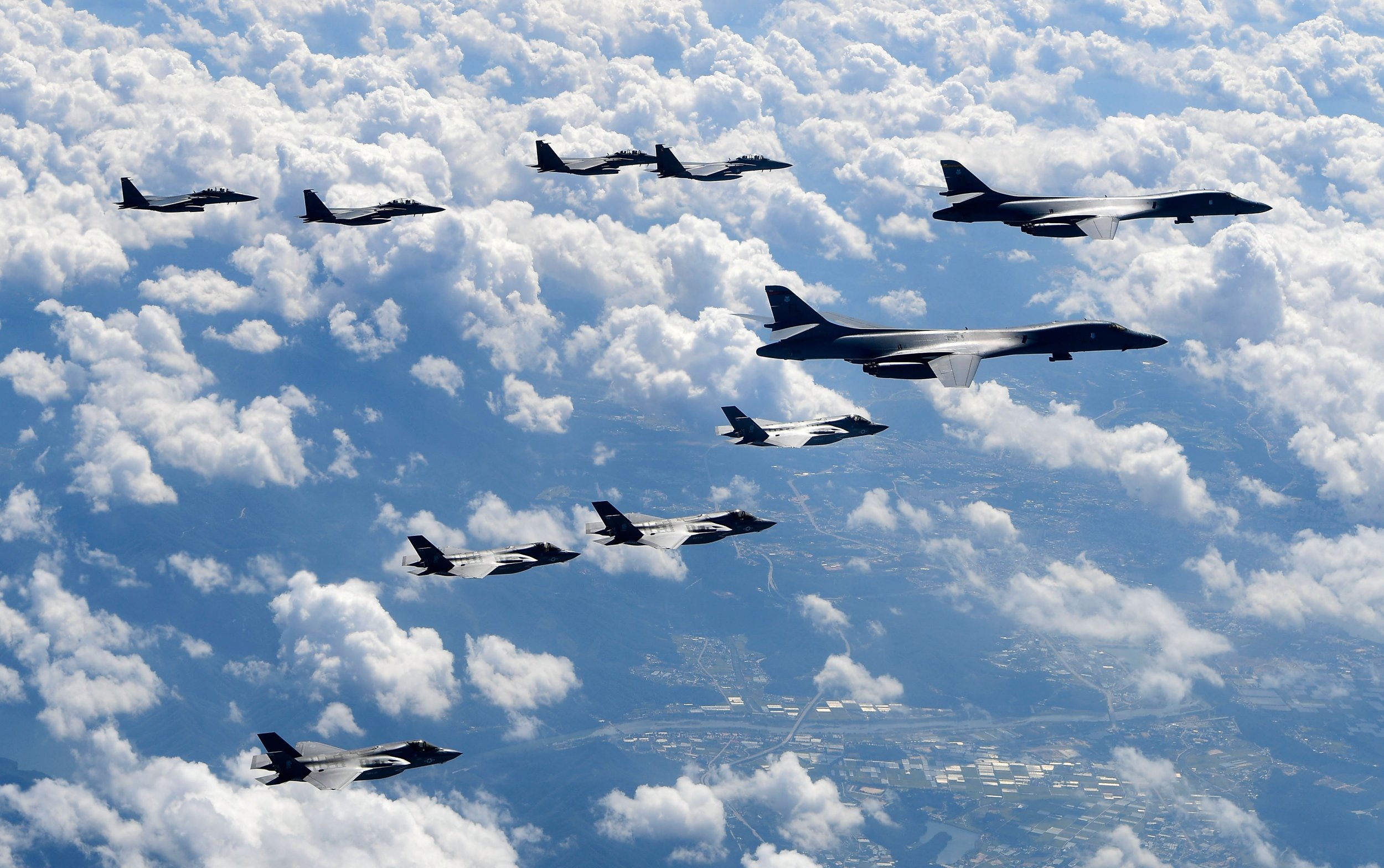 Three advanced stealth fighters arrived at a Marine Corps base in Japan on Wednesday, bringing the total number of the state-of-the-art fighters at the station to 16 in a region facing threats from North Korea.
The arrival of the three F-35B Lighting IIs, as reported by Stars and Stripes, brings full strength to the Marine Fighter Attack Squadron 121 (VMFA-121), which is the first aircraft squadron in the Marines to receive this kind of fighter. The F-35B is a short-takeoff, vertical-landing aircraft that "brings strategic agility, operational flexibility and tactical supremacy to the Pacific," according to the Marine Corps.
The VMFA-121, also known as the "Green Knights," has been around since World War II and joined a wide array of air missions for the Marine Corps for over half a century. In January, the squadron transferred from Marine Corps Air Station Yuma to Marine Corps Air Station Iwakuni to become the first forward deployed permanent F-35B squadron.
"The F-35B represents the future of Marine Corps tactical aviation, and bringing it to Japan makes MCAS Iwakuni the second only operational F-35B base," U.S. Marine Corps Maj. Jimmy Braudt, a quality assurance officer and pilot with VMFA-121, said in a statement. "One of its capabilities is a powerful sensor suite that fuses together several different sources and provides superior situational awareness to the pilot."
The fighter is the first of its kind to be permanently based in that theater and "is capable of countering modern threat systems beyond what legacy aircraft were designed to handle," Braudt added.
The arrival of the F-35B fighters comes amid heightened tensions with North Korea over its long-range missile tests and nuclear program.
During a 12-day trip to Asia that ended on Tuesday, President Donald Trump focused heavily on resolving the hostilities between the U.S. and Pyongyang.
"Theweapons you are acquiring are not making you safer. They are putting your regime in grave danger," Trump said during an address to South Korea's National Assembly Nov. 7. "Every step you take down this dark path increases the peril you face." The president, who has often taken a belligerent tone when discussing North Korea, offered Pyongyang a path toward peace if it agreed to denuclearization and the cessation to its long-range missile tests.
Kim Jong Un's regime has pushed back on such discussions, however, and contended Trump "begged" for nuclear war during his Asia trip. Pyongyang was also enraged about U.S. military drills involving three nuclear-powered aircraft carriers near the Korean Peninsula that occurred amid Trump's trip,claiming "the nuclear war exercises of the United States" prove it is "is hell bent on bringing catastrophic disaster to humanity."
The U.S. routinely flies bombers near the Korean Peninsula as part of "show of force" missions against the North Korean regime. In one such mission in September, B-1B bombers were accompanied by F-35B fighters.