U.S. Prepares New Missiles for Japan After North Korea Threatens Nuclear War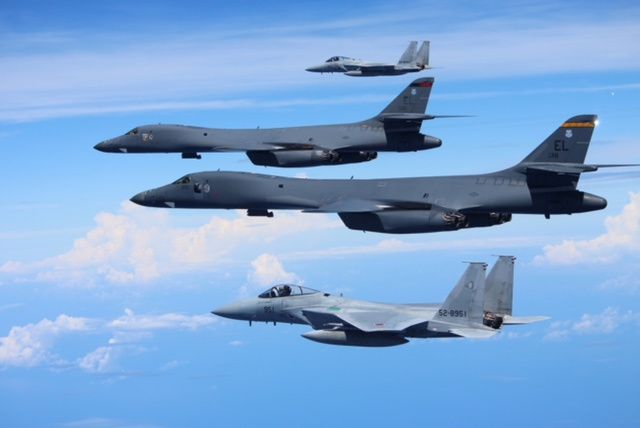 The U.S. has moved closer to selling dozens of state-of-the-art missiles to Japan as part of President Donald Trump's pledge to boost military support for Pacific allies opposed to nuclear-armed North Korea.
The State Department's Defense Security Cooperation Agency said Wednesday it would back the Japanese government's request for up to 56 AIM 120C-7 Advanced Medium Range Air-to-Air Missiles (AMRAAMs). The sale, which is estimated at $113 million and requires congressional approval, would also reportedly include various logistical, technical, engineering and weapons support services. It comes as Japan reconsiders its traditionally pacifist post-World War II stance on defense in the face of threats from North Korea, which has shot two missiles over Japanese territory in the past two months.
Related: North Korea crisis: Japan is growing its military for the first time since World War II because of Kim Jong Un
"The proposed sale will provide Japan a critical air defense capability to assist in defending the Japanese homeland and U.S. personnel stationed there," the agency said in a statement.
"Japan will have no difficulty absorbing these additional munitions into the Japan Air Self-Defense Force," it added.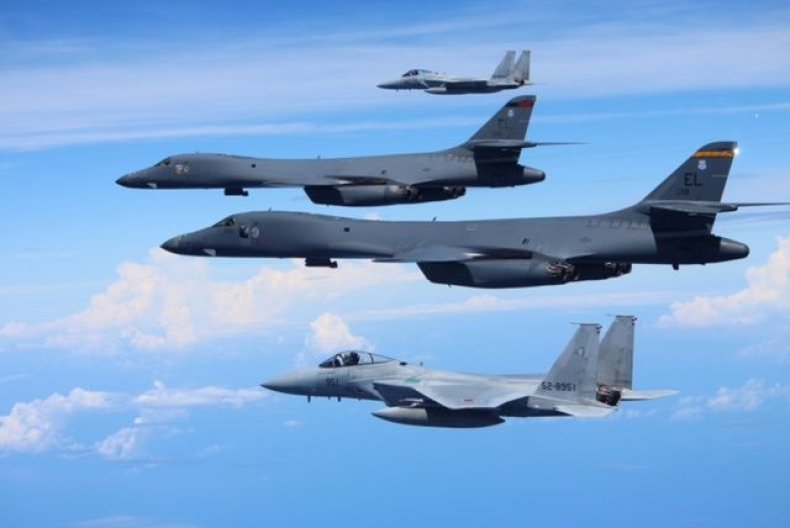 Since the Japanese empire was defeated by the U.S. and other allied powers in World War II, the Pentagon has largely assumed responsibility for Japan's security, leaving Tokyo to command only a modest self-defense force. That same war, however, also split the former Japan-occupied Korean Peninsula between Soviet and U.N. control. The communist North and U.N.-backed South have been at war since the 1950s, and the former has since built up a nuclear arsenal in defiance of U.N.- and U.S.-led sanctions.
North Korea's nuclear weapons have long been a nuisance to leaders in the U.S. and its allies in the region, including Japan and South Korea, but the situation has escalated since President Donald Trump began boosting U.S. military presence in the Asia-Pacific in April. The Republican leader threatened to disarm North Korea's nuclear and ballistic arsenal by force, but the reclusive, militarized state has rapidly sped the pace of its missile tests, including its initial intercontinental ballistic missile (ICBM) tests in July, the second of which landed in Japan's exclusive economic zone.
In late August and mid-September, North Korea tested two intermediate-range ballistic missiles (IRBMs) that flew directly over northern Japanese territory, causing worry among officials and citizens of the archipelago nation. North Korea also conducted its sixth nuclear weapons test, a hydrogen bomb explosion that was more powerful than all five of its previous tests combined.
Shortly after the nuclear test, Trump tweeted that he would "allow Japan & South Korea to buy substantially increased amount of highly sophisticated military equipment from the United States."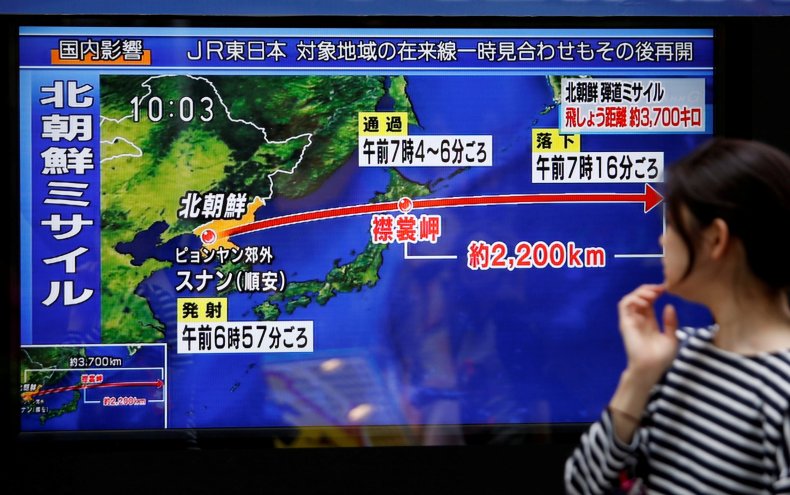 North Korean leader Kim Jong Un's efforts to expand his country's military and the increasingly feverish rhetoric spewed from Pyongyang's state-run media has produced in Japan rare calls to expand the nation's military mandate. In March, leading politicians pushed for a stronger Japanese capability to strike North Korea first. In May, Japanese President Shinzo Abe amended the constitution to ensure the validity of Japan's standing army, whose relatively minor size was even considered a legal gray zone.
North Korea, on the other hand, has doubled down on its hardline stance toward U.S.-backed provocations in the region. The official Korean Central News Agency called Japan's decision to join Trump's anti-dialogue position toward North Korea and adopt a more severe stance against Pyongyang "a suicidal deed that will bring nuclear clouds to the Japanese archipelago."