U.S. Military Says 34 Soldiers Suffered Brain Injuries from Iran Missile Attack on Iraq
Two days after President Donald Trump dismissed concussion symptoms suffered by several American troops as "not very serious," after Iranian airstrikes on Ayn al-Asad Air Base in Iraq, the Defense Department said 34 U.S. service members were diagnosed with concussions and other traumatic brain injuries.
Speaking to reporters at the Pentagon Friday, senior Pentagon spokesman Jonathan R. Hoffman said some of the service members initially screened saw their conditions rapidly improve while others became progressively worse. Of the 34 diagnosed, 17 returned to active duty.
Eight service members were transported to the United States to receive additional treatment at their Walter Reed National Military Medical Center in Maryland or at their home bases. Nine American troops remain at the medical facility in Landstuhl, Germany.
One service member was transported to Kuwait, and after treatment, returned to full duty in Iraq. Sixteen other service members diagnosed with concussions and traumatic brain injuries while in Iraq have returned to duty, said Hoffman.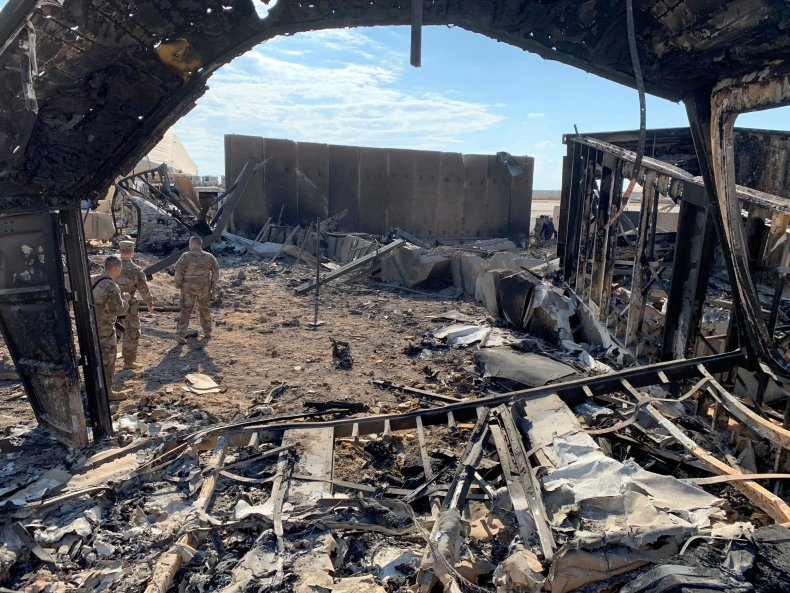 Asked Wednesday if he knew of any serious injuries among U.S. personnel at Ayn al-Assad during the Iranian missile strike, Trump said he "heard that they had headaches, and a couple of other things. He described the injuries as "not very serious" and the White House and the Pentagon have since both come under pressure for not revealing the extent of the injuries.
Defense One first reported on concussions and other traumatic brain injuries.
Iran's missile attack against Ayn al-Asad came in retaliation for the U.S. assassination of Revolutionary Guard Quds Force commander Major General Qassem Soleimani earlier this month near Baghdad International Airport. Soleimani was killed alongside leading Iraqi militia commander Abu Mahdi al-Muhandis and other members of their entourage amid a deadly cycle of tensions involving the U.S. and forces aligned with Iran in Iraq.
Ties between Washington and Tehran have deteriorated significantly since Trump's decision to exit a 2015 nuclear deal with Iran and major powers. Frictions between the longtime foes have led to increased unrest throughout the Middle East and especially in Iraq, where rocket attacks have continued to harass buildings and bases housing U.S. personnel.
One such strike last month killed a Pentagon contractor and set off the current spiral of escalations as the U.S. retaliated with airstrikes against positions of the Iran-backed Shiite Muslim Kataib Hezbollah movement. Since Soleimani's killing, these groups have joined Iran in calling for a withdrawal of U.S. troops from the Middle East, but the Trump administration has only shored up its military presence across the region.