U.S. Military Says 'Ongoing Situation' in Iraq Amid Fourth Day of Attacks in A Row
A spokesperson for the U.S.-led coalition has acknowledged to Newsweek reports of what would be the fourth day of attacks on U.S. positions previously mounted by Iraqi militia forces.
"We are aware of these reports," the U.S.-led coalition told Newsweek. "As this is an ongoing situation, we have no further details at this time."
The statement came as outlets supportive of militias aligned with the pro-Iran "Axis of Resistance" circulated footage showing defensive systems at the U.S. embassy in Baghdad responding to unseen aerial threats.
The Sabreen News outlet claimed the attackers took a dual approach, launching Katyusha rockets from both the Al-Rusafa area and from the vicinity of Al-Kindi Hospital, though this could be not be independently verified.
The Security Media Cell of the Iraqi Prime Minister's Office later confirmed the launch of three Katyusha rockets, which were said to have struck near the headquarters of the Iraqi National Security Service, Grand Festivities Square and a residential neighborhood in the Sheikh Omar area, where a civilian car was damaged.
"These actions that do not seek the good of this country will be faced with force by the security services, which will pursue through intelligence and fieldwork those who carried out these actions that endanger the lives of citizens, as well as targeting foreign diplomatic missions," the statement said alongside images of the damage apparently caused by the barrage.
The attack signaled yet another sign that Iraqi militias were willing to escalate their campaign to drive out U.S. forces from the country.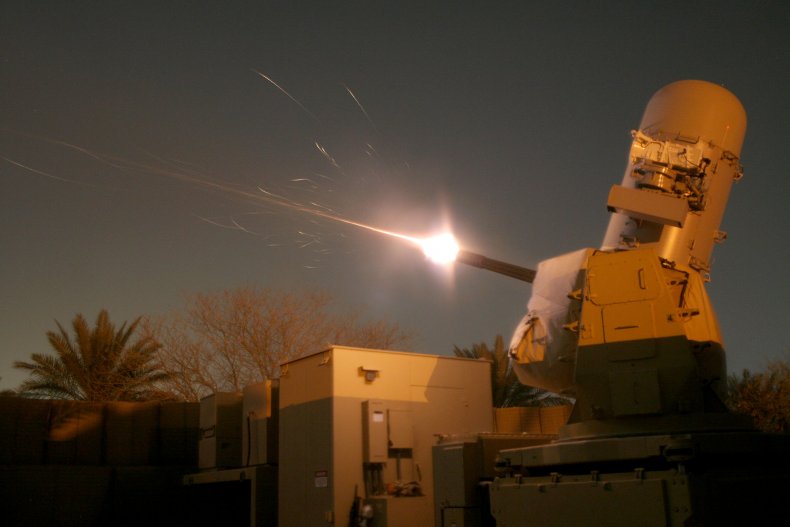 Iraqi Defense Ministry spokesperson Major General Yahya Rasool had earlier condemned such strikes in the wake of previous operations against Ain al-Asad Air Base in Al-Anbar Province, which injured two personnel of yet undisclosed affiliation, and Erbil Air Base in the capital of the northern Iraqi Kurdistan Region.
Referring to these operations as "terrorist" attacks, Rasool said that "once again, the enemies of Iraq are intrusive and targeting the country's security, sovereignty and the safety of our citizens."
He also referred to earlier attacks on the U.S. embassy in Baghdad as illegal.
Rasool said the perpetrators were "targeting the headquarters of diplomatic missions that fall under the protection of the state, which represents a flagrant violation of all laws, and an attack on the prestige of the state and its international obligations."
Rasool has also previously condemned the U.S. for conducting airstrikes on both sides of the Iraqi-Syrian border last month in response to an earlier targeting of U.S. positions. The Pentagon said it targeted facilities "utilized by Iran-backed militias that are engaged in unmanned aerial vehicle (UAV) attacks against U.S. personnel and facilities in Iraq."
But Baghdad officials, including Rasool and Prime Minister Mustafa al-Kadhimi viewed the U.S. operation as a violation of Iraq's sovereignty and warned Iraq should not be used in attacks on neighboring countries, or as a battlefield for competing geopolitical interests.
Rasool channeled this criticism against those launching rocket and drone attacks against U.S. positions.
"The government affirms its refusal to use Iraqi lands and the security of its citizens as an arena for proxy war," he said prior to the most recent incident at the U.S. embassy in Baghdad. "This requires restraint and respect for the outcomes of the strategic dialogue."
U.S. officials also expressed their criticism ahead of the latest strike.
"There are a limited number of U.S. and other coalition advisors at Iraqi bases, at Iraqi government invitation that, in turn, assist and enable Iraqi Security Forces to confront the remnants of ISIS," State Department spokesperson Ned Price said earlier Wednesday. "Look, I wouldn't want to speak to the motivation of these attacks. I will say that what we recognize is that these attacks reflect and are representative of the threat that Iran-backed militias present fundamentally to Iraq's sovereignty and to Iraq's stability."
He also referenced response options for President Joe Biden, mentioning last month's airstrikes that the Pentagon said targeted Iraqi militias Kataib Hezbollah and Kataib Sayyid al-Shuhada. These groups, which were also targeted by the U.S. in February amid rocket attacks in Iraq, are members of the Popular Mobilization Forces, which also target ISIS, also known as the Islamic State militant group, and do as an official extension of the Iraqi security apparatus.
Given their power and influence, however, Kadhimi has struggled to rein them in as they and other pro-Axis of Resistance elements grow impatient with U.S. military presence in Iraq.
Meanwhile, Iran, for its part has continued to cheer on efforts to push U.S. forces out of the neighboring country, even as delegations from Tehran and Washington conduct indirect discussions aimed at coordinating their mutual return to commitments to a 2015 nuclear deal. The agreement was unilaterally abandoned by former President Donald Trump who then implemented tough sanctions against Iran and further stoked tensions with the Islamic Republic and its partners in January of last year by ordering the strike that killed Revolutionary Guard Quds Force commander Major General Qassem Soleimani and Popular Mobilization Forces deputy chief Abu Mahdi al-Muhandis at Baghdad International Airport.
Groups such as Saraya Awliya al-Dam and Saraya Thair al-Muhandis have referenced the two slain men directly in their claims on attacking U.S. troops.
Further complicating Washington's position in the region, U.S. soldiers and partnered Syrian Democratic Forces have also come under attack in Syria, where the "Axis of Resistance" operates as well on behalf of the government and its Iranian ally.