U.S. Military Sends Warplanes to Guam, U.S. Territory North Korea's Kim Jong Un Threatened to Blow Up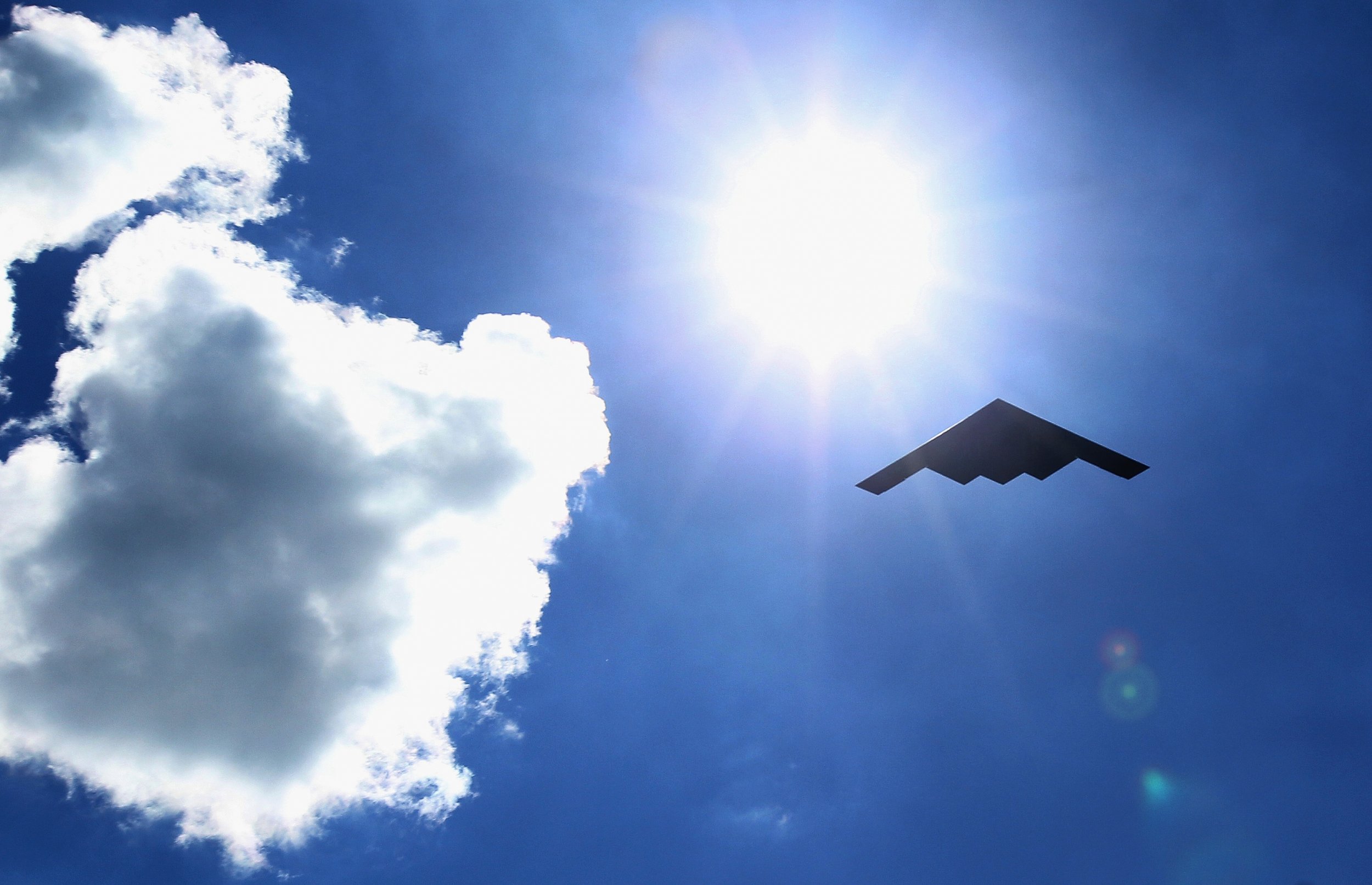 Updated | The U.S. military has deployed three B-2 nuclear-capable stealth bombers to Andersen Air Force Base in the U.S. territory of Guam, a move that comes as North and South Korea have cautiously re-established dialogue.
"During this short-term deployment, the B-2s will conduct local and regional training sorties and will integrate capabilities with key regional partners, ensuring bomber crews maintain a high state of readiness and crew proficiency," the U.S. Pacific Air Forces said on its website. Roughly 200 airmen from Whiteman Air Force Base in Missouri were also recently deployed to Andersen to support the U.S. Pacific Command's Bomber Assurance and Deterrence mission.
Read more: North Korea's Chemical Weapons Most Overlooked Threat From Rogue State, Experts Warn
The U.S. Pacific Air Forces celebrated the arrival of the stealth bombers in a Facebook post, writing, "Don't they look awesome!"
It's not clear how long the deployment will last and the military was reluctant to offer specific information in this regard. Captain Christen D. Ornella, a spokesperson for the U.S. Air Force, told Newsweek, "For operational security reasons, we cannot comment on ongoing operations with the B-2s."
"But, it is fair to characterize bomber assurance and deterrence deployments as relatively short in duration––weeks," Ornella added.
North Korea could potentially be antagonized by the deployment of these bombers to Guam, which the rogue state has repeatedly threatened.
In August, not long after President Trump's infamous "fire and fury" remarks directed at Kim Jong Un's regime, North Korea said it was considering Guam as a target for a nuclear strike. Pyongyang reiterated this threat in October: "We have already warned several times that we will take counteractions for self-defense, including a salvo of missiles into waters near the U.S. territory of Guam, an advance base for invading the DPRK [Democratic People's Republic of Korea]," an article published by North Korea's official Korean Central News Agency, warned at the time. That same month, the U.S. flew a B-2 bomber over the Pacific, which was viewed as a warning to North Korea.
Read more: Trump Is Actually Good For Business—The Nuclear Fallout Industry Is Booming
In early November, two U.S. Air Force B-1B bombers were dispatched from Andersen Air Base on Guam and conducted a sequenced bilateral mission in the vicinity off the Korean peninsula alongside Japan Air Self-Defense Force fighters and Republic of Korea Air Force fighters, the U.S. military told Newsweek at the time. North Korea's state-run news said the mission was meant to "threaten and blackmail" the regime.
More recently, North and South Korea have moved to rekindle relations. The two countries met for the first time in two years earlier this week, which resulted in an agreement to allow North Korea to participate in next month's Winter Olympics in Pyeongchang, South Korea. Prior to this, the U.S. and South Korea agreed to hold off on any large-scale military exercises until after the games as to avoid provoking North Korea. But the deployment of B-2 stealth bombers to Guam stands as a reminder of the looming threat posed by the reclusive nation, which has obstinately refused to give up on its nuclear ambitions.
With that said, the military rejected the notion the deployment of the B-2 bombers earlier this week is meant to antagonize Pyongyang and described it as "routine."
"This mission is not intended to be threatening or provocative toward any other country. The bomber assurance and deterrence missions have been employed within [Pacific Command] for many years (specifically, they began in 2014). These missions serve as a routine and visible demonstration of the U.S. commitment to our allies and partners," Ornella told Newsweek.
Update: This article has been updated with comments from a spokesperson for the U.S. Air Force.