US Bombs Iran Targets in Iraq and Syria Before Israel President's White House Visit
Just one day before Israel's new president was scheduled to visit United States President Joe Biden at the White House, the U.S. went under the cloak of darkness to carry out three airstrikes on Iranian targets positioned along the border between Syria and Iraq. Two of the strikes happened inside the Syrian border while the other was in Iraq.
The Pentagon released a statement Sunday night explaining why.
"At President Biden's direction, U.S. military forces earlier this evening conducted defensive precision airstrikes against facilities used by Iran-backed militia groups in the Iraq-Syria border region," Pentagon Press Secretary John Kirby said. "The targets were selected because these facilities are utilized by Iran-backed militias that are engaged in unmanned aerial vehicle (UAV) attacks against U.S. personnel and facilities in Iraq. Specifically, the U.S. strikes targeted operational and weapons storage facilities at two locations in Syria and one location in Iraq, both of which lie close to the border between those countries. Several Iran-backed militia groups, including Kata'ib Hezbollah (KH) and Kata'ib Sayyid al-Shuhada (KSS), used these facilities."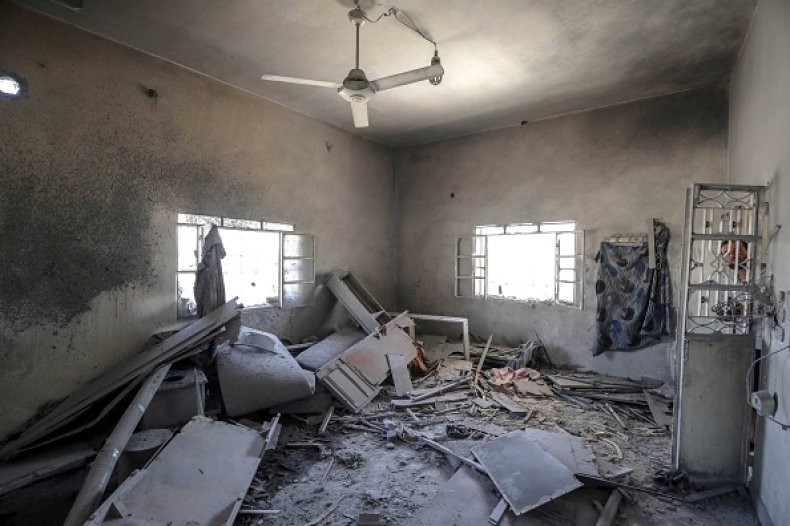 Less than two hours after the Pentagon announcement, the White House released a schedule for Biden on Monday, which included a visit from newly-elected President Reuven Rivlin.
The meeting is scheduled to take place around 4 p.m. at the White House.
The USA Today reported late Sunday night that Iranian militias have launched drone attacks on facilities and buildings used by both the United States and its allies at least five times since April, according to Navy Commander Jessica McNulty.
McNulty added that Sunday's airstrikes by the U.S. were calculated to destroy militia groups, which she said also fired rockets at American targets.
"Their elimination will disrupt and degrade the operational capacity of the militia groups and deter additional attacks," McNulty said.
Kirby went on to say the strikes were to protect U.S. personnel, facilities and "interests" in the region.
"As demonstrated by this evening's strikes, President Biden has been clear that he will act to protect U.S. personnel. Given the ongoing series of attacks by Iran-backed groups targeting U.S. interests in Iraq, the President directed further military action to disrupt and deter such attacks. We are in Iraq at the invitation of the Government of Iraq for the sole purpose of assisting the Iraqi Security Forces in their efforts to defeat ISIS. The United States took necessary, appropriate, and deliberate action designed to limit the risk of escalation - but also to send a clear and unambiguous deterrent message."