Pentagon Says Iran's New Syria Defense Deal Won't Stop Efforts to Fight ISIS
The U.S. military has said it has no plans to change its mission to defeat the Islamic State militant group (ISIS) in Syria despite Iran's new defense deal with Damascus that is designed to bolster ties between Washington's two foes there.
"The mission of U.S. Forces in Syria today remains the same as it was when they first began operations in 2014: to enable the enduring defeat of ISIS," Pentagon spokesperson Navy Commander Jessica L. McNulty told Newsweek. "U.S. service members will continue to execute the Defeat ISIS mission in Syria, working in conjunction with vetted local forces in northeast Syria and around At Tanf Garrison."
Her comments come after Iranian Major General Mohammad Bagheri, Revolutionary Guard commander and chief of staff of the Islamic Republic's armed forces, touted the new deal this week that would strengthen Syria's air defense systems. The deal is expected to boost bilateral ties between two countries united in their fight against the Islamic State militant group and in their opposition to U.S. intervention in the region.
"The peoples and countries of the region do not welcome the American presence, and our strong responses to American hostilities continue," Bagheri said during a Wednesday meeting with Syrian Defense Minister Ali Ayoub in Damascus, according to Lebanese and Syrian media.
The following day, Bagheri met with Syrian President Bashar al-Assad, who also endorsed stronger ties between Damascus and Tehran.
With Iran doubling down on its commitment to Syria, McNulty's comments indicate the U.S. was still not looking to confront Iran directly and that there were no immediate plans to withdraw from a mission being conducted considered illegal by its host country.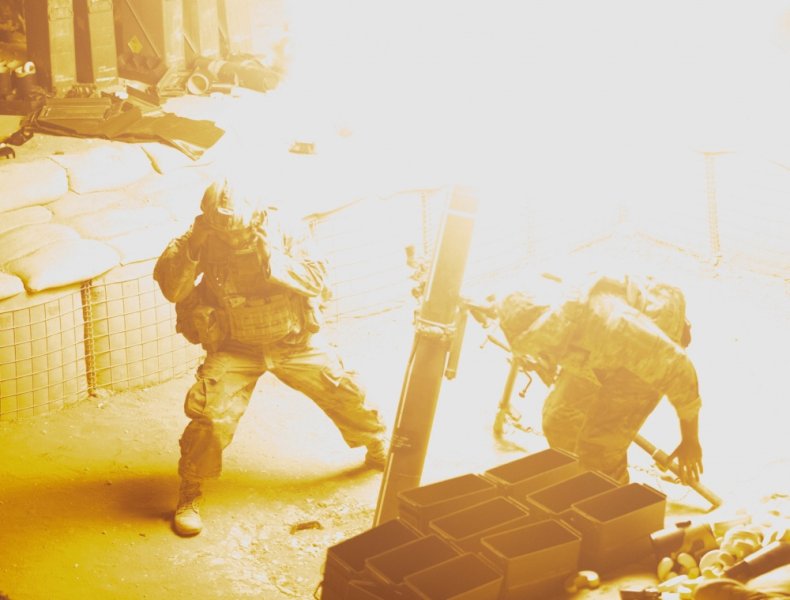 Although President Donald Trump declared victory over ISIS in March of last year, he has retained a military presence there to battle the remnants of the militant group. The military mission has since added the goal of maintaining control of oil and gas fields in Syria's east.
Washington has also signaled that the U.S. military presence in Syria is also designed to pressure Assad to step down from power and to check Iranian influence in the country. A new act passed last month by Congress continues to target the Syrian government and its supporters with sanctions, though U.S. officials do not officially call for regime change.
Support from Tehran and Moscow during the war has permitted Assad to regain swaths of territory lost to rebels and jihadis nationwide, leaving militants and other opposition forces in control of small areas along the northern border with Turkey, the last major foreign supporter of groups still fighting the Syrian military. While the Pentagon still works with some rebels in southeast Al-Tanf region, the U.S. has since 2015 partnered with another faction, the mostly Kurdish Syrian Democratic Forces, which clash with Turkish and Turkey-backed forces and has a complicated relationship with Damascus that Moscow has sought to repair.
Syria so far avoided an all-out confrontation among powers but some skirmishes continue. The U.S. has struck Syrian government and pro-government positions in response to alleged attacks, as has Turkey, while Israel has conducted a methodic, semi-covert campaign of attacks on sites associated with Iran's presence in the country, along with Syrian air defenses.
In October 2018, Russia sent in S-300 surface-to-air missile systems to Syria in a move that the U.S.-led coalition told Newsweek at the time would be "a concern." The weapons, however, are not yet known to have been used in response to attacks.
Iran has engaged the U.S. military, downing a high-flying spy drone over the Persian Gulf last July. The two countries, at odds for four decades, have grown increasingly hostile toward one another since the Trump administration left a multilateral nuclear deal in 2018 and imposed sanctions that disrupted the Iranian economy.
The U.S. killing of Revolutionary Guard Quds Force commander Major General Qassem Soleimani in Iraq has fueled calls to expel the U.S. from the Middle East among Iran and its partnered forces across the region.