U.S. Military 'Prepared' To Face China and North Korea Ahead of Major Asia Conference
The Pentagon said it was prepared to take on both China and North Korea as Defense Secretary James Mattis headed to Singapore for a major international security conference.
Marine Corps Lieutenant General Kenneth F. McKenzie Jr., joint staff director at the Defense Department, told reporters Thursday that, although he would not compare the threats posed to the U.S. by China and North Korea, "we are prepared for both." The two Asia-Pacific allies have drifted apart in recent years as Pyongyang accelerated its nuclear program, but China remains a staunch opponent of expanding U.S. military activity in the region and especially in the South China Sea.
"We take both threats seriously. Certainly, China has a much larger nuclear capability and you've got to take that into account, China has a much larger economic engine that you have to take into account so the threats are very different," McKenzie told reporters at the Pentagon.
"When you consider North Korea, the first thing you look at is their capricious and unpredictable behavior spanning back several decades," he added.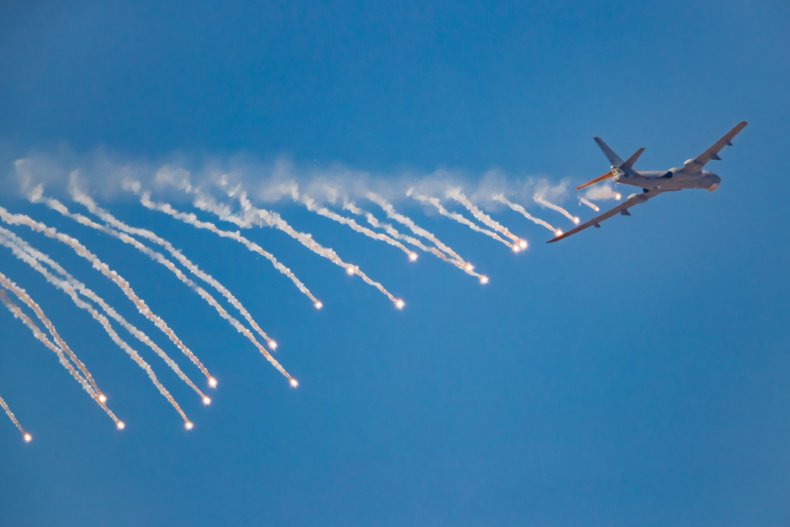 Both countries are likely to be high on the agenda of the London-based International Institute for Strategic Studies' annual Shangri-La Dialogue, scheduled to begin Friday. Among those set to speak at the event are Indian Prime Minister Narendra Modi and Singapore's President Halimah Yacob along with the defense ministers of Australia, Canada, France, Germany, Indonesia, Japan, New Zealand, the Philippines, Qatar, the Seychelles, South Korea, Sri Lanka, the U.K, the U.S. and Vietnam.
A number of the nations involved shared U.S. concerns about Chinese activity in the South China Sea, where Washington has accused Beijing of militarizing a set of disputed islands to enforce vast territorial claims. Mattis said Tuesday he planned a "steady drumbeat" of freedom of navigation and other naval operations in the contested waters and would "confront what we believe is out of step with international law," according to the Associated Press.
Related: China May Get World's Largest Gas Field Because of U.S. Sanctions Against Iran
Among other experts and top military officials, Chinese Lieutenant General He Lei, Senior Colonel Zhao Xiaozhou and Senior Colonel Zhou Bo were also set to make an appearance at the Shangri La Dialogue. China has countered U.S. claims by asserting sovereignty over the disputed islands and arguing any military installations there were necessary to maintain self-defense against a much more powerful U.S. military posture.
"From my point of view, by playing up the so-called China's militarization in the South China Sea, certain people in the US are staging a farce of a thief crying 'stop thief,' Chinese Foreign Ministry spokeswoman Hua Chunying told reporters Thursday in response to Mattis's remarks. "The U.S. military presence in the South China Sea far exceeds the total military strength of China and other littoral countries.
"Straying away from the wide sea lanes in the South China Sea, the U.S. warships deliberately trespass into the neighboring waters of China's relevant islands or reefs from time to time," she added. "They prettify it as 'freedom of navigation operation.' Does the U.S. truly want the freedom of navigation entitled under the international law? Or does it just want the freedom to do whatever it likes as a hegemon?"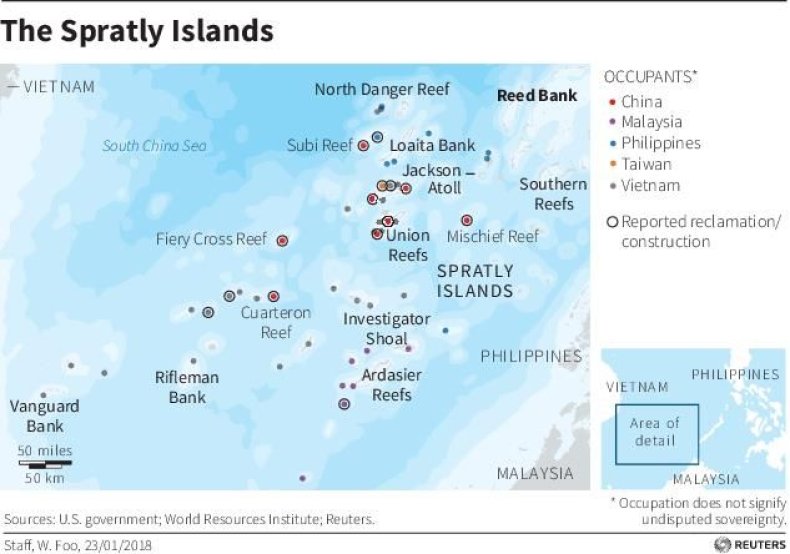 In a separate press conference Thursday, Chinese Defense Ministry spokesman Senior Colonel Ren Guoqiang asserted that "China has indisputable sovereignty over relevant islands in the South China Sea and their adjacent waters. It is the legitimate right of a sovereign state to build and deploy some necessary defense facilities on its own territory."
When asked about the U.S. military's capability to battle China on the South China Sea islands, McKenzie told journalists that "the U.S. military has a lot of experience in the Western Pacific taking down small islands," a reference to Pacific theater against the Japanese Empire during World War II.
The U.S. defeated Japan in 1945 and subsequently occupied the southern half of the Korean Peninsula, the northern half of which was taken by fellow Allied power and future Cold War foe, the Soviet Union. The U.S. and the Soviet Union formed opposing satellite states that went to war in the 1950s, creating the current hostility between the U.S. and North Korea, which has since developed nuclear weapons and intercontinental ballistic missiles.
North Korea's latest and youngest supreme leader, Kim Jong Un, has offered to denuclearize and meet face-to-face with President Donald Trump in another Singapore summit set for June 12. Trump canceled the talks last week after a diplomatic spat between U.S. and North Korean officials, but has suggested they may be back on as top North Korean official Kim Yong Chol met with Secretary of State Mike Pompeo in New York.