U.S. Responds to Russian Invasion Fears in Lithuania with NATO Military Drills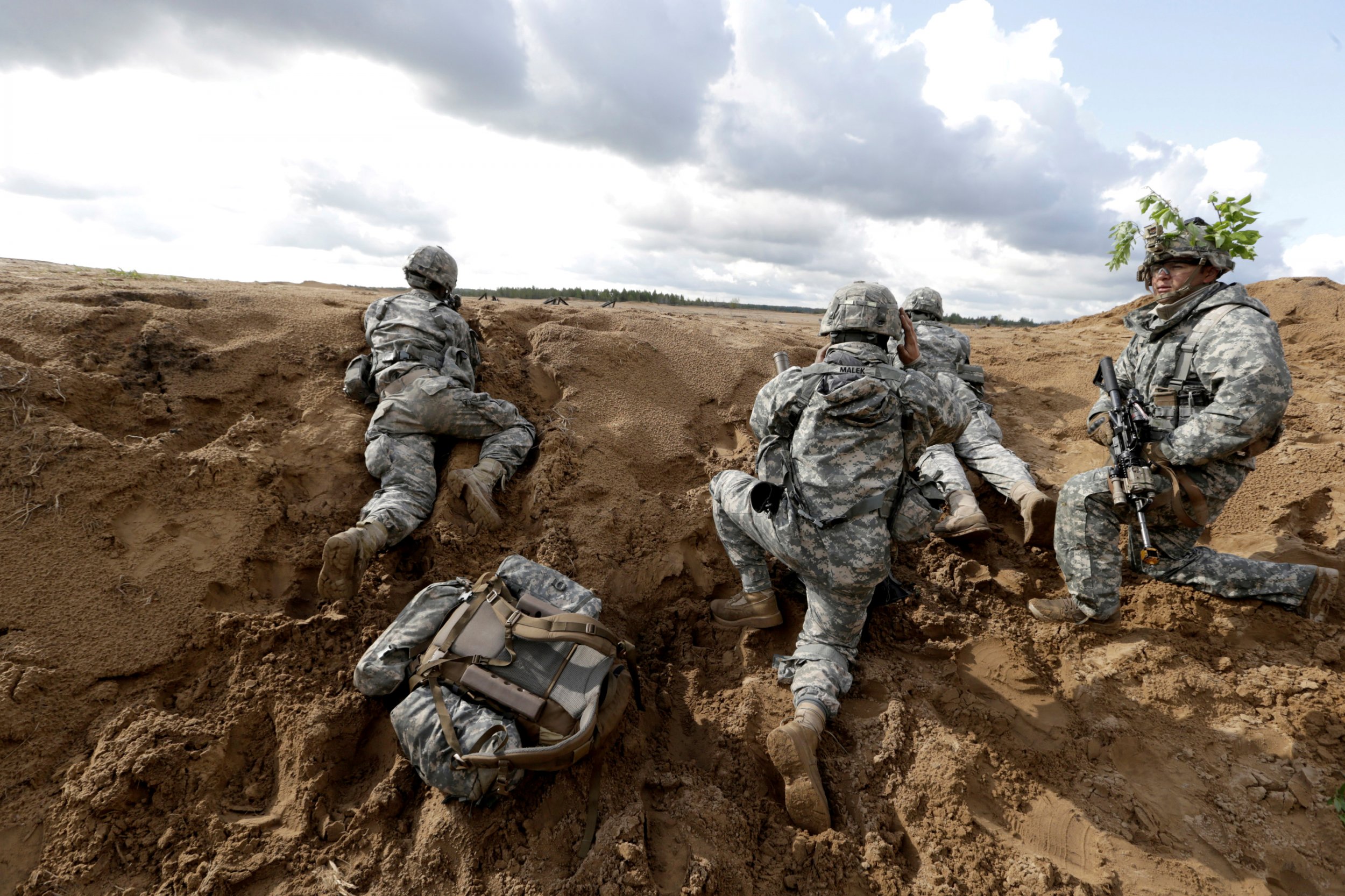 The U.S. and Lithuanian militaries have joined forces to conduct military exercises as part of a larger initiative to prepare and integrate NATO's defenses in a region where tensions have run high between the Western military alliance and Russia.
U.S. Army soldiers of the 4th Infantry Division partnered with Lithuanian troops Tuesday to vie for control over a simulated battlefield outside Rukla, Lithuania. Throughout the joint exercise, a Lithuanian platoon and U.S. infantry took the offense, while a second Lithuanian platoon and a U.S. tank platoon assumed defensive positions. The drills, known as "Savage Wolf," were intended to help U.S, troops familiarize themselves with a foreign land and gave both forces an opportunity to learn from one another's tactics.
"It's unknown territory, everything's new," Spc. Curtis Lichter, 3rd platoon, Barbarian Company, said, according to the Army's official news site. "You don't get a chance to oversee the area, you're hidden before you hit it. You get your graphics and whatnot, but once you're on the ground, it's your first time. That's nice."
"Sometimes we think we can do everything on our own, from both sides actually," 1st Lt. Mykolas Rutkauskas, the battalion executive officer for 2nd Company, said in a press release published Thursday by United Press International. "From the tank sides, from our infantry sides, but when we are working together we see that we can still have areas to go and work on."
The exercises, which began Monday with both sides planning their maneuvers, coincided with the release of a threat assessment report by Lithuania's intelligence service that said Russia would be able to attack the Baltic states with as little as 24 hours' notice. All three Baltic nations—Estonia, Latvia and Lithuania—have joined NATO and expressed concern over Moscow's influence in Europe.
Since Russia annexed the former Ukrainian territory of Crimea in 2014, NATO has vowed to build its military power along Russia's borders, something Moscow has said it considered warmongering behavior. NATO and Russia have since undergone parallel military escalations and conducted opposing military drills in strategic regions of Europe.