U.S. Military Threatens Kim Jong Un With Massive Drills Near Korean Peninsula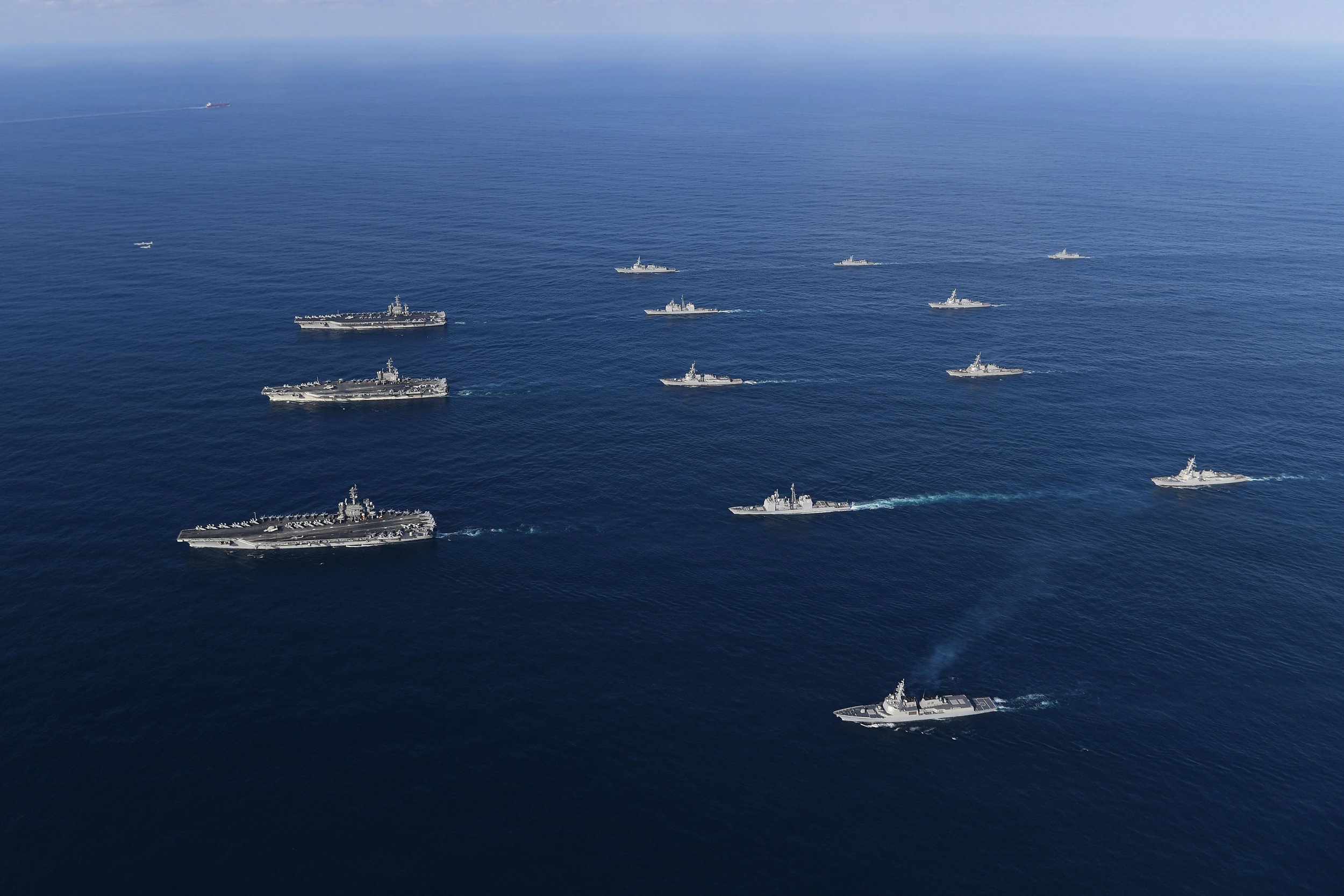 Updated | The U.S. military showed off its might Monday to North Korea as three aircraft carriers drilled in waters near the Korean Peninsula.
These four-day drills, which are set to conclude Tuesday, involved the USS Ronald Reagan, USS Nimitz (CVN 68) and USS Theodore Roosevelt. The USS Reagan is the largest U.S. warship in Asia. The last time three ships this size conducted drills together was a decade ago. South Korean and Japanese naval vessels also participated in the drills.
The exercises have included air-defense drills, sea surveillance, defensive air combat training, close-in coordinated maneuvers and other training, the U.S. Navy said.
"It is a rare opportunity to train with two aircraft carriers together, and even rarer to be able to train with three," U.S. Pacific Fleet Commander, Admiral Scott Swift, said in a statement. "Multiple carrier strike force operations are very complex, and this exercise in the Western Pacific is a strong testament to the U.S. Pacific Fleet's unique ability and ironclad commitment to the continued security and stability of the region."
The flightdeck of the USS Nimitz was particularly busy Monday as crewmembers worked to get F/A-18E and 18F Super Hornets in the sky for drills, Stars and Stripes reported.
"This is a unique opportunity. It's rare that you can aggregate a force the way we did here," Rear Admiral Greg Harris, commander of the Nimitz strike group, told Stars and Stripes from a hangar aboard the carrier. "We want to very clearly show our allies and partners, 'We have been here for 70 years for you, and we are going to be here for 70 more.'"
These drills occur amid heightened tensions with North Korea, which has ramped up its long-range missile tests this year and refused to back away from its nuclear program despite mounting international pressure and sanctions. They also coincide with President Donald Trump's 12-day trip across Asia, his first visit to the region since entering office, which is set to conclude Tuesday.
Trump and North Korean leader Kim Jong Un have been engaged in an ongoing war of words over the regime's aggressive actions, with neither showing any sign of backing down. Over the summer, Trump threatened North Korea with "fire and fury" if it didn't stop threatening the U.S. During his first address to the United Nations in September, not long after Pyongyang's sixth nuclear test, Trump warned the U.S. would "totally destroy" North Korea if it forced the U.S. to defend itself or its allies.
While in Seoul last week, Trump urged Kim to consider coming to the negotiation table. "The weapons you are acquiring are not making you safer. They are putting your regime in grave danger. Every step you take down this dark path increases the peril you face," the president said during a speech to South Korea's National Assembly.
But North Korea subsequently accused Trump of begging for a nuclear war during his trip and has shown no interest in a diplomatic solution. "Trump, during his visit, laid bare his true nature as destroyer of the world peace and stability and begged for a nuclear war on the Korean peninsula," a North Korean official said in a statement on Saturday. The statement also referred to Trump as a "dotard," an insulting term for an old, senile person (Kim has used this word to refer to Trump in the past).
Trump responded in a sarcastically toned tweet Saturday: "Why would Kim Jong-un insult me by calling me 'old,' when I would NEVER call him 'short and fat?' Oh well, I try so hard to be his friend - and maybe someday that will happen!"
The president has said he'll make a "major" announcement regarding North Korea and trade at the White House on Wednesday once he returns from his trip.
Correction: This article has been updated to accurately reflect the timing of the involvement of South Korean and Japanese navy ships in the four days of exercises.