U.S. Military on Turkey Attack in Syria: 'I Can't Explain Why They Did What They Did'
The U.S. military has laid out the many reasons why Turkey had wanted to go ahead with a planned incursion targeting Pentagon-backed Kurdish forces in northern Syria, but ultimately struggled to explain why they chose to do so.
In a joint press conference, Defense Secretary Mark Esper and Joint Chiefs of Staff Chair Army General Mark A. Milley answered an array of questions regarding the military's decision to step aside as a NATO ally and a local partner in the fight against the Islamic State militant group (ISIS) opened a new front in Syria's multi-sided war of more than eight years. Esper made it clear that he had urged Turkey not to push forward against U.S.-supported Kurdish militias, such as the People's Protection Units (YPG), but it was to no avail.
"We have not abandoned the Kurds. Nobody green-lighted this operation by Turkey, just the opposite. We pushed back very hard at all levels for the Turks not to commence this operation," Esper told reporters. "But Lord knows they have opposed this relationship between the United States and the YPG since its infancy in 2014. The Turks opposed it all along the way and we should not be surprised that they finally acted this way."
Esper said the U.S. and Turkish armed forces had been coordinating in trying to establish a "security zone" to appease all parties. He added, "I can't explain why they did what they did, but clearly President [Recep Tayyip] Erdogan felt the need at this point in time. As I said earlier, since the beginning of this relationship between the U.S. and the YPG, later the SDF [Syrian Democratic Forces] under the Obama administration, this has been a longstanding concern, a thorn in the side of Turkey, and I guess they finally decided it was time to act."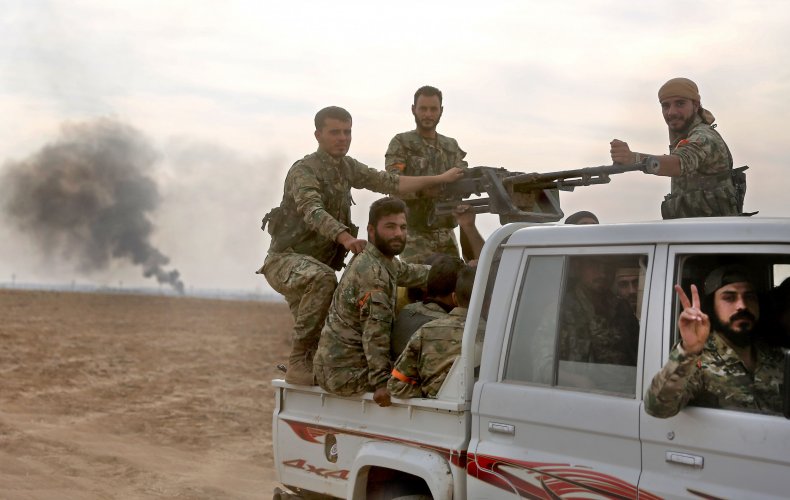 The U.S. officially partnered with the Syrian Democratic Forces, a multi-ethnic militia largely comprised of YPG units, in 2015 as the country shifted its Syria strategy away from backing an increasingly Islamist-dominated insurgency against the government and toward battling ISIS. The jihadi group was declared defeated by President Donald Trump's administration in March of this year, but the group retains influence in Syria, as well as neighboring Iraq.
Washington's embrace of the Kurds deeply angered Turkey as the country has been battling a decades-long separatist insurgency by the Kurdish Workers' Party (PKK), which both Washington and Ankara consider a terrorist organization. Erdogan's administration has argued that the YPG answers to the PKK.
Around the same time as the U.S. allied with the Syrian Democratic Forces, Russia intervened in Syria on behalf of the government, which had already been receiving support from Iran and allied militias from across the region. Moscow's entrance helped to boost the embattled Syrian military and reversed gains made by ISIS and other jihadi and rebel groups.
As the Syrian Democratic Forces established control of large parts of the country's north and east along the Turkish and Iraqi borders, they established an autonomous government that had the de facto backing of the U.S. Turkey, however, has opposed this project, fearing cross-border Kurdish attacks and, after seizing northern parts of Aleppo early last year, Ankara threatened to launch a more expansive incursion to secure a 20-mile deep "safe zone" for the resettling of some of the millions of Syrian, mostly Sunni Arab, refugees that have fled their country's conflict.
Trump has long demonstrated a desire to pull U.S. troops out of the area and even announced a plan to do so to back in December following a call with Erdogan. The exit never manifested itself as the U.S. broaden its anti-ISIS mission to also ensuring the departure of Syrian President Bashar al-Assad, who was accused of war crimes, and of countering Iranian influence.
Turkey—which went on to join Russia and Iran for trilateral peace talks—repeatedly threatened to move in unilaterally and, after another call Sunday between Trump and Erdogan, the White House announced U.S. troops would "no longer be in the immediate area" as Turkish troops and allied Syrian rebels stormed the border regions. While Trump initially signaled support for the operation, the Pentagon condemned it and the president then appeared to temper his stance.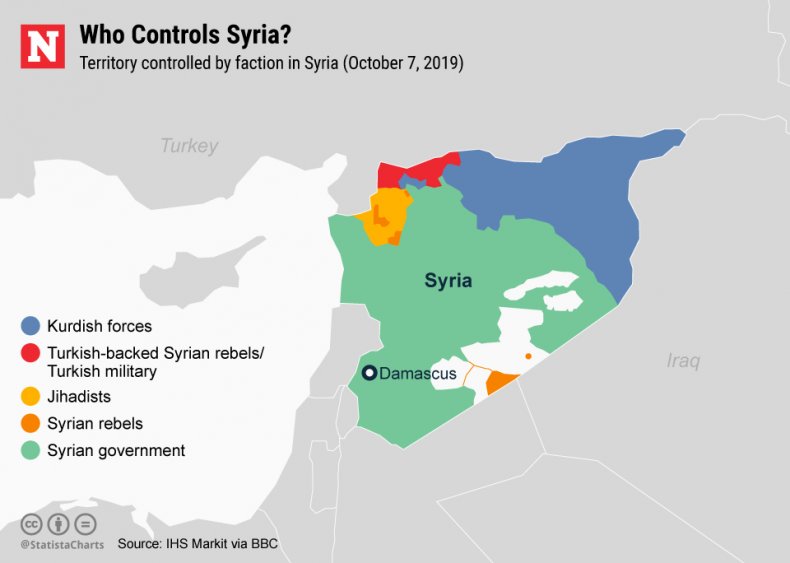 Source: Statista
In a tweet Thursday, Trump said he had "one of three choices: Send in thousands of troops and win Militarily, hit Turkey very hard Financially and with Sanctions, or mediate a deal between Turkey and the Kurds!"
Esper was less ambiguous in a call with Turkish counterpart Hulusi Akar. In a statement following their conversation, Pentagon spokesperson Jonathan Rath Hoffman said Esper "reaffirmed we value our strategic bilateral relationship" but at the same time emphasized that "this incursion risks serious consequences for Turkey."
"The Secretary also reiterated his strong concern that, despite U.S. force protection measures, Turkey's actions could harm U.S. personnel in Syria," the statement added. "Secretary Esper strongly encouraged Turkey to discontinue actions in northeastern Syria in order to increase the possibility that the United States, Turkey and our partners could find a common way to deescalate the situation before it becomes irreparable."
Asked if there were any signs that an estimate of hundreds of Turkish troops and around a thousand insurgents of the Free Syrian Army were ready to halt their advance, Esper told journalists Friday that "there were no indications they were willing to stop." Milley too said he saw "indications or warnings of any planned stoppage of their military activities."