U.S. Missile Cruiser Nearly Collides with Russian Battleship in Dangerous Interception in East China Sea, Moscow Says
Russia's military has cried foul over what it has described as a dangerous maneuver by a U.S. missile cruiser that nearly collided with one of its battleships.
The incident reportedly took place on Friday morning in the East China Sea while a detachment of Russia's Pacific Fleet was moving alongside a U.S. carrier attack group.
"The United States cruiser USS Chancellorsville suddenly changed direction and crossed the line of the Admiral Vinogradov 50 meters (150 feet) from the ship," the Russian statement said.
"To prevent a collision, the crew of the Admiral Vinogradov had to perform an emergency maneuver. We have lodged a protest against such unacceptable actions by the command of the American ship," the Pacific Fleet press service said, according to state news agency Interfax.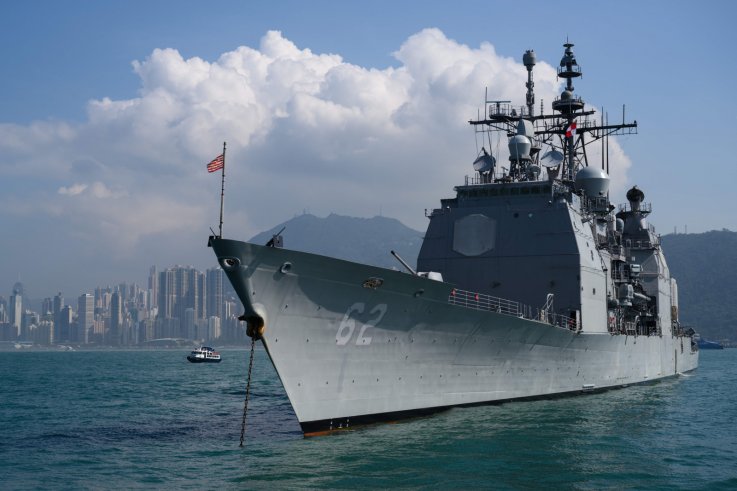 The U.S. Navy responded by blaming Russia, saying the Admiral Vinogradov came to within 50-100 feet of the USS Chancellorsville, forcing it to "reverse full and steer away to avoid a collision" Mirror reported.
Based in Yokosuka, Japan, the USS Chancellorsville is a guided-missile cruiser that carries two anti-submarine helicopters. It has been in service since July 1988, and has been used in the wars in Iraq and Afghanistan.
The Admiral Vinogradov was launched in June 1987 and shadowed U.S. Navy vessels during an exercise near Hawaii in 2016. It is named after Nikolai Ignatevich Vinogradov, who commanded the Soviets' Northern Fleet in World War II.
It follows an incident on Tuesday when the U.S. Navy said a Russian fighter jet had made a dangerous high-speed pass over a U.S. surveillance aircraft in the Mediterranean Sea.
The U.S. Sixth Fleet said that the jet had made three intercepts, two of which it deemed to be safe, but one of the intercepts of the P-8A Poseidon "put our pilots and crew at risk," Reuters reported, which Moscow has denied.
Six regional states are vying for influence in the South China Sea, home to vital shipping lanes, most of which are controlled by Beijing. China has overlapping claims with regional nations to islands and reefs in the sea.
The U.S. is looking to exert its influence in the region by sending its ships there. American "freedom of navigation" missions also anger Beijing. Last month, two U.S. warships got within 12 nautical miles of Gaven and Johnson Reefs in the Spratly Islands, which are claimed by Beijing. The incident prompted China's foreign ministry to accuse the U.S. of violating its sovereignty.
U.S. Missile Cruiser Nearly Collides with Russian Battleship in Dangerous Interception in East China Sea, Moscow Says | World