Ukraine Hasn't Seen Full HIMARS Potential, Thanks to U.S. Altering: Report
The Biden administration is modifying the High-Mobility Artillery Rocket Systems (HIMARS) provided to Ukraine to allow the invaded nation to defend itself while simultaneously not allowing for the escalation of a wider war, according to a new report.
The Wall Street Journal reported that the change is tied to the hesitance of U.S. officials, including President Joe Biden, to provide long-range missiles that could be fired into Russian territory and further inflame tensions with officials in Moscow.
While the U.S. has refrained from providing Ukraine with long-range Army Tactical Missile System rockets, or ATACMS missiles, which can travel almost 200 miles, the modified HIMARS would disallow Ukrainian forces to fire ATACMS if acquired from another source.
Biden in May said the U.S. wouldn't supply missiles with such capacity.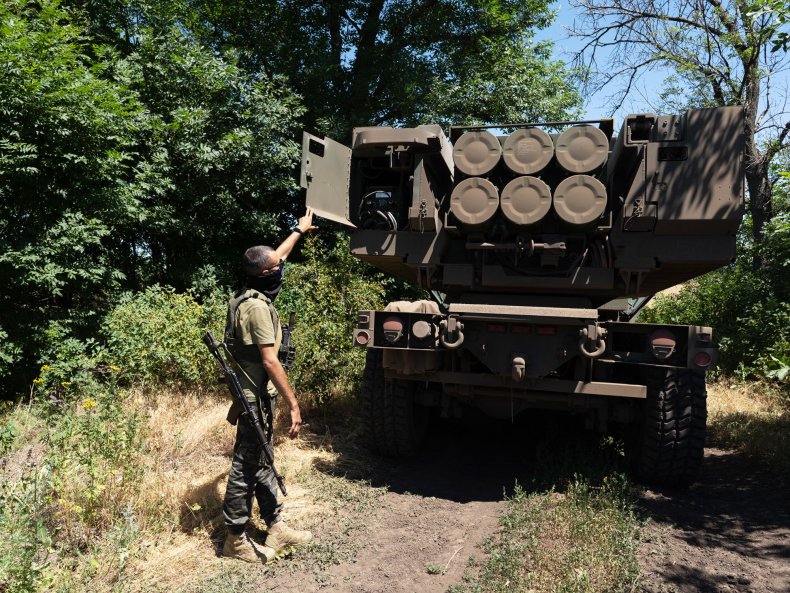 Russian Foreign Ministry spokeswoman Maria Zakharova said in September that such supply by the U.S. would be "crossing a red line" that would make itself "a direct party to the conflict."
"Due to operational security considerations, we do not comment publicly on the configuration of systems provided to allies and partners," Pentagon spokesman Air Force Brigadier General Patrick Ryder said in a statement provided to Newsweek. "The United States remains committed to providing Ukraine the capabilities it needs to counter Russian aggression."
In September, the Pentagon announced a $1.1 billion security assistance package that included funding for 18 HIMARS. That was in addition to a previous 16 HIMARS provided to Ukraine.
John Erath, senior policy director at the Center for Arms Control and Non-Proliferation, told Newsweek that the Biden administration's approach has been "very consistent."
"They have tried to avoid taking steps that would escalate aspects of this conflict, that is U.S. opposing Russia," Erath said. "Most of the assistance has been defensive in nature and helps Ukraine protect and recover its own territory."
HIMARS have proven highly beneficial not only to Ukraine's self-defense but also to its ability to reclaim land previously occupied by the Russians.
As the Institute for the Study of War (ISW) reported in a November assessment, HIMARS were vital to Ukraine disrupting Russian supply lines during the takeover of Kherson.
U.S. Defense Secretary Lloyd Austin said prior to the retaking of Kherson that HIMARS "changed the dynamics" of the war and "created an opportunity for the Ukrainians to maneuver."
"What we're seeing now is a kind of change in the battlefield dynamics," Austin said during a CNN interview in early October. "They've done very, very well in the Kharkiv area and moved to take advantage of opportunities. The fight in the Kherson region is going a bit slower, but they're making progress."
Biden in the past pledged "to continue providing Ukraine with the support needed to defend itself." The U.S. has provided other air defense systems, including NASAMS and S-300 anti-aircraft systems.
Erath believes the U.S. will continue to review what is being provided to Ukraine as part of an "appropriate overall strategy" that not only avoids armed aggression, but seeks "not to reward it."
The question is how long both Russia and Ukraine can maintain the ongoing conflict, he said.
"It's pretty seriously winter by now and it's making it difficult for people in both countries," he said. "People are suffering who don't have energy and heat, and both governments are feeling pressure from their populations to do something and end this and deliver basic services."
Center for Strategic and International Studies senior adviser and retired Marine Colonel Mark Cancian told Newsweek that Russian President Vladimir Putin's red line has been strikes on the Russian homeland.
"Although a series of Ukrainian raids into Crimea and Russia have not caused escalation, the United States clearly does not want to push the boundary," Cancian said. "It is unlikely that the HIMARS launcher itself is limited. The limitation is likely on the rocket guidance, which, I'm guessing, has been programmed to prohibit strikes against coordinates in Russia."
Gabriela Iveliz Rosa Hernández, a research associate at the Arms Control Association, previously told Newsweek that the U.S. government has pursued a policy based on giving Ukraine the weapons that "are relevant for the current fight."
"Ukraine has long sought air-defense systems to shield itself from Russian missile strikes," Hernández said. "In theory, Ukraine could use much more advanced systems, such as the Patriot system or the Iron Dome, to intercept rockets."
It's a tale of two motives, Erath added. Russia "has gone all in" and Russian President Vladimir Putin views victory as the essential goal of his regime.
"They're not sure they can survive consequences of failure in Ukraine," Erath said, adding that Ukraine is fighting not just for national survival "but literally their best chance to get their territory back."
He said that if Russia waited eight years and invaded Ukraine again, there's no guarantee the Ukrainians could be as competent and forceful in their defenses.
"The momentum is on Ukraine's side now," he said. "Winter is slowing things down but there's still not the compelling reason to stop the fight. That just increases the tragedy."
The White House and Ukrainian military declined to comment to The Wall Street Journal.
Update 12/6/22, 2:14 p.m. ET: This story was updated with comments from Mark Cancian and John Erath and a statement from the Pentagon.