The U.S. is the most dangerous country in the developed world to give birth in according to a report.
About 50,000 women are "severely injured" during childbirth, and about 700 women die every year. Half of these deaths could have been prevented, as could the injuries, if correct safety procedures had been followed, according to an investigation by USA Today.
While most women give birth with no issue, "The Global Burden of Disease 2015 Maternal Mortality" study published in The Lancet journal and cited in the USA Today's "Deadly Deliveries" report, lays bare the startling disparity between the U.S. and other developed nations.
Maternal mortality was defined as a death occurring because of obstetric complications or when pregnancy exacerbates a pre-existing medical condition.
Between 1990 to 2015, the number of maternal deaths per 100,000 births in most developed nations—including Germany, France, Japan, England and Canada—fell or plateaued to below 10. But in the U.S. the figure spiked to 26.4.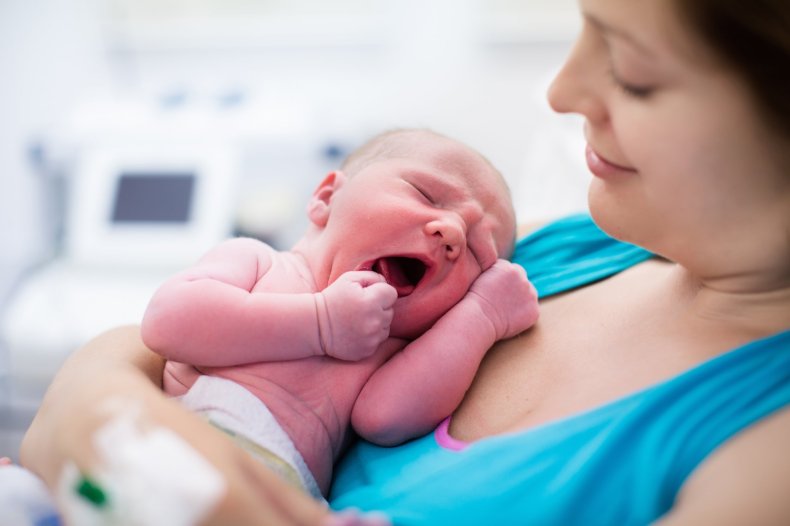 The conclusion was the result of a four-year investigation that assessed more than half a million pages of internal hospital-quality records, including more than 150 cases of botched deliveries.
It revealed the leading causes of death in the U.S. were hemorrhage and severe hypertension, where blood pressure and blood loss levels have to be closely monitored. And medical professionals too often "eyeball" instead of measure blood-loss levels, according to USA Today.
Analysis of records on federally funded quality programs for dozens of hospitals in New York, Pennsylvania and the Carolinas indicated fewer than half of maternity patients were treated for blood pressure high enough to cause stroke. And less than 15 percent of women in danger received recommended treatments.
The investigation found a lack of care at a range of hospitals across the country.
In the case of Texas woman, she almost bled to death and her heart stopped during labor. She later had a hysterectomy and required a kidney transplant because of her injuries.
Related: Five healthy habits for mothers that could cut their child's risk of obesity: Harvard Study
Alison Young, the investigative journalist behind the report, told CBS This Morning: "We're not just talking about the women who die, we're talking about 50,000 U.S. women who are suffering life-altering harms."
Young called on clinicians to make the safety of pregnant women a priority, and for hospitals and practices to introduce the Alliance for Innovation on Maternal Health Programs safety checklists.
The example of California, where the maternal mortality rate has halved thanks to the adoption of safety measures, shows how the situation can be transformed.
The USA Today report mirrors the findings of an NPR and ProPublica investigation on maternal mortality in the U.S., which concluded a "hodgepodge" of hospital protocols for dealing with potentially deadly but easily treatable complications is putting women in danger. Hospitals were also found to be unprepared for maternal emergencies.
The Centers for Disease Control and Prevention did not immediately respond to a request for comment on these findings.
The American College of Obstetricians and Gynecologists addresses the disparity in maternal mortality between the U.S. and other developed nations on its website. It also points to the racial disparities in maternal mortality. Black women, for example, are three to four times more likely to die from a pregnancy-related complication than non-Hispanic white women.
This article has been updated with background information.
Uncommon Knowledge
Newsweek is committed to challenging conventional wisdom and finding connections in the search for common ground.
Newsweek is committed to challenging conventional wisdom and finding connections in the search for common ground.
About the writer
Kashmira Gander is Deputy Science Editor at Newsweek. Her interests include health, gender, LGBTQIA+ issues, human rights, subcultures, music, and lifestyle. Her work has also been published in the The Independent, The Independent on Sunday, The i Newspaper, the London Evening Standard and International Business Times UK.