The United States will enhance international coordination in an effort to revamp the global economy, Secretary of State Mike Pompeo announced on Wednesday.
During a news conference at the White House, Pompeo discussed fortifying relations with "friends" in India, Japan, South Korea, Vietnam, Australia and New Zealand as administrations across the world look to recover from the novel coronavirus pandemic.
Pompeo said dialogue between the U.S. and those six countries mentioned will involve shifting supply chains and facilitating the open exchange of "information and best practices" regarding economic restart strategies.
"We're working with our friends in Australia, in India, in Japan, New Zealand, Republic of Korea, and Vietnam to share information and best practices as we begin to move the global economy forward," he told the press room. "Our conversations certainly involve global supply chains, keeping them running smoothly, and getting our economies back to full strength, thinking about how we restructure these supply chains to prevent something like this from ever happening again."
The Secretary of State highlighted India's recent decision to lift its ban on exporting hydroxychloroquine—the anti-malaria medication that some believe could be used to treat those infected with COVID-19—as an example of this ongoing partnership. India lifted the ban earlier this month after President Donald Trump spoke to Prime Minister Narendra Modi. At a previous White House press briefing, Trump had threatened retaliation if the export ban remained in place.
Although the U.S. has received a significant amount of health care equipment from China throughout the pandemic, Pompeo excluded the country from his discussion of international trade coalitions. He cited a lack of transparency from its government amid the outbreak and mentioned that "this virus began in Wuhan" multiple times, a referencing to the Chinese city where the outbreak began. However, when a reporter inquired directly about plans to restructure U.S. trade with China, given the current reliance on medical supplies, Pompeo seemed to suggest alterations would come later.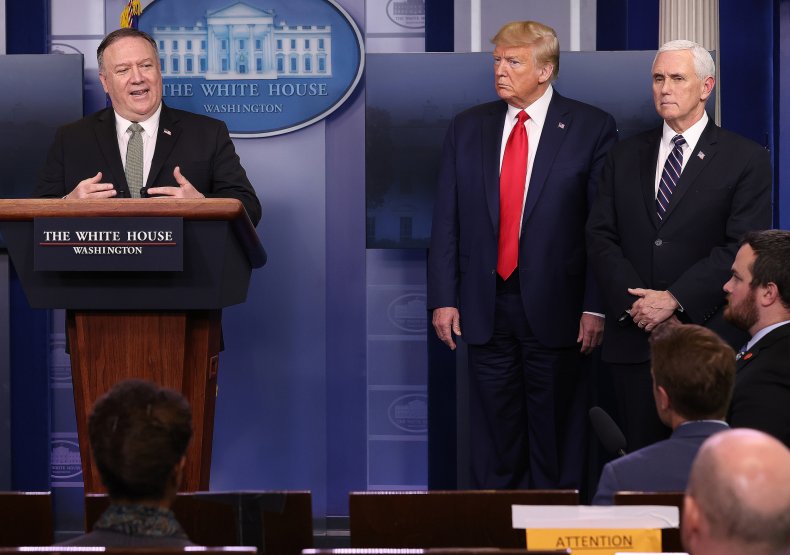 "There'll be a time for this. We'll get that timing right. And as President Trump said when he took office, we're no longer going to tolerate a non-reciprocal behavior from the Chinese government," he said, referencing the phase one trade deal that imposed high tariffs on goods imported from China. For now, Pompeo added, "Our first priority, unambiguously, is to address the crisis in which we find ourselves as a direct result of this virus."
The White House's talk of supply chain restructuring came several weeks after Japan took preliminary steps to move manufacturing operations out of China using funds allocated through its economic stimulus package, issued in response to the pandemic. On Wednesday, The Washington Post reported that Trump's administration was divided in its views about implementing similar shifts in production from China to the U.S.