U.S. MQ-9 'Reaper' Drones Compared to Russia's 'Orion' UAV
A U.S. drone downed over international waters on Tuesday by Russian planes is considered among the most advanced combat drones in the world.
U.S. European Command (EUCOM) said two Russian Su-27 fighter jets "conducted an unsafe and unprofessional intercept" of an unmanned MQ-9 "Reaper" drone, making contact with the drone's propeller and causing it to come down in the Black Sea.
One of the Russian counterparts to the Reaper, "Orion," is viewed comparably and has become more ubiquitous during the Russia-Ukraine war, which began on February 24, 2022. Ukraine's Armed Forces claims to have shot down four of them during the war's first year.
Russia's unmanned aerial vehicle (UAV) is not quite as formidable, however, according to Samuel Bendett, Russia analyst for the Center for Naval Analyses.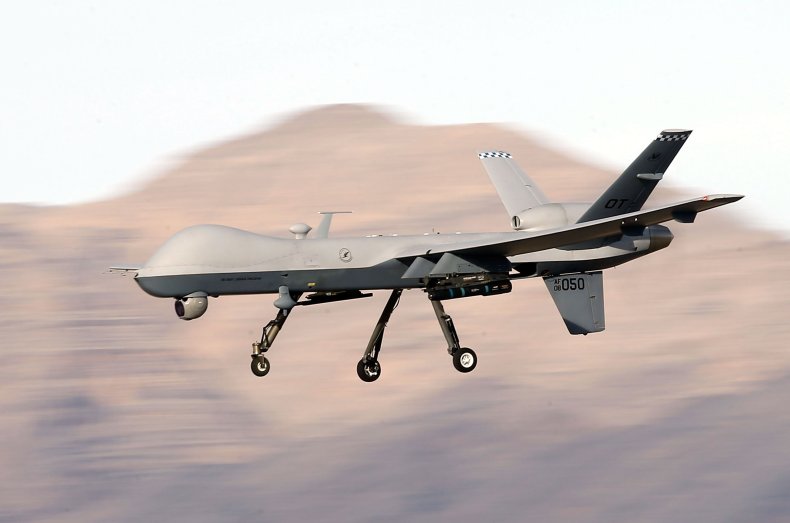 Bendett told Newsweek that the Reaper "is much better than Orion since it's been flying for many years and is a much more battle-proven platform than the Russian drone."
Prior to the Reaper being brought down Tuesday, the Su-27s reportedly dumped fuel on and flew in front of it "in a reckless, environmentally unsound and unprofessional manner."
"Our MQ-9 aircraft was conducting routine operations in international airspace when it was intercepted and hit by a Russian aircraft, resulting in a crash and complete loss of the MQ-9," said U.S. Air Force General James B. Hecker, commander, U.S. Air Forces Europe and Air Forces Africa. "In fact, this unsafe and unprofessional act by the Russians nearly caused both aircraft to crash."
Pentagon spokesperson Brigadier General Patrick Ryder said Tuesday that the Russian jet "essentially ran into the MQ-9" and suffered its own damage, according to Washington Post reporter Dan Lamothe, adding that a declassification process is required before any video can potentially be released.
The War Zone reporter Howard Altman, citing an Air Force official, tweeted that "there was [a] deliberate intent to interfere with the MQ-9, but the collision seems to be simple incompetence."
"There is a bit of humor in the thought of a Russian aircraft hitting a drone propeller, but when you think about what they were trying to do, it's just another clear statement of what communists and those who lack ethical standards are willing to do," Colonel Lee Ellis, a former Air Force pilot, told Newsweek.
"They try to use their power whenever they can to take advantage of others who they want to control."
Newsweek reached out by email to the U.S. Air Force and U.S. Air Forces Europe. The U.S. Air Force referred the inquiry to Air Forces Europe, which said it had no details to add to the EUCOM report.
MQ-9 'Reaper'
The MQ-9 Reaper, also known as Predator B, is a remotely piloted aircraft developed by General Atomics Aeronautical Systems (GA-ASI) and first flown in 2001. It consists of a two-person crew: one pilot and one sensor operator.
Given the name "Reaper" by the U.S. and Royal Air Force, it is described by General Atomics as "a major evolutionary leap forward in overall performance and reliability" compared to its predecessor, Predator.
It can hit speeds of 240 KTAS [knots true airspeed], or about 276 mph. It can operate for up to 27 hours mid-air at altitudes up to 50,000 feet, with a 3,850-pound payload capacity that includes 3,000 pounds of external stores.
"The aircraft carries 500 percent more payload and has nine times the horsepower, GA-ASI says, providing "a long-endurance, persistent surveillance/strike capability for the war fighter."
Retired Air Force General T. Michael Moseley in 2006 referred to the Reaper as the Air Force's "first hunter-killer UAV," due to its bigger size and power compared to the older model MQ-1 Predator.
"The Reaper represents a significant evolution in UAV technology and employment," Moseley said at the time. "We've moved from using UAVs primarily in intelligence, surveillance and reconnaissance roles before Operation Iraqi Freedom, to a true hunter-killer role with the Reaper."
The U.S. Air Force said it employs the Reaper primarily "as an intelligence-collection asset and secondarily against dynamic execution targets" because of its wide-range sensors and precision weapons that "provide a unique capability to perform strike, coordination and reconnaissance against high-value, fleeting and time-sensitive targets."
Other tasks include intelligence, surveillance and reconnaissance, close air support, combat search and rescue, precision strike, buddy-lase, convoy and raid overwatch, route clearance, target development and terminal air guidance.
Russian 'Orion' UAV
The Orion UAV, also known as Inokhodets, was developed by the Kronstadt company for the Russian Aerial Forces, Navy and Special Forces.
It is the first MALE-class (Medium Altitude Long Endurance) drone completely developed in Russia and built from domestic components, according to Russian news agency Interfax.
Its maximum takeoff weight is 1,150 kilograms (2,535 pounds). It can stay airborne for up to 24 hours, cruising at about 124 mph with a maximum altitude of 24,606 feet.
In December 2021 during an exercise at the Crimean training ground, the reconnaissance and attack drone fired at a hovering rotary-wing unmanned vehicle, "simulating a maneuvering air target," and destroyed it according to The Defense Post.
Russian news outlet RIA Novosti reported at the time that a new aircraft-launched laser-guided missile based on Russian anti-tank munition was being developed for Orion and other UAVS. The missile possesses a range of approximately 6.2 miles and can neutralize "heavily armored vehicles and low-flying low-speed air targets."
In August 2021, members of the Russian Ministry of Defense met with Kronstadt officials as part of a formal announcement of a new generation of aircraft-type UAVs and unmanned helicopters.
Russian state-owned media agency Tass reported then that one of the newer models announced was the Inokhodets-RU, a follow-up to the Orion. It is outfitted with two engines, has a large takeoff weight, and it can carry a larger payload compared to its predecessor. The newest systems are intended to be delivered to the Russian military this calendar year.