U.S. Must Check If Korea War Remains Are Real Before Accepting Them, Defense Secretary Says
The United States must verify that the remains of troops killed during the Korean War, and which North Korea is at long last returning, are real before accepting them, U.S. Secretary of Defense James Mattis said.
Mattis told reporters on Friday that North Korea's decision to turn over 55 caskets believed to contain the remains of U.S. and allied soldiers who died during a brutal three-year war between North Korea, backed by the Soviet Union and China, and South Korea, backed by the United States and United Nations forces, "sets a positive environment and tone for other things in terms of international diplomacy." Following his remarks, he said that a review was necessary before the U.S. could officially accept the remains from its longtime foe.
"The reason those remains aren't on their way back to the United States right now, is that they are first going to be reviewed initially there in Korea, and we'll look for any anomalies where they're not what we think they might be," Mattis told the Military Times in an interview.
"And then the forensics will begin when we land them in Hawaii, where the laboratory is. But we have no indications that there is anything amiss. But we don't know, we can't confirm it one way or another. That is why we go through all of the forensics," he added.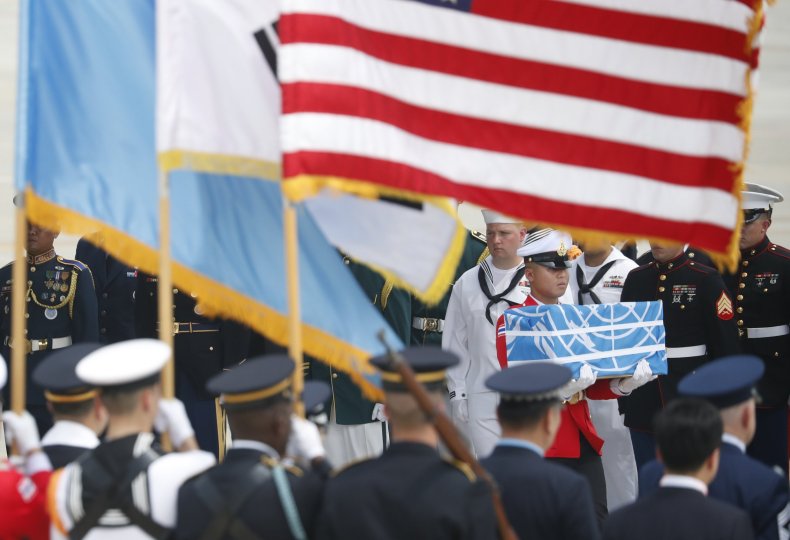 The Korean War, fought in the early 1950s, claimed the lives of more than 36,000 U.S. soldiers, 130,000 South Korean troops and more than 2,000 allied troops, as well as hundreds of thousands of Chinese and North Korean fighters. To this day, the remains of about 7,700 U.S. personnel have not been recovered, and Mattis called North Korea's latest move "an opportunity to give those families closure." He noted that the caskets received bear the flag of the U.N. because the nationalities of the deceased have yet to be determined, and added the U.S. was interested in eventually working out a deal to send teams to North Korea to continue the search.
For the time being, though, Mattis described North Korea's decision to repatriate the remains as "obviously a gesture of carrying forward" what was agreed upon by North Korean supreme leader Kim Jong Un and President Donald Trump during their summit in Singapore last month. The meeting marked the first of its kind between a North Korean ruler and a sitting U.S. president, and both sides emerged declaring a change in course after decades of hostility.
On Friday, Trump tweeted his thanks to Kim for coming through on his pledge to return the remains. Later that day, he expanded his remarks while speaking at the White House on the state of the economy. Trump called the matter "important for the lives of not only Americans, but lives all over the world.
"At this moment, a plane is carrying the remains of some great fallen heroes from America, back from the Korean War. They're coming back to the United States. Mike Pence, our wonderful vice president, will be there to greet the families and the remains," Trump said. "And I want to thank Chairman Kim for keeping his word. We have many others coming. But I want to thank Chairman Kim in front of the media for fulfilling a promise that he made to me. And I'm sure that he will continue to fulfill that promise as they search and search and search."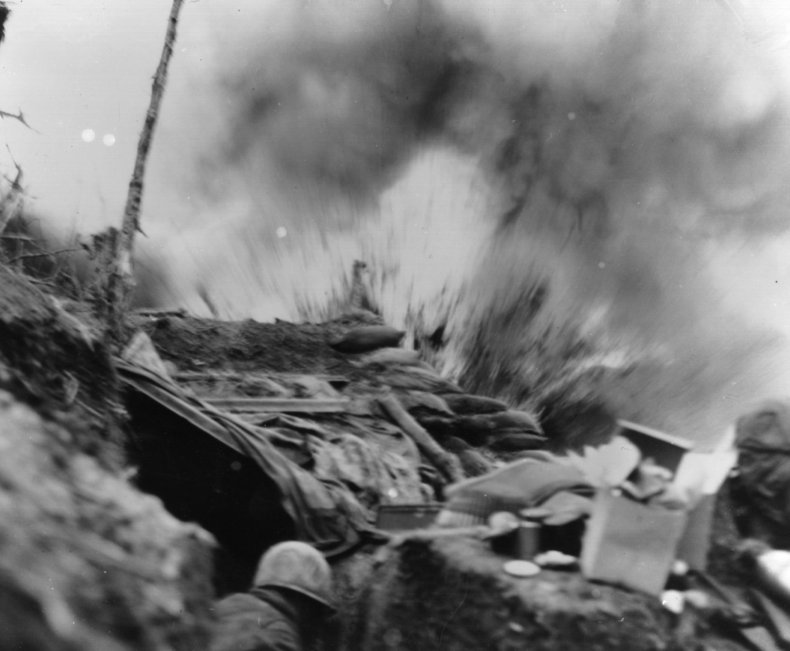 Trump has also recently praised North Korea for apparently making good on another key promise—denuclearization. Kim hasd agreed to abandon the nuclear weapons North Korea had long argued were necessary for its survival. In exchange, the U.S. had agreed to soften its stance against the notoriously secretive, authoritarian state, including the potential establishment of a formal peace treaty to end the technically ongoing Korean War and the lifting of sanctions relating to the country's nuclear weapons and ballistic missiles.
After initial reports criticized the apparent nonaction on the North Korean side, recent commercial satellite imagery showed what looked like the rapid dismantling of the Sohae Satellite Launching Station, a major part of North Korea's ballistic missile program. The State Department said Tuesday that the photos were "consistent" with commitments made by Kim at the Singapore summit.