U.S. Must End 'Trap of War' With North Korea and Talk to Kim Jong Un, Pentagon Nominee Says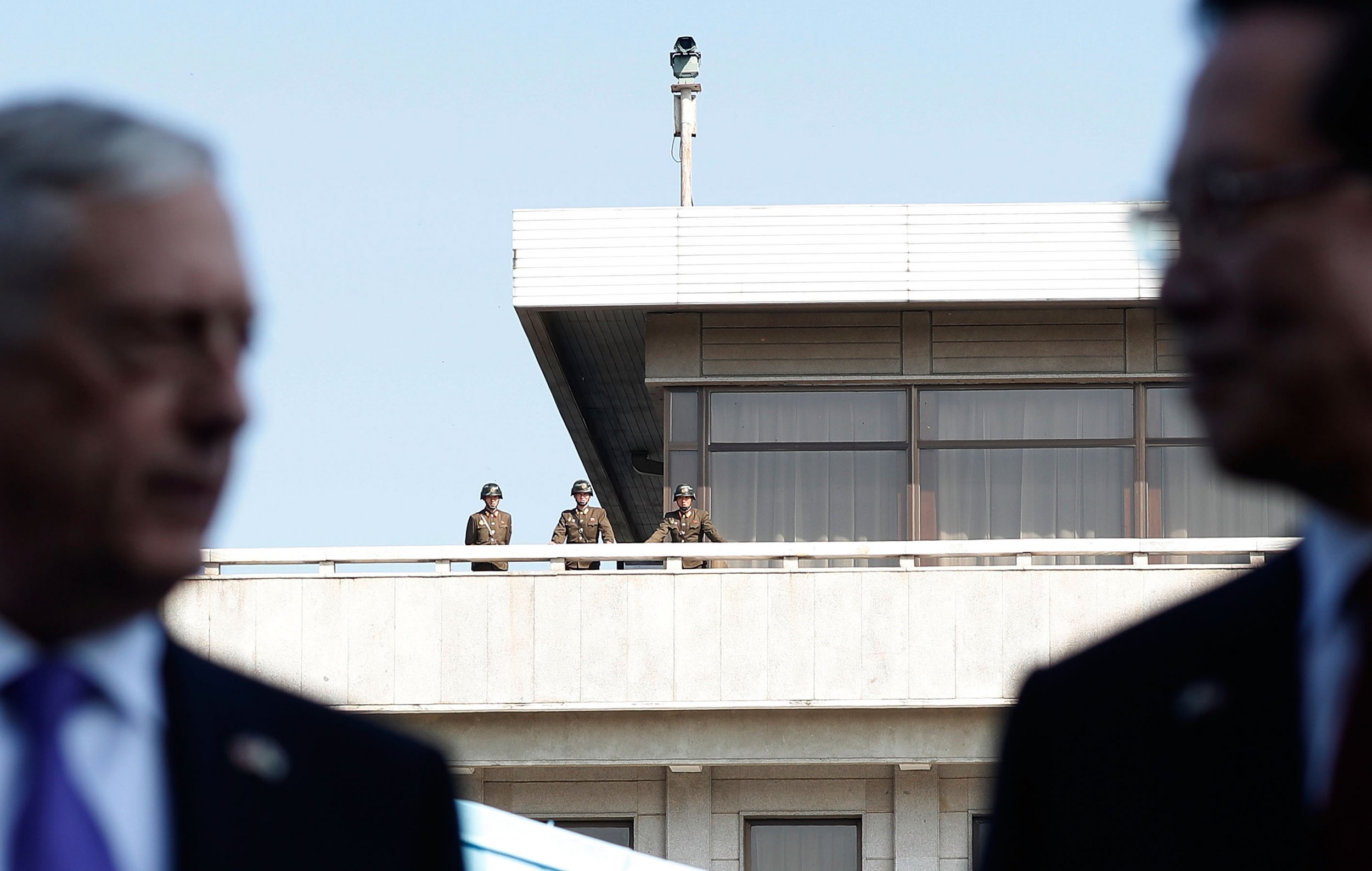 The Pentagon's pick to lead U.S. defense strategy for Asia showed Thursday he wants diplomacy, not war, with nuclear-armed North Korea.
Randy Schriver, who most recently co-founded the business consulting firm Armitage International LLC, said during his confirmation hearing before the Senate Armed Services Committee that he supported talking to the notoriously reclusive, militarized state in order to avoid a war breaking out. North Korea has insisted it needs nuclear weapons as long as the threat of a U.S. invasion exists, but President Donald Trump has threatened to disarm supreme leader Kim Jong Un by force.
Related: North Korea says it may give up its nuclear weapons if U.S. abandons them first
"I do believe we need to get out of the binary trap of war or treating North Korea as a recognized nuclear state," Schriver told lawmakers, according to South Korea's official Yonhap News Agency.
"The only way to fall anywhere else on the spectrum is through diplomacy," he added.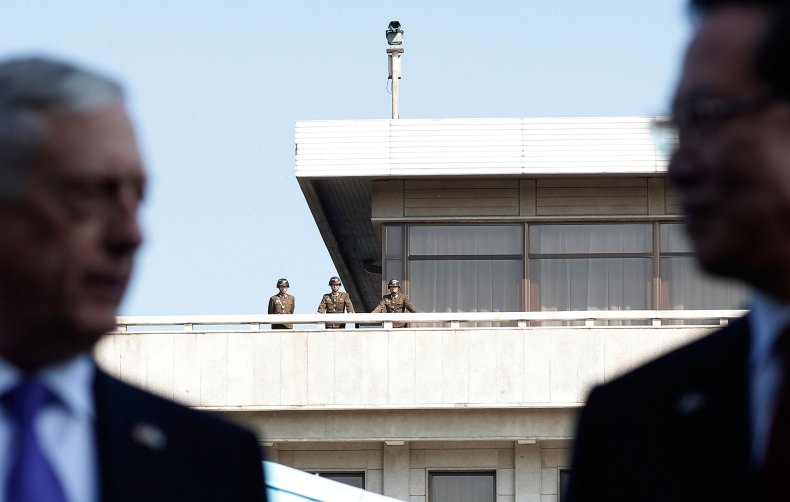 Schriver, who previously served as deputy assistant Secretary of State for East Asia as well as in a number of other political and military positions, emphasized that both countries would first need to "get to a place where we can talk" before focusing on the "substance and context of those talks." Both Trump and Kim have offered mixed messages on their willingness to find common ground. After trading threats of nuclear destruction, Trump during his stop in South Korea last week urged Kim "to make a deal," and the newspaper of the ruling Korean Workers' Party, Rodong Sinmun, hinted Wednesday that North Korea's leadership wanted global denuclearization, but only if the U.S. took the lead.
North Korea's hardline rhetoric has made it a difficult negotiating partner, while Trump's own disparagement of talks has frustrated U.S. officials looking for a peaceful solution. Shortly after coming into office, Trump and his administration suggested that they would no longer pursue a strategy of "strategic patience" and, in late September, even undercut his own top diplomat, Secretary of State Rex Tillerson, by announcing via Twitter that he had told Tillerson he was "wasting his time" trying to talk to North Korea.
While Trump's team has made little headway in diplomacy with its communist rival and has instead opted for increased international sanctions, the U.S. has in the past played a leading role in coaxing North Korea out of its secretive, miltarized shell in order to engage with Washington and regional powers. North Korea and the U.S. reached several past understandings, including the 1994 Agreed Framework and the 2005 accords for the Six-Party Talks between involving the U.S., North Korea, South Korea, China, Japan and Russia. All have collapsed, with each side accusing the other of violating their terms.
Each time diplomacy advanced, it showed the Kim dynasty's willingness—but also extreme caution—when it comes to talking, especially after the 2003 invasion of Iraq, which had once sought and ultimately canceled its nuclear weapons program well before the U.S. military intervention. As a condition for talks, North Korea has always sought a guarantee for its sovereignty to be respected and an end to U.S. enmity.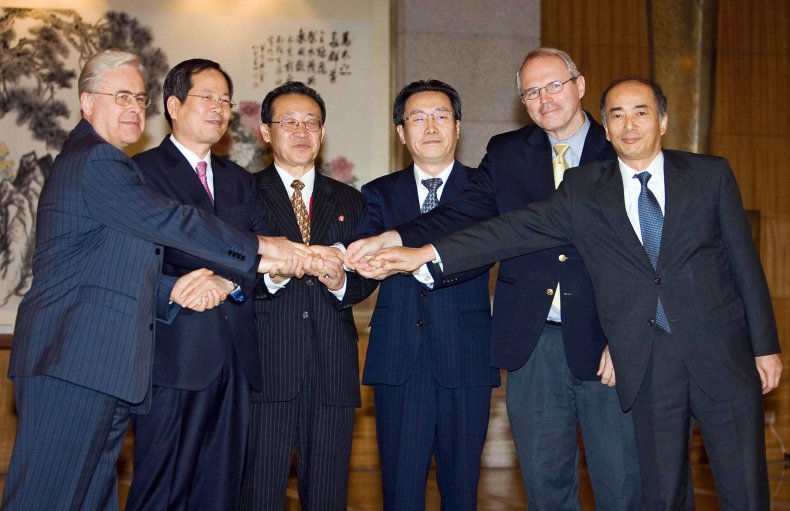 The prospect of diplomacy between the Trump and Kim administrations has been further strained by the White House's spurning of the 2015 Iran nuclear treaty. The agreement, produced by President Barack Obama after years of quiet diplomacy, appeared similar to some of the U.S.'s earlier attempts to engage North Korea. Trump was an early opponent of the deal, which was also signed by France, Germany, Russia, China and the U.K., and has since decertified it, despite the U.N. and State Department finding Iran to be in complete compliance with its terms.
Officials and analysts have expressed concern that Trump's rejection of the U.S. agreement with Iran would harm U.S. credibility abroad and discourage North Korea from reaching out to cut a deal of its own, as Trump recently suggested it should.
In a recent development, however, China sent its envoy to North Korea on Wednesday, only days after Trump concluded his visit with Chinese President Xi Jinping. Some experts have credited Trump's visit with pushing China to engage its traditional, yet sometimes estranged, ally.