The U.S. Must Follow Brazil's Lead | Opinion
Brazilian President-elect Lula da Silva's historic victory represents a turning point for Brazil and the world after four years of President Jair Bolsonaro's right-wing authoritarian leadership. It's an especially enormous win for Black and Indigenous communities, LGBTQ+ groups, the working classes, and women. Bolsonaro targeted these groups with hateful rhetoric and harmful policies. To bolster his right-wing agenda, Bolsonaro appointed deniers of structural racism, advocates of Indigenous religious conversion, and anti-reproductive rights activists and anti-sex education advocates to governmental agencies designed to protect Afro-Brazilian, Indigenous, and women's rights. The vote against Bolsonaro is in honor of all the communities he not only neglected but actively harmed.
As we approach the midterm elections, similar roots of right-wing politics undergirded by racism, misogyny, and xenophobia are a threat to the U.S. The explosive expressions of white Christian patriarchal values catapulted both Bolsonaro and Donald Trump's rise to power and their enduring impact on the political climate in both nations.
To combat the threat of fascism from spreading across the Americas and here at home, the U.S. can learn from Brazil and take actionable steps to strengthen democracy.
We can take conversations about Brazil to our dining tables, classrooms, and offices. We can support organizations such as the Marielle Franco Institute and Alziras Institute, which help organize progressive candidates. We can take Senator Bernie Sanders' lead in ensuring that the U.S. holds Brazil's democracy accountable. We can take the time to learn more about Brazil and educate our peers. We can build alliances across borders, attend protests in solidarity with Brazil. We can use social media to raise political awareness.
Transnational solidarity building between the U.S and Brazil can cultivate movement organizing for a revolutionary democratic future.
Bolsonaro's vision of Brazil centered on white patriarchy and the exclusion of all others. He enacted repeals of gains for Afro-Brazilians, Indigenous peoples, women, LGBTQ+ communities, and the poor. Bolsonaro endorsed hate and violence against his opponents and state violence against Black and Indigenous communities. He loosened gun laws under the guise that individuals can shoot criminals. Police killings are at record highs. About eighty percent of the victims were Black.
The support of Black and poor women for Luiz Inácio Lula da Silva versus rich white men for Bolsonaro illustrate differing visions of who is included in Brazil. New forms of resistance from Afro-Brazilian, Indigenous, and trans women offer hope in these times of despair. Sônia Guajajara and Célia Xakriabá, two Indigenous women won election to Congress. Two Black trans women, Erika Hilton and RoBeyoncé Lima, were elected to the National Congress. Inspired to become the representation that they needed, more Black and Indigenous women than ever ran for political office. Black and Indigenous women's organizing spurred these surges in potential political representation.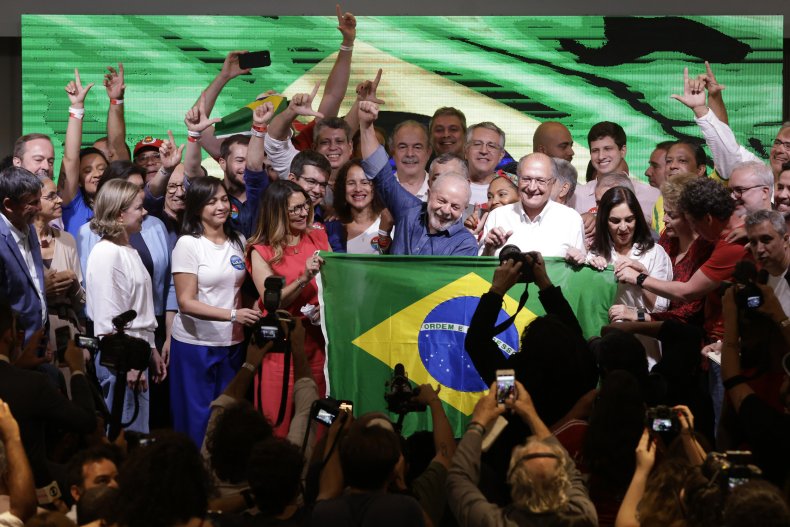 These changes all point to a rising tide of shifting political representation and inclusion. Yet, we cannot let our guard down. Reports of the Brazilian federal highway police attempts to prevent people in the Northeast from voting is a clear playbook from U.S. practices of voter suppression. Mass disinformation campaigns and Bolsonaro's claims that the election might be fraudulent were all attempts to crack away at democracy.
Bolsonarismo, just like Trumpism, remains a resilient force in national politics.
The violent Jan. 6 attack on the U.S. Capitol, beyond the threat to U.S. democracy, continues to serve as inspiration for authoritarian regimes worldwide. And yet—Black, Indigenous, feminist, and queer resistance struck back. Black and Indigenous women pushed Democrats back into the White House in the 2018 midterm elections. A record number of Black and Indigenous women ran for political office. Kamala Harris, the first Black and multiracial woman elected as vice president, changed the vision of who could lead the United States.
While Brazilian President-Elect Lula da Silva won, the runoff in Brazil and the close midterms in the U.S. are reminders of the painful racism and misogyny that undergirds both countries. Black and Indigenous women in both the United States and Brazil are leaders in combatting racial and gendered oppression.
In the U.S., we can follow the lead of Brazilian activists. We can offer mutual learning, activism, and solidarity. The U.S. can emulate the successful organizing tactics of Brazilian Black and Indigenous activists.
What happens in Brazil and the U.S. impacts the world for generations to come. Let's make sure that we don't lose this lead, whether it be in pressuring representatives, engaging voters, organizing behind progressive candidates, and raising awareness. Our democracies depend on it.
Jasmine Mitchell is an associate professor of American studies and media studies at the State University of New York-Old Westbury. She is the author of Imagining the Mulatta: Blackness in U.S. and Brazilian Media. She is also a member of the Scholars Strategy Network.
The views expressed in this article are the writer's own.