U.S. Must Invade North Korea to Wipe Out Kim Jong Un's Nuclear Weapons, Military Leaders Say
A ground invasion by the U.S. military is the only way to eliminate North Korea's nuclear arsenal, according to the Joint Chiefs of Staff.
In late September, Rep. Ted Lieu and Rep. Ruben Gallego, both Democrats and veterans of the U.S. military, sent a letter to Defense Secretary James Mattis highlighting their concerns about the prospect of war with North Korea. They requested a detailed report on the potential consequences of such a conflict.
"We're just trying to get the administration to explain to the American people what a war in North Korea would look like," Lieu said. "People need to understand if there is military conflict in North Korea we would be going to war against a nuclear power."
Mattis issued his response via the Office of the Chairman of the Joint Chiefs of Staff, which was sent to Lieu on October 27 and obtained by Newsweek. "The only way to 'locate and destroy -- with complete certainty -- all components of North Korea's nuclear weapons programs' is through a ground invasion," said the response, written by Rear Adm. Mike Dumont.
This is the first time the U.S. military has made this assertion, according to Lieu, who's concerned too many are under the false impression the U.S. could easily neutralize North Korea's nuclear arsenal via a military strike such as the one Trump ordered against the Assad regime in Syria back in April.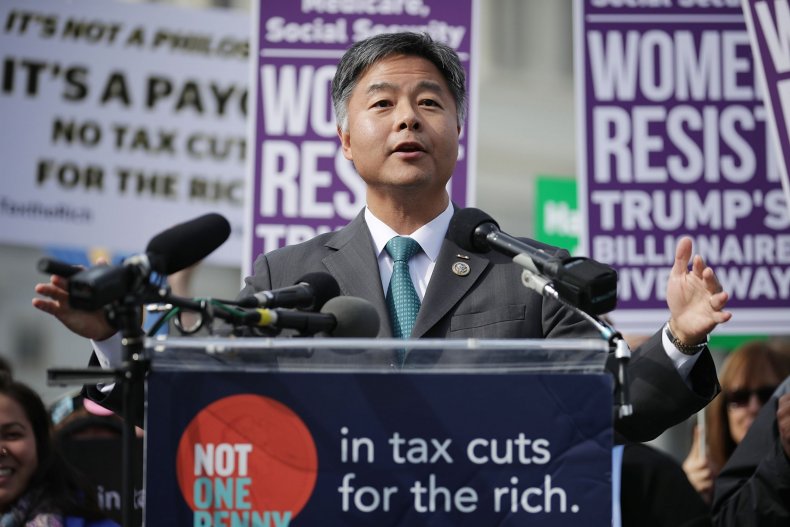 "One of the problems that we have with the North Korea situation is that we have very little intelligence on their regime," Lieu told Newsweek, which makes it difficult to know exactly where their nuclear weapons and other military assets are. This is precisely why a ground invasion would be necessary to wipe them out.
Dumont's letter also said estimating casualties "for any conventional or nuclear attack is challenging" and didn't offer any specific numbers in that regard. He did say, however, that "North Korea may consider the use of biological weapons as an option" in the event of a conflict, adding, "It has a long-standing chemical weapons program with the capability to produce nerve, blister, blood, and choking agents, and it likely possess a [chemical weapon] stockpile."
How many would die in a war with North Korea?
An October 2017 report from 38 North, a website dedicated to analyzing North Korea, estimated as many as 2.1 million could die if the "unthinkable" happened and nuclear detonations occurred over Seoul and Tokyo.
A separate report, issued by the Congressional Research Service late last month, estimated as many as 300,000 could die in the first few days of a conflict between North Korea and the U.S. even without the use of nuclear weapons. "An escalation of a military conflict on the peninsula could affect upwards of 25 million people on either side of the border, including at least 100,000 U.S. citizens," the report states.
Has Trump made the situation with North Korea worse?
North Korea and the U.S. have been enemies for decades, but tensions have reached new heights in recent months as Pyongyang has ramped up its long-range missile tests in pursuit of a nuclear weapon capable of reaching the mainland U.S. North Korea conducted its sixth nuclear test in early September and has threatened to conduct a seventh over the Pacific Ocean. Amid all of this, Trump and Kim Jong Un have been engaged in a global rap battle, frequently trading insults and threats.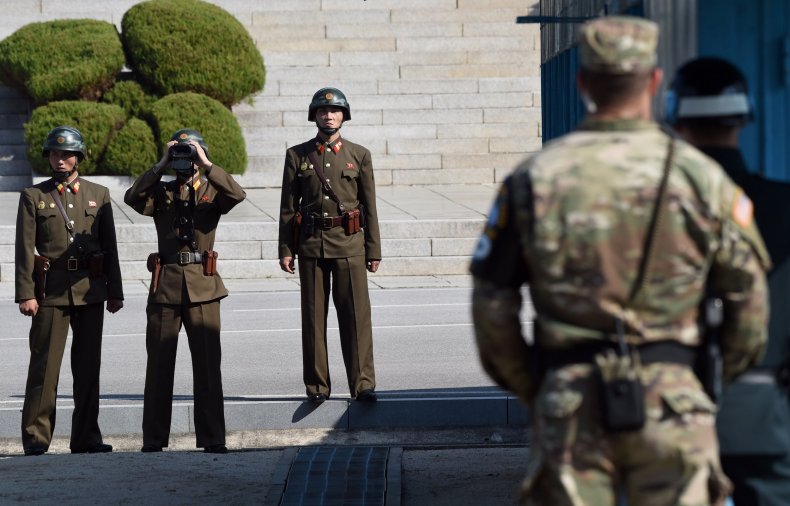 Trump's top advisers have publicly championed a diplomatic approach to North Korea, but the president has exhibited a preference for military options. Over the summer, he said North Korea would experience "fire and fury" if it didn't stop threatening the U.S. During his first address to the United Nations in late September, Trump threatened to "totally destroy" North Korea if it forced the U.S. to defend itself or its allies.
A recent Pew Research Center survey showed a strong majority of Americans (84 percent) feel Trump is "really willing" to go to war with North Korea and less than half (39 percent) were confident in his ability to handle the current heightened tensions.
Democrats in Congress feel Trump is being reckless when it comes to North Korea.
Given the potential consequences of a military conflict and President Donald Trump's apparent aversion to diplomacy, Lieu is not satisfied with the response he received to his letter. He wants the Trump administration and the Pentagon to offer far more details about the potential consequences of a war with North Korea.
The California congressman and U.S. Air Force veteran is not only concerned about what might happen during such a conflict, but also once it's concluded.
"There's no plan for the aftermath. What about refugees? What would happen with China?" Lieu said. "South Korea would basically take over after the shooting stops. I imagine we would still need ground troops there. How long would that take? We've been in Afghanistan for 16 years. We have not won that war. And you've got a brainwashed North Korean military that could continue to cause problems."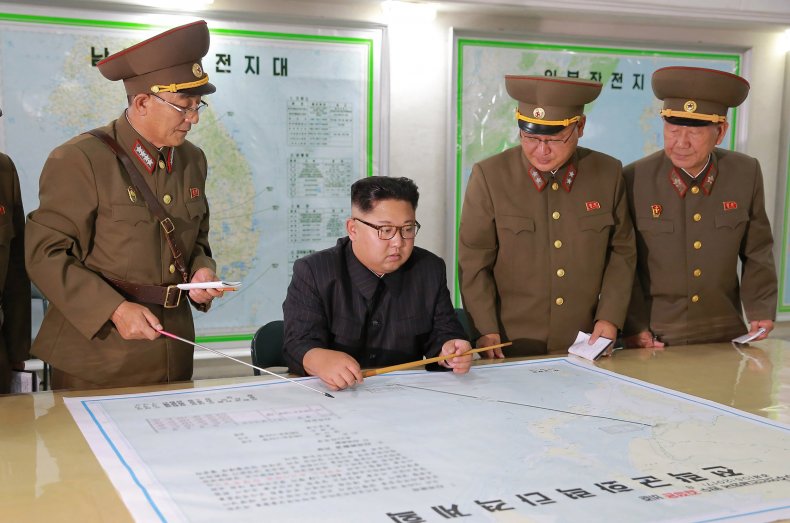 Lieu and over a dozen other Democratic members of Congress, all veterans, have responded to the Joint Staff's letter in a joint statement.
"As Veterans, we have defended this nation in war and we remain committed to this country's security," the statement says. "We also understand that entering into a protracted and massive ground war with North Korea would be disastrous for U.S. troops and our allies. The Joint Chiefs of Staff, it appears, agree. Their assessment underscores what we've known all along: There are no good military options for North Korea."
The statement contends a ground invasion would put millions of lives in danger, including U.S. troops and civilians in South Korea, Japan and Guam.
"It is our intent to have a full public accounting of the potential cost of war, so the American people understand the commitment we would be making as a nation if we were to pursue military action," the statement adds.
The statement ends by calling for Trump to stop making "provocative" statements toward North Korea, stating such rhetoric puts U.S. troops in danger. It also calls on Congress to thoroughly debate this issue.
There are efforts in Congress to restrict Trump's war powers.
Lieu has already made efforts in Congress to block Trump from taking military action against Kim Jong Un's regime. In January, he and Democratic Senator Edward Markey introduced a bill that would prohibit Trump from conducting a first-use nuclear strike without "a congressional declaration of war expressly authorizing such strike."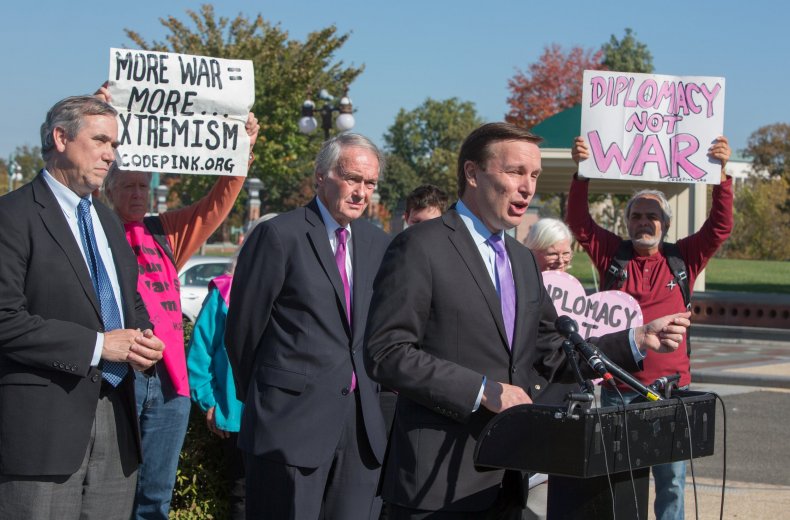 The Congressman also supports another piece of legislation, recently put forward by Democratic Senator Chris Murphy, designed to prevent Trump from launching a military strike against North Korea, nuclear or non-nuclear, without congressional approval. But with a Republican majority Congress, such legislation could face significant obstacles.
Trump will address the North Korean threat on Asia trip.
On Friday, Trump departed for a 12-day trip to Asia -- his first visit to the region as president. The White House has said addressing the heightened tensions with North Korea will be at the top of his agenda.
Despite his concerns over Trump's rhetoric toward the North Korean regime, Lieu hopes the president's trip goes smoothly. "I want the president to do well. I want him to make us proud and not to make any provocative statements," he said. Whether or not Trump will adhere to these wishes remains to be seen.