The U.S. Must Side with Our Ally Israel to Thwart a Nuclear Iran | Opinion
As the United States, European powers, Russia and China engage the Iranian regime in talks to reenter the 2015 Joint Comprehensive Plan of Action (JCPOA)—better known as the Iran nuclear deal—in Vienna, a new phenomenon is emerging in Jerusalem. From the highest echelons in Israel comes one clear and distinct message for the Biden administration: hold the Iranians accountable and don't negotiate a weak and useless deal, unless you're prepared for unilateral Israeli action.
As with the previous JCPOA talks, a major flaw in the negotiation process has been a lack of participation by the regional powers most directly threatened by the prospect of a nuclear Iran. But Israel seems determined to have a voice in the discussion, if not a seat at the table. Israeli prime minister Naftali Bennett last week stated that Iran was engaging in "nuclear blackmail." He urged an "immediate cessation" of the nuclear talks in Vienna.
Bennett may have had in mind recent Israeli intelligence reports, which suggested Iran is preparing to enrich uranium to 90 percent purity—the level required for a nuclear weapon. Once Iran initiates this process, the genie will be out of the bottle. It will have the knowledge and capability to produce nuclear weapons, after having spent years developing the missile technology needed to deliver one.
The prime minister reiterated these concerns in a phone call with U.S. Secretary of State Antony Blinken on Thursday, stating that world powers must halt negotiations with and impose strict measures on Iran before the point of no return.
During what would normally be a symbolic event with straightforward diplomatic protocols, Israeli president Isaac Herzog echoed Bennett's statements. At a ceremony to accept the credentials of the new U.S. ambassador to Israel, Thomas Nides, Herzog stated that should the international community fail to halt Iran's march to nuclear weapons, "Israel will do so. Israel will protect itself."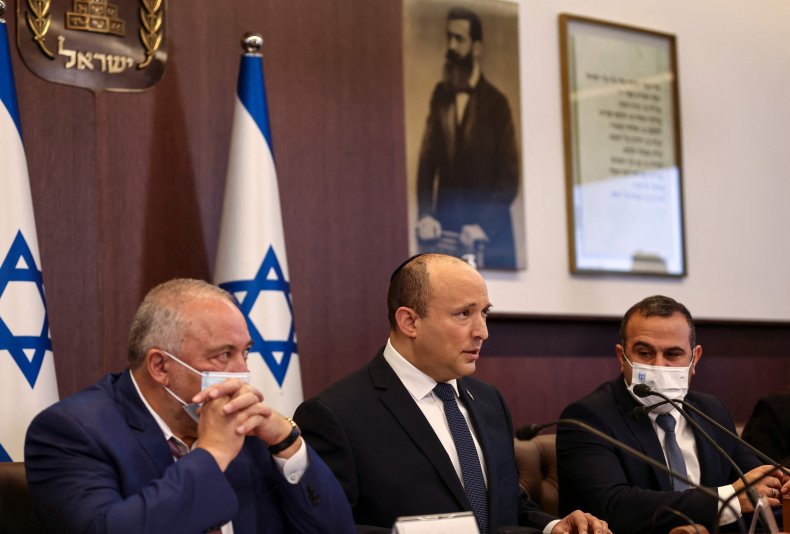 Even the new head of Mossad, Israel's intelligence agency, spoke up about Iran. Director David Barnea pledged that "Iran will not have nuclear weapons—not in the coming years, not ever. This is my personal commitment, this is the Mossad's commitment." He went on, "Our eyes are open, we are alert, and together with our colleagues in the defense establishment, we will do whatever it takes to keep that threat away from the state of Israel and to thwart it in every way." Barnea also sharply criticized the 2015 JCPOA nuclear deal as "terrible" and "barely tolerable" on the eve of his visit to the U.S. and meetings at CIA headquarters this week.
President Joe Biden would do well to listen to the message Jerusalem is broadcasting. The U.S. is at a fateful crossroads. Israel is its key strategic ally and security partner in the Middle East. And thanks to the Abraham Accords and Iran's destabilizing activities throughout the region, Israel is now formally allied with Gulf Arab neighbors—together these countries can form the backbone of U.S. interests in the region.
While the Biden administration seems to think a return to the JCPOA is the only way to retard Iran's nuclear program, there are other, more viable options. The first steps should be economic. The Iranian economy continues its freefall as the rial has lost a quarter of its value since President Ebrahim Raisi took office in August. Meanwhile, the Iranian population is becoming increasingly restive over the government's mismanagement of COVID-19 and shortages of basic necessities such as drinking water. This weakness should give the Biden administration enormous leverage over the regime. Rather than turning a blind eye to Iranian cheating and smuggling in a vain attempt to return to the negotiating table, the administration could rigorously enforce the historic sanctions architecture already in place, first and foremost by going after illicit Iranian oil sales to the People's Republic of China.
The U.S. could also create a credible military threat to deter Iran from pursuing a nuclear weapon. This would mean hitting Iranian terror proxy assets in the Middle East, and supplying Israel with bunker-busting bombs that can penetrate Iran's Fordow and other underground nuclear enrichment sites. In Israeli hands, those bombs would accomplish two U.S. priorities: keep the Iranians from further enrichment activity, and keep America's own military out of the fray. In addition, America should ensure that our regional allies' defensive capabilities are robust and that resupply is forthcoming in the event of an Iranian retaliation.
Successive American presidents have pledged that the Islamic Republic of Iran—which routinely chants "Death to America" and "Death to Israel"—must not be allowed to get a nuclear weapon. But judging from President Biden's first year in office, the current administration seems inclined to pre-emptively surrender key strategic interests, from the Nord Stream 2 pipeline to Afghanistan. It is now in danger of extending that pattern to the Iranian nuclear program. Given that the U.S. has options beyond reentering the failed JCPOA, we should listen to our closest ally in the Middle East, and join it in thwarting a nuclear Iran.
Victoria Coates is Director of the Center for Security Policy's program on Middle East & North Africa, and the Former U.S. Deputy National Security Advisor for Middle East and North African Affairs. Follow her on Twitter at @VictoriaCoates. Ellie Cohanim is a Senior Fellow at the Center for Security Policy, and Fmr U.S. Deputy Special Envoy to Combat Antisemitism. Follow her on Twitter at @EllieCohanim.
The views expressed in this article are the writers' own.