U.S. Navy Calls China's Rapid Sea Power Rise 'Concerning,' But Will 'Confront'
The U.S. Navy has expressed concern about the rapid rise of China's maritime military forces, but said it would continue to challenge Beijing's activities across the Asia-Pacific.
"The entirety of People's Liberation Army Navy growth in both capacity and capability is concerning," U.S. Navy Assistant Chief of Information Commander Courtney Hillson told Newsweek in a statement.
Newsweek recently reported on the three-pronged approach of the People's Liberation Army toward exercising naval its expansive naval seaborne power. Hillson broke down this triple threat, and explained how it's being used — alongside the People's Liberation Army Rocket Force — to enforce Chinese interests in contested territories Beijing claims as its own, such as the South China Sea.
"China deploys a multilayered fleet that includes the PLAN, the China Coast Guard, and the People's Armed Forces Maritime Militia — naval auxiliaries disguised as civilian vessels — to undermine other nations' sovereignty and enforce unlawful claims," she said. "It continues to coerce vital resources from the exclusive economic zones of other nations, militarize disputed features in the South China Sea, and develop the world's largest missile force."
But despite this threat, Hillson asserted that the U.S. Navy would continue to transit the disputed areas and push back against Beijing's efforts to consolidate its footprint in the South China Sea, where the People's Liberation Army has established military installations on contested reefs, islets and other flashpoints.
"The United States Navy continues to fly, sail, and operate anywhere international law allows," she said. "We are working with allies and partners to confront China's malign behavior, and deter and contest China's attempts to incrementally undermine a free and open Indo-Pacific."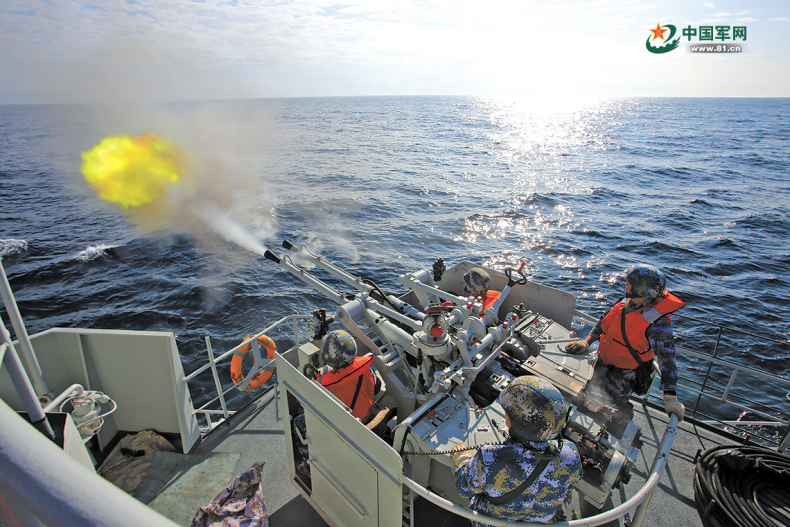 Last year's Pentagon report on Chinese military power found that "China has already achieved parity with — or even exceeded — the United States in several military modernization areas, including shipbuilding, land-based conventional ballistic and cruise missiles, and integrated air defense systems."
Washington and Beijing have so far avoided any major confrontations in recent years, but the U.S. military routinely conducts "freedom of navigation" operations that challenge Chinese claims to the South China Sea as well as in the waters off the coast of Taiwan, a self-ruling island with informal diplomatic and military ties to the U.S.
Such actions have often elicited anger from China, which also considers Taiwan a rogue province that is to be integrated through talks, or by force if necessary. President Joe Biden's administration, like its predecessor, has pledged to support Taiwan and called on Beijing to renounce military pressure against its rival, a demand rejected by Chinese officials.
"Taiwan is an inalienable part of China. The Taiwan question is purely China's internal affair which allows no foreign interference," People's Liberation Army spokesperson Senior Colonel Wu Qian told a briefing Sunday. "China is willing to strive for peaceful cross-Strait reunification with the utmost sincerity and best efforts, but meanwhile, will never tolerate the splitting of the country by 'Taiwan independence' separatists."
He stated that the Chinese military reserved the right to use force but only directed against enemy elements seeking to divide Taiwan from mainland China.
"China makes no promise to abandon the use of force and reserves the option of taking all necessary measures," Wu said. "But this only targets interference from external forces and the very small number of 'Taiwan independence' separatists and their activities, not compatriots in Taiwan."
He referred to the current cross-strait situation as "complicated and severe."
Beijing has also rejected Washington's criticism of efforts to quell unrest raised by opposition activists in semi-autonomous Hong Kong. Chinese lawmakers were set to impose stricter vetting processes for prospective political candidates in the special administrative region during the ongoing Two Sessions gatherings of the National People's Congress and Chinese People's Political Consultative Conference.
To mark International Women's Day on Monday, the People's Liberation Army Hong Kong Garrison released a video of female soldiers conducting live-fire exercises featuring firearms, armored personnel carriers and helicopters. The force maintains air, land and sea units tasked with defending Chinese sovereignty over Hong Kong, a former U.K. colony handed over in 1997 as part of a "One Country, Two Systems" that critics argue is eroding with expanding Chinese rule.
Wu said also Sunday that China's positive growth during a year of a pandemic-induced economic turmoil for the rest of the world allow China to increase its military budget by 6.8% to meet defense goals such as ensuring national security in the face of several simultaneous territorial disputes, among other commitments.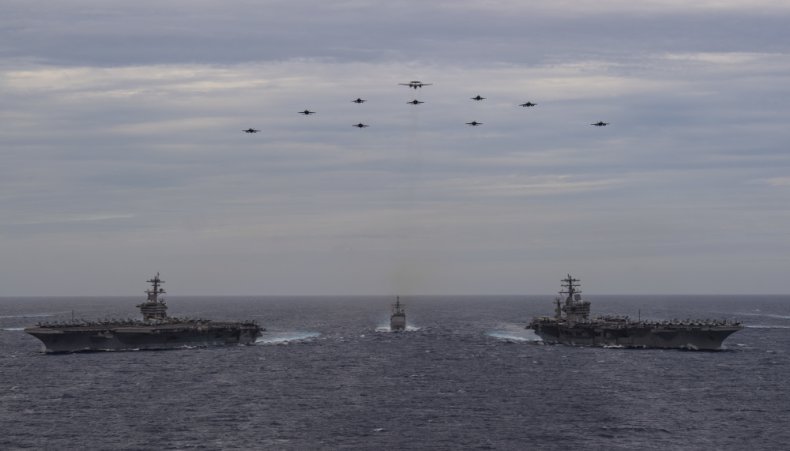 The Biden administration has followed the Trump administration in prioritizing the perceived threat posed by China as a primary foreign policy track, and has called for stronger ties with friendly nations in the region such as Australia, India and Japan, which, along with the U.S., make the Quadrilateral Security Dialogue.
The country was described in the "Interim National Security Strategic Guidance" from the White House as "the only competitor potentially capable of combining its economic, diplomatic, military, and technological power to mount a sustained challenge to a stable and open international system."
At the same time, the current U.S. leadership has discussed opportunities for bilateral cooperation between the world's top two economies in certain fields.
During a press conference Sunday, Chinese Foreign Minister Wang Yi emphasized the need for both powers to work together while not necessarily seeing eye-to-eye on each issue. Foreign Ministry spokesperson Zhao Lijian reiterated this point during a briefing Monday.
"I would like to stress again, we are committed to developing a relationship with the United States featuring non-confrontation, non-conflict, mutual respect and win-win cooperation," Zhao said. "We are also determined to safeguard national sovereignty, security and development interests. We hope the U.S. side will view China and China-U.S. relations in an objective and rational manner, keep up with the trend of the times, and replace its obsolete zero-sum thinking with rational and pragmatic policy towards China."