U.S. Navy Fires Two Commanders After Deadly Sea Collisions in Asia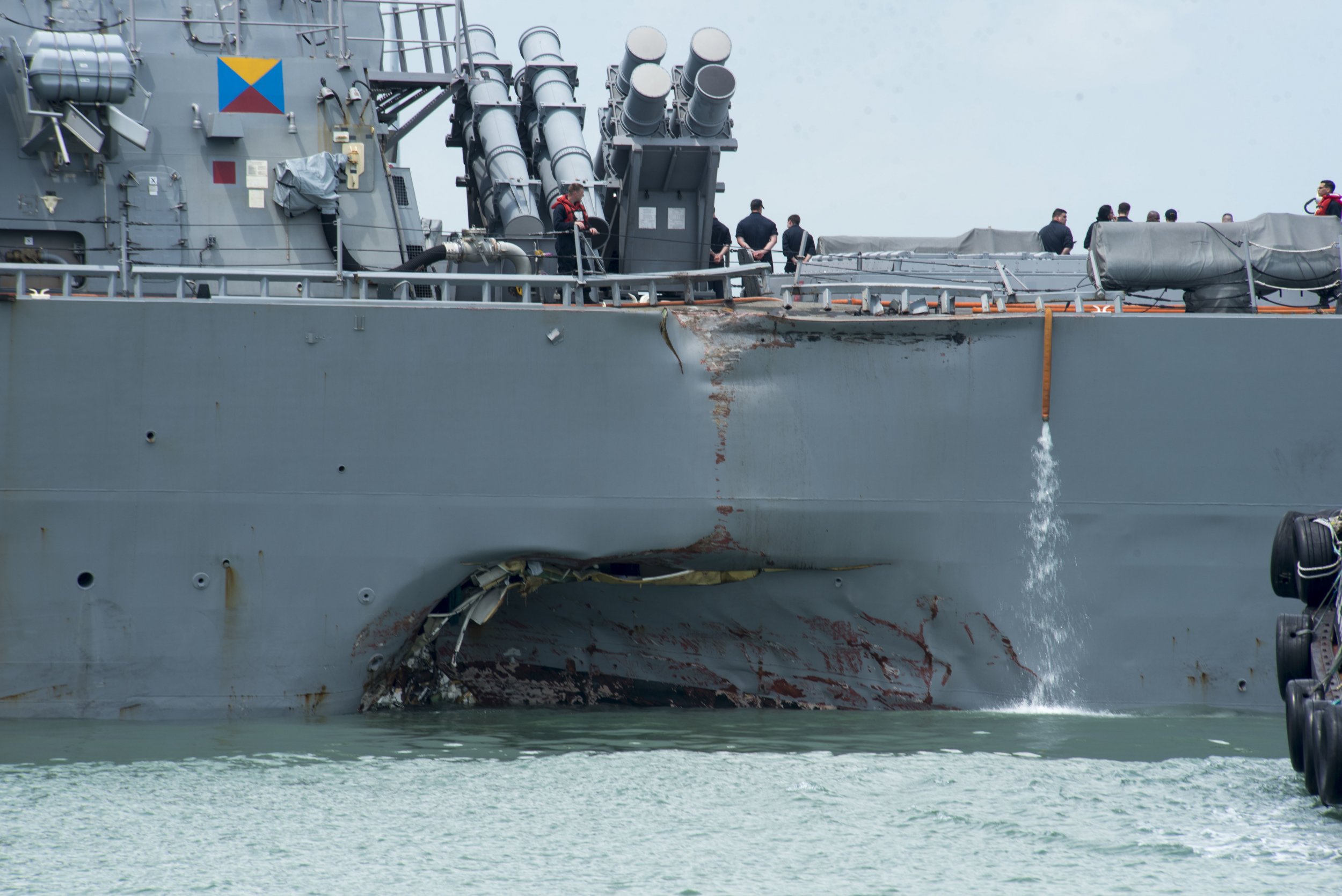 Two U.S. Navy commanders were fired Monday due to a "loss of confidence in their ability to lead" after two deadly and highly publicized sea collisions this summer.
Rear Admiral Charles William, commander of Task Force 70, and Captain Jeffrey Bennett, commander of Destroyer Squadron 15, were both relieved of duty by Vice Admiral Phil Sawyer, the commander of the Seventh Fleet, according to a Navy statement.
These dismissals come after the USS McCain, a guided-missile destroyer, collided with a chemical and oil tanker near Singapore on August 21, killing 10 U.S. sailors. That crash came two months after the USS Fitzgerald collided with a container ship off the coast of Japan, killing seven Americans.
These are the first major disciplinary steps by Sawyer, who took over the Seventh Fleet from Navy Vice Admiral Joseph Aucoin, who was relieved after the McCain accident, though he was slated for retirement anyway.
The Seventh Fleet, which is based in Japan, operates roughly 60 to 70 ships and commands approximately 20,000 sailors.
Both ships reportedly have questionable training records, which some feel contributed to the collisions.
"The Navy has increased deployment lengths, shortened training periods, and reduced or deferred maintenance to meet high operational demands, which has resulted in declining ship conditions and a worsening trend in overall readiness," the Government Accountability Office found.
Collisions involving U.S. navy vessels are rare overall, but there have been four incidents over the past year or so.
The USS Lake Champlain collided with a South Korean fishing boat off the Korean peninsula in May, but there were no injuries. And last August, the USS Louisiana, a nuclear ballistic-missile submarine, collided with the USNS Eagleview, a Navy support vessel, off Washington state. There were also no injuries at that time.
Secretary of Navy Richard Spencer and Chief of Naval Operations Admiral John Richardson are set to testify before the Senate Armed Services Committee on Tuesday over the incidents.