U.S. Navy Fires Two Top Officers from USS McCain Over Deadly Sea Accident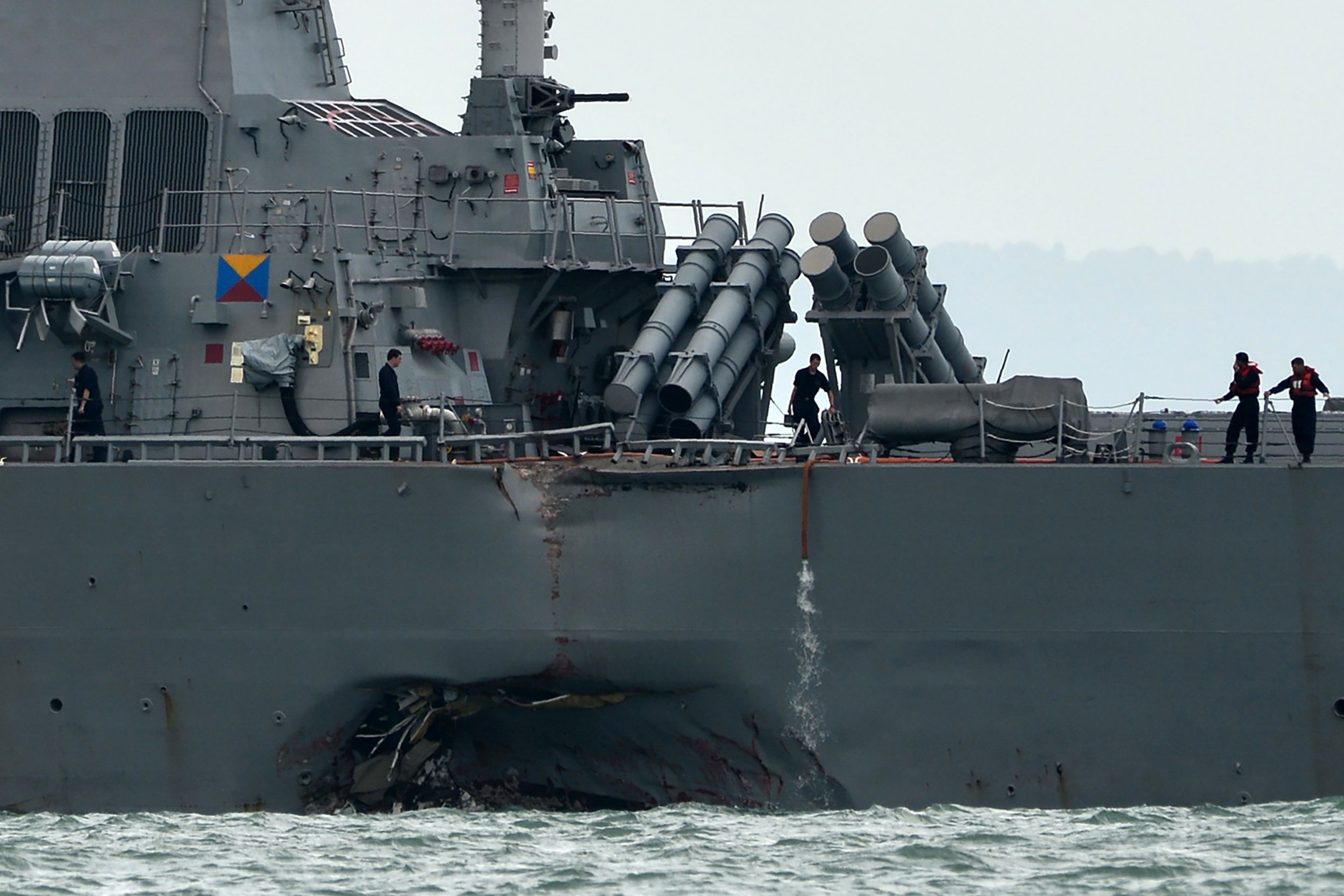 The U.S. Navy fired two senior officers on Wednesday over a "preventable" accident involving the USS McCain that left 10 sailors dead.
The ship's commanding officer, Commander Alfredo Sanchez, and executive officer, Commander Jessie Sanchez, were relieved of duty by 7th Fleet Commander Vice Admiral Phil Sawyer due to "a loss of confidence," according to a statement from the U.S. Navy. Alfredo Sanchez was reassigned to commander, Naval Forces Japan, and Jessie Sanchez was reassigned to Ship Repair Facility Yokosuka.
The USS McCain, a guided-missile destroyer, collided with a chemical and oil tanker near Singapore on August 21.
"While the investigation is ongoing, it is evident the collision was preventable, the commanding officer exercised poor judgement and the executive officer exercised poor leadership of the ship's training program," the statement added.
Collisions involving U.S. naval vessels are relatively uncommon, but there have been four over the past year or so. Two months prior to the accident involving the USS McCain, the USS Fitzgerald collided with a container ship off the coast of Japan, killing seven U.S. sailors. Both ships were part of the 7th Fleet, stationed in Japan.
In May, the USS Lake Champlain was involved in a collision with a South Korean fishing boat, but there were no injuries. And in August 2016, the USS Louisiana, a nuclear ballistic-missile submarine, collided with the USNS Eagleview, a Navy support vessel, close to Washington state. That incident also saw no injuries.
The series of accidents has prompted the U.S. Navy to shake up its leadership in the Pacific, as Congress has pressured it to get its act together. Sawyer took over command of the 7th Fleet from Navy Vice Admiral Joseph Aucoin, who was set to retire, after the McCain incident in August. Two U.S. Navy commanders were also fired in September, and a new warship readiness unit for the western Pacific was established shortly thereafter.
Some have pointed to a lack of proper training and poor maintenance as the primary causes of the recent accidents. The Navy has vowed to address these issues to prevent future incidents.
"We have a problem in the Navy, and we are going to fix it," Navy Secretary Richard V. Spencer said in late September as he testified about the accidents before the Senate Armed Services Committee.