Navy Helicopter Crash Update as One Service Member Rescued Off Coast of San Diego
At least one service member has been rescued after a U.S. Navy helicopter crashed off the San Diego coast on Tuesday, and a search is under way for the five remaining members of the crew.
In a statement on Facebook on Tuesday at about 10 p.m. local time, the U.S. Navy Third Fleet confirmed that one crew member had been rescued after a MH-60S helicopter crashed into the sea off the coast of San Diego, California, at around 4:30 p.m.
The fleet said that the helicopter, a MH-60S that was embarked aboard the USS Abraham Lincoln located 60 nautical miles from San Diego, crashed "while conducting routine flight operations."
They also confirmed that five other crew members were still missing, while the USS Abraham Lincoln had returned to San Diego as the rescue mission continues.
The U.S. Navy Third Fleet said that the rescue mission is still ongoing involving "multiple Coast Guard and Navy air and surface assets," and confirmed that "more information will be posted as it becomes available."
The ship that the helicopter was embarked on is a Nimitz-Class nuclear-powered aircraft carrier, which is one of the largest warships in the world, with the USS Abraham Lincoln able to carry 90 helicopters, according to Naval Technology.
Nimitz-Class ships, which support naval operations across the world, were the largest warships ever built until the commissioning of USS Gerald R Ford in 2017.
MH-60S helicopters, which entered service in 2002, are used by the Navy "to carry out missions such as vertical replenishment, combat search and rescue, special warfare support and airborne mine countermeasures," Naval Technology states.
Tuesday's crash comes just a few months after a Black Hawk helicopter crashed during a training exercise in Florida in May. No survivors were recovered from that craft.
The UH-60 firefighting helicopter crashed into a marsh near the Leesburg airport in Lake County, Florida, around 40 miles northwest of Orlando, in late May, with Leesburg Fire Rescue confirming that none of the passengers had been recovered.
Black Hawk helicopters are used regularly by the U.S. military, which operates 2,135 of the H-60 designated aircraft, more of them than any other country in the world.
In another previous incident, two U.S. service members were killed in a helicopter crash in Afghanistan in November 2019 when the craft's rotary blade clipped the peak of a mountain ridge in Logar Province, located in eastern Afghanistan.
Newsweek has contacted the U.S. Navy Third Fleet for comment.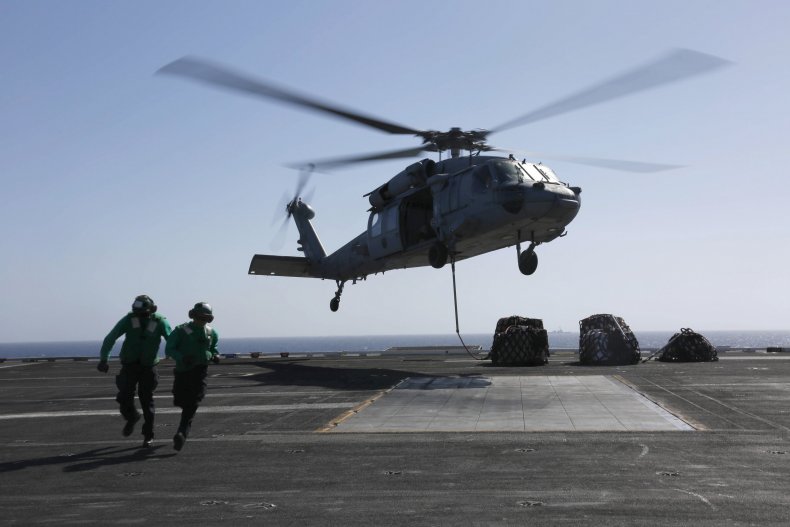 UPDATE 9/1/21 at 3:40 a.m. ET: This article has been updated to include more information.