U.S. Navy to Launch Ship Named for Late Justice Ruth Bader Ginsburg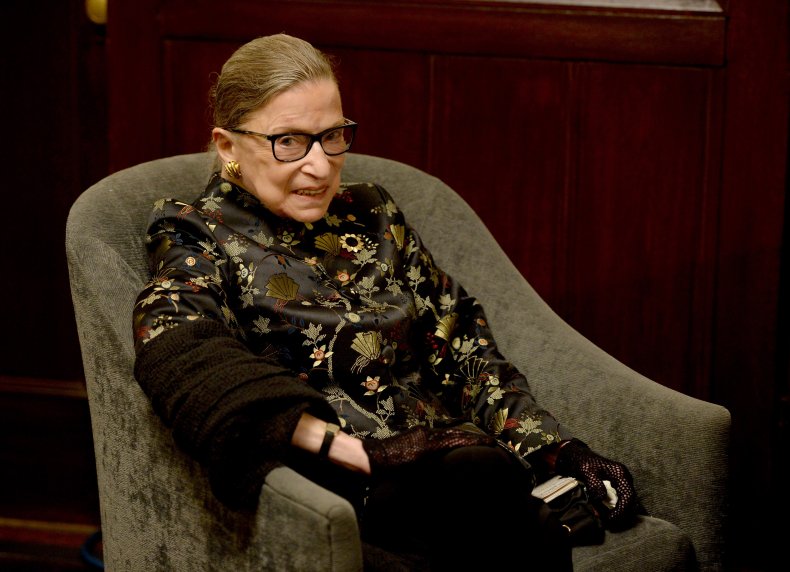 The Navy has announced that it is naming a ship after the late Supreme Court Justice Ruth Bader Ginsburg.
Secretary of the Navy Carlos Del Toro announced on Thursday that a replenishment oiler ship would be named USNS Ruth Bader Ginsburg (T-AO 212). Del Toro said that naming the ship after the judge was his "absolute honor," noting that the announcement was made on the last day of Women's History Month while praising Ginsburg.
"[Ginsburg] is a historic figure who vigorously advocated for women's rights and gender equality," Del Toro said in a statement. "As Secretary of the Navy, it is my aim to ensure equality and eliminate gender discrimination across the Department of the Navy."
"She is instrumental to why we now have women of all backgrounds, experiences and talents serving within our ranks, side by side with their male Sailor and Marine counterparts," he added.
The Navy said that choice of ship name "follows the naming convention of honoring people who have fought for civil and human rights." USNS Ruth Bader Ginsburg will be the eighth ship of its type, John Lewis-class replenishment oilers, with the first having been delivered last year.
John Lewis-class replenishment oilers, as well as lead ship T-AO 205, are named after the late civil rights pioneer and U.S. Representative John Lewis, a Georgia Democrat who, like Ginsburg, died of pancreatic cancer in 2020.
Other John Lewis-class ships on order have been named after significant figures like former Supreme Court Justice Thurgood Marshall, the court's first Black justice, and pioneering women's rights advocate Sojourner Truth.
T-AO oilers are used to transfer fuel to the Navy's operating carrier strike groups. According to the Navy, the ships travel at a speed of 20 knots and are capable of carrying 162,000 barrels of oil and significant amounts of dry cargo.
Ginsburg was a prominent lawyer and law professor specializing in gender discrimination cases prior to serving on the nation's highest court. Her career as a judge began after being appointed to the U.S. Court of Appeals for the District of Columbia Circuit by former President Jimmy Carter in 1980.
Ginsburg was nominated to the Supreme Court by former President Bill Clinton in 1993. She was only the second woman to serve on the court and become one of its most popular liberal justices, serving from 1993 until her death at the age of 87 on September 18, 2020.
The death paved the way for former President Donald Trump to quickly nominate his third Supreme Court pick, pushing the political makeup of the court further to the right. Justice Amy Coney Barrett was confirmed as Ginsburg's replacement shortly before the 2020 presidential election.
Newsweek reached out to the Navy for comment.