U.S. Navy Fighter Jet Blown Off Aircraft Carrier Into Mediterranean Sea
An advanced fighter aircraft plunged into the Mediterranean Sea after being blown off the deck of an aircraft carrier during "unexpected heavy weather" on Friday, the U.S. Navy said in a statement over the weekend.
An F/A-18 Super Hornet, one of the Navy's 4.5-generation fighters, "blew overboard" as aircraft carrier USS Harry S. Truman was conducting a resupply operation, known as a "replenishment-at-sea," which was "safely terminated," according to the July 10 press release from United States Naval Forces Europe-Africa.
One sailor also received minor injuries during the adverse weather event, but was "in stable condition and expected to make a full recovery," the statement said. The incident was not related to the F/A-18's mishap, U.S. Sixth Fleet spokesperson Cdr. Richlyn Ivey told the military newspaper Stars and Stripes on Sunday.
"USS Harry S. Truman and embarked aircraft remain full mission capable. Details and the cause of the incident are under investigation," the Navy said.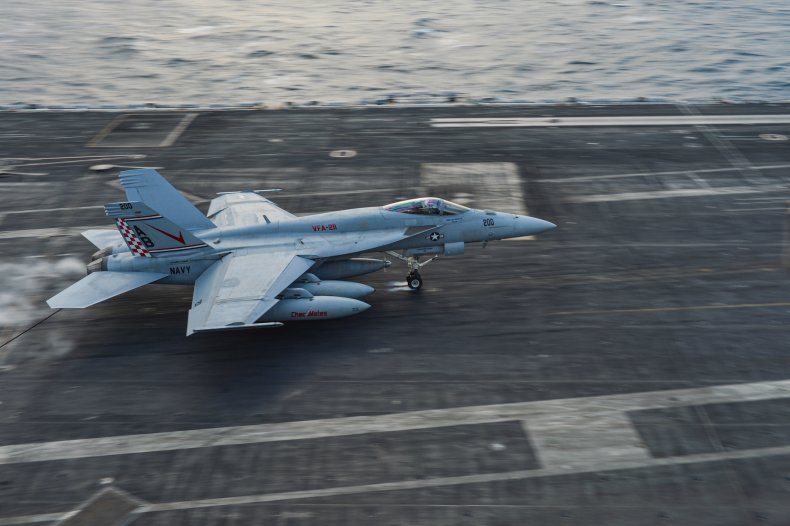 The multi-million dollar jet was part of Carrier Air Wing One, which has been deployed with the Harry S. Truman Carrier Strike Group since December 2021. Initially bound for the Middle East, Harry S. Truman remained in the Mediterranean as tensions mounted in Eastern Europe, and has since taken part in NATO patrols in the region.
In January, the Navy lost one of its most advanced F-35C Lightning II's in the South China Sea after a failed landing saw the jet strike the deck of aircraft carrier USS Carl Vinson before plunging into the sea. The U.S. Pacific Fleet and Naval Sea Systems Command salvaged the fifth-generation fighter from a depth of 12,400 feet in March after more than five weeks.
Ivey of the 6th Fleet told Newsweek in a written statement on Wednesday that the Navy was reviewing plans to recover the aircraft.
"The incident is at least bizarre," air power blog The Aviationist said in a post on Monday. "While aircraft can go overboard during routing flight operations at sea, they shouldn't be blown off the deck by weather."
"In fact, when rough seas or heavy weather is anticipated, aircraft and anything else that could potentially move, like tractors, carts, etc., are chained down when they are not used, so that they don't fall from the flight deck," the website said.
Seapower magazine, citing an unnamed source, reported Monday that the fighter jet lost in the Mediterranean was an advanced tandem-seat F/A-18F variant.
Update 07/13/22, 7:55 a.m. ET: This article was updated with a response from U.S. 6th Fleet spokesperson Richlyn Ivey.