U.S. Navy Unveils First-Ever Maternity Flight Suit Prototype
The U.S. Navy has unveiled a prototype for its first-ever maternity flight suit.
The suit is designed to accommodate pregnant aircrew during pregnancies by adding expandable panels to standard flight suits. That way, expectant mothers will need only the one suit throughout their pregnancy.
"Prior to the maternity flight suit, pregnant aircrew have generally collected larger-sized flight suits and gone up through additional sizes throughout their pregnancy, potentially needing three to five additional flight suits," said Lieutenant Commander Jacqueline Nordan, who received the first maternity suit earlier this year, in a press release.
She added that "supply and maintenance teams have put some hard work into determining how we could incorporate these uniforms into our current system, and they deserve all the credit. I get the easy job—I just put the uniform on in the morning and loosen the waist straps as the weeks go by."
The project is being spearheaded by the Naval Air System Command's Aircrew Systems Program Office at the request of the Commander, Naval Air Force Reserve.
The new design will also prevent safety hazards that may result when pregnant aircrew have to wear larger flight suits with longer sleeves and hems that may not be properly altered.
"These additions are important because they show that leadership supports the idea that having a career and having a family can be compatible," Nordan said in the press release.
She continued, "Being a dedicated Navy professional while building a family can be done. Moves like making a daily uniform item more wearable during pregnancy remove some of the small barriers that can build up and discourage women from going down that path."
A spokesperson for Naval Air Systems Command told the Navy Times on Wednesday that two others have ordered and received the prototype and that there is a small stash of suits available to accommodate new orders, which are filled in approximately three days. The suits are also available to Marines.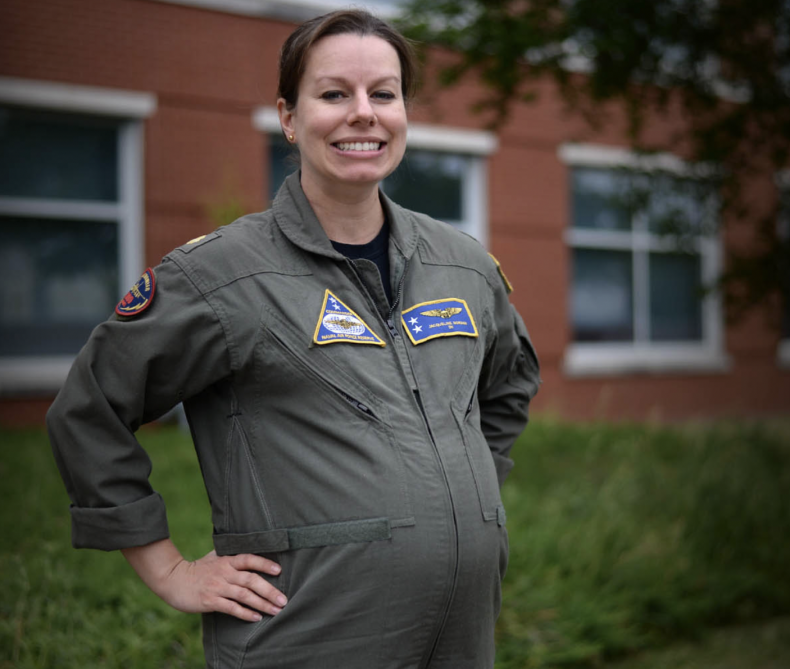 President Joe Biden first announced the maternity flight suits on International Women's Day on March 8.
Speaking about efforts to make women feel safe and respected in the military, Biden said, "Some of it is relatively straightforward work where we're making good progress designing body armor that fits women properly; tailoring combat uniforms for women; creating maternity flight suits; updating requirements for their hairstyles."
The president said other initiatives would require changing the culture that causes women to leave the military, including considering them for more career-advancing opportunities and ensuring they're not penalized in their careers for having children.
The new flight suits are the latest rollouts in the Navy's larger effort to adjust grooming and uniform standards across the service. In 2018, the Navy released new grooming standards so women could wear braids, ponytails and lock hairstyles as a way to make the service more inclusive.
The changes have been well received by both current and former service members alike. Both women and men in the military defended the suits earlier this year after Fox News anchor Tucker Carlson attacked the idea, saying, "Pregnant women are going to fight our wars. It's a mockery of the U.S. military."
"Women lead our most lethal units with character. They will dominate any future battlefield we're called to fight on," Michael Grinston, the senior enlisted leader of the Army, said in response to Carlson's remarks.
Newsweek reached out to the Naval Air System Command's Aircrew Systems Program Office for comment but did not hear back before publication.