U.S. Navy Wants to Challenge Russia and China At Sea With New Smart Missiles
The Navy has expressed interest in fitting its latest warship with a new weapon capable that would make it a formidable foe for top U.S. rivals.
The Naval Strike Missile, manufactured by Norway's Kongsberg Defence Systems in partnership with top U.S. defense contractor Raytheon, is one of the leading candidates for the new weapons system on the Navy's littoral combat ship (LCS), a small surface vessel that operates in coastal waters to fight mines or quiet diesel submarines. Raytheon CEO Thomas Kennedy said last week that the futuristic missile had a good chance of securing the Navy's pick at a time when Russia and China were bolstering their own maritime might.
"This is a program where, Raytheon and Kongsberg, as a team, we submitted a proposal for something we called The Naval Strike Missile, which is the Navy's over-the-horizon weapon system that they need to put on the LCS. But turns out they're also going to put them on all the future frigates," Kennedy said in an earnings call, as quoted by Defense News.
"We think we're in a very good position there," he added. "We have a system that requires minimum development. Some small changes we'll make, but we can go into production very quickly, which is something the United States Navy needs. We are anticipating an award here in Q2 with significantly more funds placed against it in the fiscal year 2019 budget to move forward with that program."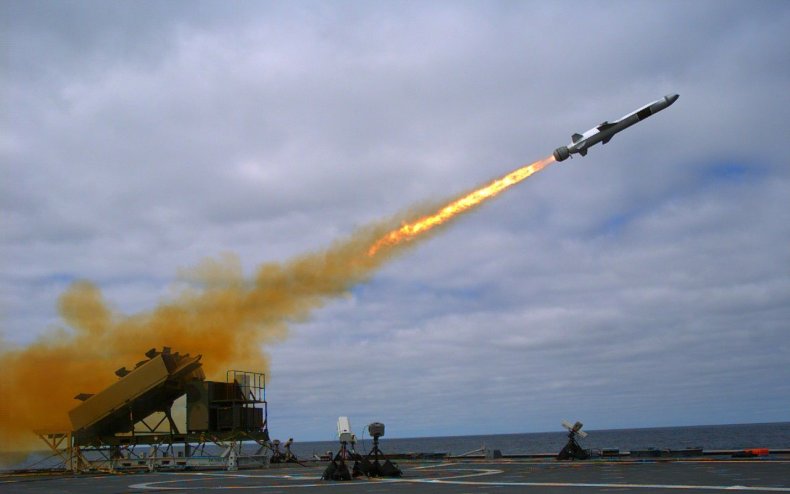 The fifth-generation, over-the-horizon Naval Strike Missile "will immediately advance the U.S. Navy's vision of distributed lethality, ensuring sea control and freedom of the seas," according to its listing on Raytheon's official website. The long-range, precision strike weapon can reportedly hit targets up to 100 nautical miles—over 115 miles—away.
The missile is capable of avoiding detection by flying low enough to skim the ocean and can adapt to changing terrain. It uses state-of-the-art targeting software to locate and strike enemy ships. The Navy tested its warfighting ability during a September 2014 test off the coast of Southern California, during which the Naval Strike Missile was fired from littoral combat ship USS Coronado and successfully destroy a simulated foe at sea.
Related: Russia and China Will Hold War Games in Asia, Checking U.S. Military Power in Pacific
The littoral combat ship has limited capabilities in the open seas. Its vulnerabilities were highlighted earlier this year when the USS Little Rock ended up stuck trapped in the icy waters of Canada for about three months.

This addition of the Naval Strike Missile to the littoral combat ship comes as the new vessels also face criticism for not being able to stand up to advances by U.S. near-peer competitors Russia and China. The two nations have been consolidating their military ties, pledging support for one another and are due to hold this year's annual joint exercise in the Pacific.
"America's Navy still holds the title of best in the world, but our recent years of combat and physical uncertainty have eroded our warfighting advantage," Admiral John Michael Richardson, chief of Naval operations, told the House Appropriations Committee on Defense in March. "As our national defense strategy makes clear, we are now in an era of great power competition. With the rising [of] China and a resurgent Russia, America no longer enjoys a monopoly in sea power or sea control."